Dodgers' chances of winning the World Series this season, or in the future, could be slipping away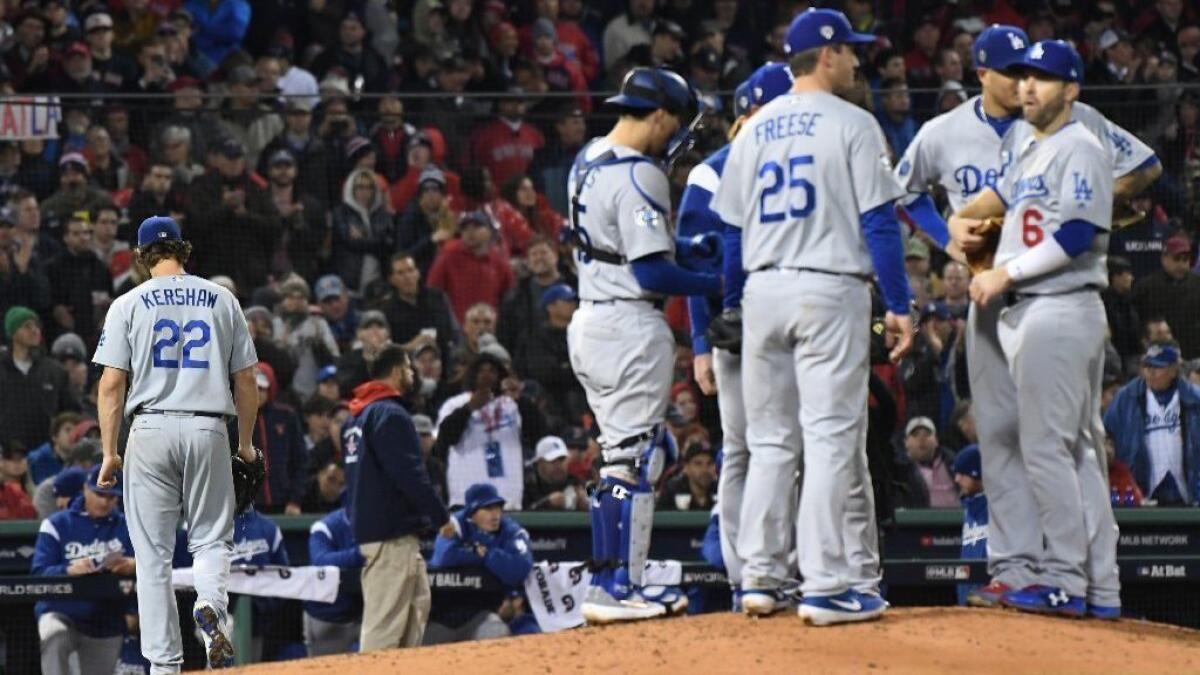 If the Dodgers fail to gain control of the World Series over their next three games against the Boston Red Sox, the waving of blue towels at Chavez Ravine intended to inspire the home team could double as a farewell gesture for many of their key players.
See you later, Manny Machado.
Goodbye, Hyun-Jin Ryu.
And so long, perhaps, Clayton Kershaw.
The potential departures could result in a temporarily adios to the franchise's championship aspirations. The window of opportunity is threatening to close.
Regardless of how much of their roster they retain, the Dodgers will remain competitive next season. They will continue to field one of the most expensive teams in baseball and will continue to encounter mediocre opposition in the National League.
Being competitive isn't the same as winning a championship, however, which is why the Dodgers have to salvage this series and reverse the two-games-to-zero deficit. They might not return to this stage of the postseason for some time.
Maybe Walker Buehler pitches next season like Tim Lincecum did in his prime. Maybe Julio Urias reaches the level of stardom that was promised of him. Maybe Kershaw remains in Los Angeles. Maybe the Dodgers re-sign Machado or obtain the other jewel of the upcoming free-agent class, Bryce Harper. And maybe the Dodgers' run of dominance will continue.
But maybe not.
More than any player, Kershaw has spoken over the last several years about not taking these opportunities for granted.
"I know a lot of players don't get that opportunity," Kershaw said this month.
Kershaw acknowledged he is feeling a greater sense of urgency this October than he did in previous years.
"I think with each postseason and not winning a World Series," Kershaw said, "I think you tack on a little bit more pressure, a little bit more urgency to win, especially when you're in the market that we're in, when you're with the team that we are."
Kershaw knows how fleeting chances such as this can be.
He was part of the 2013 team that had an especially dangerous lineup including Hanley Ramirez, Adrian Gonzalez and an in-form Carl Crawford. The Dodgers looked as if they were bound for the World Series until Ramirez's ribs were fractured by a fastball in Game 1 of the National League Championship Series. The Dodgers were eliminated by the St. Louis Cardinals in six games.
That particular window closed earlier than expected. Ramirez's performance declined the next season. He was gone a year after that.
The Dodgers overhauled their roster under the direction of a new front office. Last year, four years after that 2013 season, they finally had another team that looked capable of winning a championship. They reached the World Series for the first time in 29 years and pushed the Houston Astros to seven games. They lost.
They were granted another opportunity this year. They haven't looked as dominant as they were in their 104-win season last year, but they didn't have to be. The National League was down. And they are fortunate to be taking on the Red Sox in the World Series rather than the Astros, who would have presented a worse matchup for them.
The window might not extend to next year. The Dodgers could have to replace two of their top three starting pitchers. Kershaw has the option of voiding the remaining two years of his contract and Ryu will be a free agent. Their rotation next year could be built around a second-year player in Buehler and a 22-year-old who only recently returned from a major shoulder operation in Urias.
Machado also will be a free agent. Machado is only one of two players — Justin Turner is the other — who starts regardless of whether the opposing pitcher is right- or left-handed. In other words, he's only one of two complete hitters on the team, the type with the skill set necessary to produce against the quality of pitching that appears in the postseason.
If Machado signs elsewhere as expected, the lineup could be left with Turner and a collection of platoon players. And Turner will be 34 next year after injuries limited him to 103 regular-season games this year. Sidelined shortstop Corey Seager is also in the class of Turner and Machado as a hitter, but he will be returning next year after elbow and hip operations. Seager remains a question mark.
And while Yasmani Grandal's inability to catch a baseball has made him virtually unplayable in this World Series, the Dodgers could miss his offensive contributions as well. The switch-hitting catcher, who averaged 24 home runs over the last three seasons, will be a free agent this winter.
Consider how much more inconsistent the lineup would be without Machado and remember that offensive players of Machado's quality rarely become available at the trade deadline. The option of covering up the team's offensive shortcomings with a mid-season trade might not exist next year.
Perhaps most disconcerting is the bullpen. All-Star closer Kenley Jansen has started to show the effects of particularly strenuous workloads in recent years. His earned-run average inflated from 1.32 last season to 3.01 this season.
The Dodgers can't afford to wait and see if they will have another opportunity to play in a World Series next year. They have to seize the moment in front of them. Even down 2-0, this could be the best chance many of them will ever have to win baseball's greatest prize.
Get our Dodgers Dugout newsletter for insights, news and much more.
You may occasionally receive promotional content from the Los Angeles Times.