Dodgers' Joe Kelly seeks answers to struggles by constantly tinkering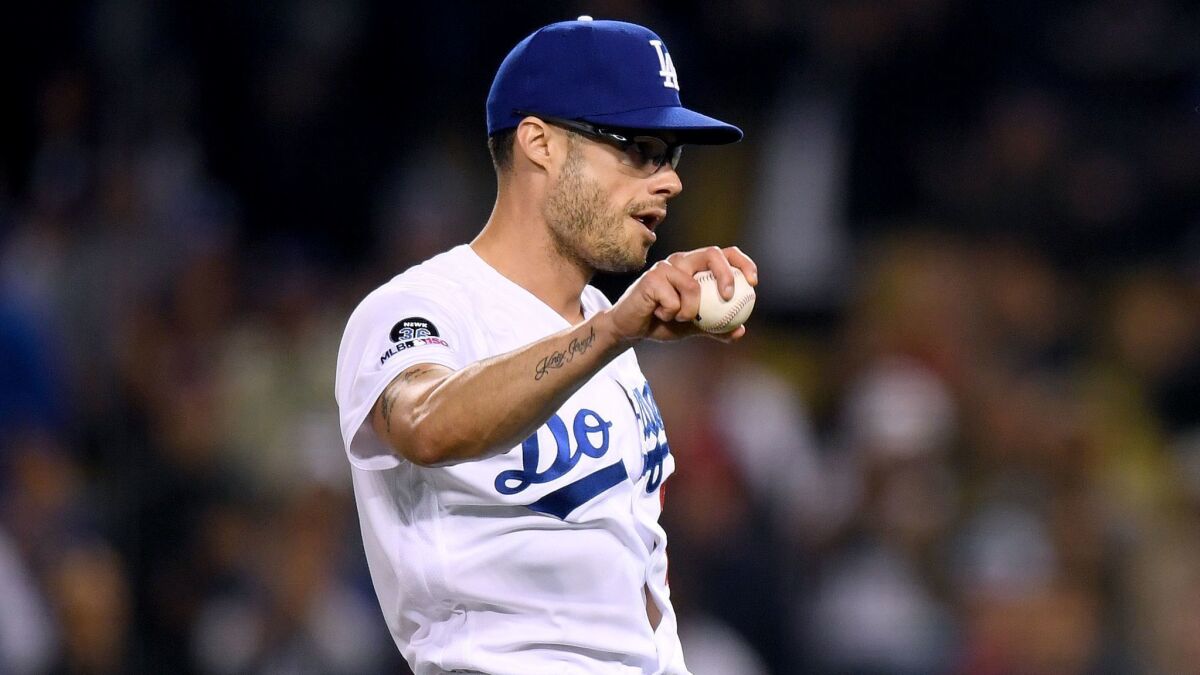 For six weeks, Joe Kelly has worked to string together the kind of effective outings the Dodgers envisioned when they gave him a three-year, $25-million contract over the winter. He's attempted to solve the mechanical flaws he and coaches have diagnosed. The tinkering has been constant. The issue, he insists, has been letting the search complicate matters. He maintains he needs to not think about mechanics when he's in games and shift his focus to getting hitters out. He's been too fine and his mind has been clogged and the result has been 15 earned runs in 15⅓ innings.
It is a familiar problem.
"It's always been me versus myself, I guess," Kelly said, "trying to be successful."
The Dodgers were given a firsthand view of Kelly's potential last fall, when he mowed through them in the World Series for the Boston Red Sox. He logged six innings in the five games. He allowed four hits, compiled 10 strikeouts and didn't walk a batter. Two months later, the Dodgers signed Kelly, a Corona native, to strengthen the bridge to closer Kenley Jansen.
But Kelly stumbled from the outset, allowing 10 runs in his first 7⅓ innings. He's given up runs in eight of his 15 appearances this season. He's recorded three clean outings — and one ended after one batter because he took a comebacker off his wrist. He owns a 1.826 walks-plus-hits-per-inning-pitched rate. Batters have hit the ball hard off him 59.3% of the time, the second-highest rate in baseball among relievers entering Monday.
Stuff has never been the issue for Kelly. A former starter, he boasts an explosive three-pitch mix rare for a reliever, including a fastball consistently clocked at 97-98 mph. Two years ago, he threw as hard as 103 mph. The problem has been executing consistently, as it was last season when he oscillated between dominant and hittable for the Red Sox.
"He really hasn't been able to find that release point, that consistent release point," Dodgers bullpen coach Mark Prior said. "Some nights he has it and we see the action. We see the good shape on the breaking ball, we see good depth on the changeup and we see the fastball with some arm-side run. Other times we see he yanks pitches. It's been kind of a tough go, getting him right."
The enigma was on display last week.
On Wednesday, Kelly was inserted for the ninth inning with the Dodgers holding a five-run lead after not pitching the previous three days. He needed 11 pitches to secure three outs. He struck out Matt Joyce with three pitches and Josh Donaldson with four. His fastball sat at 98 mph. His changeup was merciless. It was, the Dodgers hoped, the beginning of the turnaround they've been yearning.
Sign up for our Dodgers newsletter »
"He threw the ball with intent," catcher Austin Barnes said.
Twenty-four hours later, that progress was erased. Kelly was again summoned to pitch the ninth inning, this time with the Dodgers facing a five-run deficit, and things quickly unraveled. The first bad break was Max Muncy dropping a popup in foul territory. Kelly surrendered a single with his next pitch. The misfortune continued when Kelly mishandled a short popup and walked the next batter to load the bases. Kelly limited the damage to one run, but the sudden mess was indicative of his season.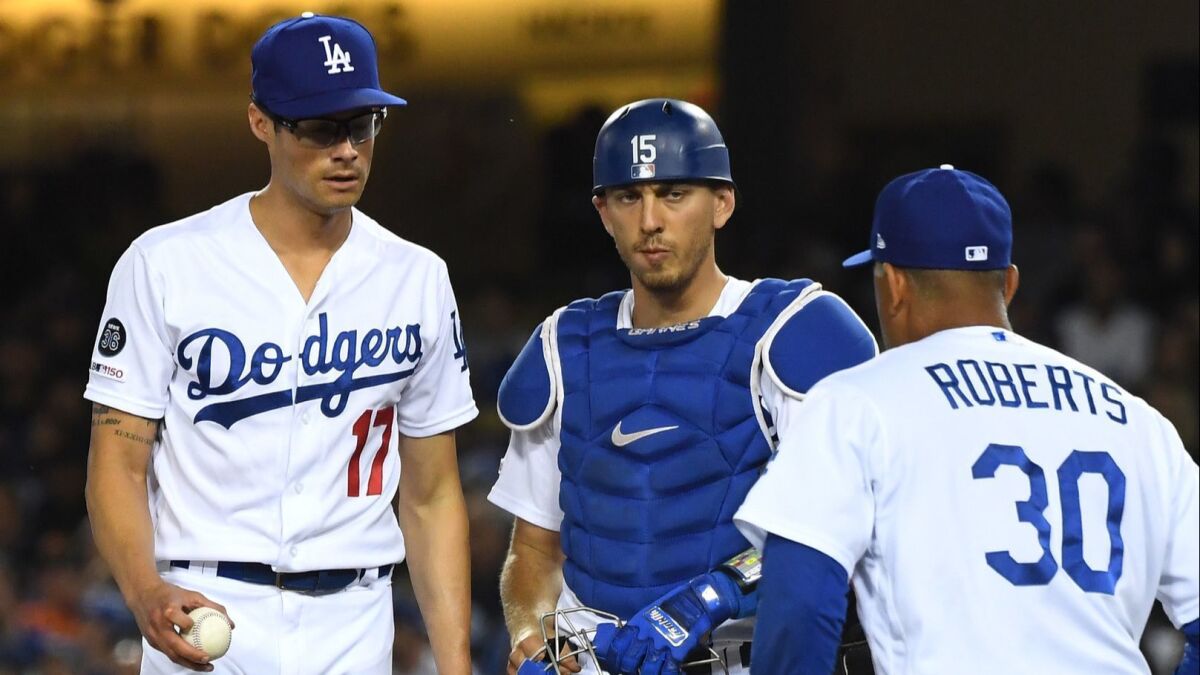 "When you're rolling, you're not thinking about anything outside of execution and expecting good things to happen," Dodgers manager Dave Roberts said. "And when you're not going well, what do you do? You start thinking about trying to be perfect. Your mechanics. Overthinking the process and when something doesn't go your way, you almost expect it. It's 'Here we go again.' And I think that that's natural."
Roberts has attempted to jump-start Kelly by placing him in low-leverage situations. It was why he didn't pitch for three days until he was placed in the ninth inning of a five-run game Wednesday. He'll continue to do so until Kelly finds his groove and becomes that dominant force the Dodgers witnessed from the other side in October.
"I know he's going to turn the corner," Roberts said, "and we need him."
Ryu honored
Hyun-Jin Ryu was named National League player of the week after throwing 17 scoreless innings in victories over the Atlanta Braves and Washington Nationals. Ryu shut out the Braves on four hits May 7 and took a no-hitter into the eighth inning Sunday against the Nationals. Ryu is 5-1 with a 1.72 ERA and 54 strikeouts against only three walks this season.
Twitter: @jorgecastillo
Get our Dodgers Dugout newsletter for insights, news and much more.
You may occasionally receive promotional content from the Los Angeles Times.