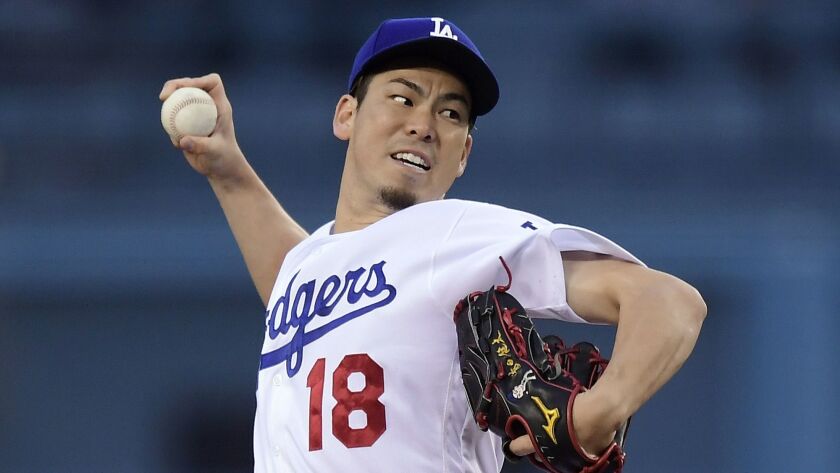 Reporting from ST. PETERSBURG, Fla. —
Kenta Maeda will start for the Dodgers against the Pittsburgh Pirates on Sunday, the first day he is eligible to come off the injured list, manager Dave Roberts said Wednesday. The Dodgers will make an additional move to make room on the roster for Maeda.
Maeda's immediate return does not qualify as a surprise. He suffered the injury — a bruised leg — fouling a pitch off at the plate during his last start May 15 against the San Diego Padres. He went two for three. On the mound, he allowed three hits and compiled 12 strikeouts in 6⅔ scoreless innings. He did not exhibit any semblance of discomfort. The injury was, at worst, minor.
His move to the injured list came at a good time for the Dodgers. With three off days in 11 days, they could have gone without a fifth starter until next Tuesday. Instead, they will slide Maeda in Sunday after Walker Buehler and Hyun-Jin Ryu start the first two games in Pittsburgh. That will push Clayton Kershaw back a day to Monday when the Dodgers face the New York Mets in Los Angeles. After Thursday's off day, the Dodgers, who usually prefer giving their starters extra rest whenever possible, won't get another breather until June 6.
The decision was cinched after Maeda tossed a 50-pitch bullpen session at Tropicana Field on Wednesday and emerged without a problem.
"He feels good and [we're] able to get him a start to not get him too far off track," Roberts said. "And we can give Clayton an extra day."
Maeda will rejoin a rotation that has fueled the Dodgers' recent success. Entering Wednesday, Dodgers starters had posted a 2.09 earned-run average in 146⅔ innings across the previous 23 games. The Dodgers went 17-6 during the stretch.
Sign up for our Dodgers newsletter »
Baez's knee appears OK
Most everyone who witnessed Willy Adames cracking a 103-mile line-drive off Pedro Baez's right knee at Tropicana Field on Tuesday thought the worst. Baez had to have broken something. The thud was too loud. The ricochet went too far. Baez thought it. Roberts thought it. Adames remained so concerned that he went to the Dodgers' clubhouse after the game to check on Baez.
But X-rays on Baez's knee were negative and the right-handed reliever had improved significantly by Wednesday afternoon.
"Petey's got strong bones, I guess," Kershaw surmised.
Baez wasn't available to pitch Wednesday, but Roberts calculated Baez's chances of pitching Friday in Pittsburgh as "very possible." Baez has been a key piece in the Dodgers' bullpen this season, allowing earned runs in just four of his 22 outings.
"Miraculous recovery," Roberts said. "It's a really, really positive day. Moving around well."
Twitter: @jorgecastillo
---