What Clayton Kershaw can learn from CC Sabathia's career arc
Reporting from tampa, fla. —
On Wednesday morning at Steinbrenner Field, 2,175 miles from where Dodgers ace Clayton Kershaw was preparing for another day of waiting for the inflammation in his left shoulder to fade, CC Sabathia lumbered through the clubhouse of the New York Yankees and heaved his 6-foot-6, 300-pound frame into his chair.
Sabathia had just completed his first bullpen session of the spring. The Yankees intend to ease him into the year. Over the offseason, he underwent an angioplasty and arthroscopic surgery on his knee. He will turn 39 in July. This season will be his 19th in the majors. It will also be his last.
The end might have come sooner, had Sabathia not refined his arsenal and learned to live within his limitations. Here is where his career dovetails with Kershaw, who is confronting issues similar to the ones Sabathia faced half a decade ago. Sabathia suffered through three wretched seasons before rejuvenating himself. The Dodgers must hope Kershaw, as he begins a three-year contract and prepares for his 31st birthday in March, can expedite that learning curve.
Sabathia and Kershaw each debuted at 20. Sabathia logged 2,127 innings in his first decade; Kershaw threw 1,935. Like Kershaw, Sabathia watched his fastball slacken as he entered his 30s. His flexibility decreased. Minor injuries became maladies. Yet, as he prepares for retirement after this season, Sabathia remains a vital member of a team with championship aspirations. His path through the aging process represents one avenue forward for Kershaw.
"I have way more fun now," Sabathia said.
Earlier this decade, Sabathia felt the weight of his usage. From 2013 to 2015, Sabathia posted a 4.81 earned-run average; among the 89 pitchers allowed to throw at least 400 innings during those years, only two had a higher ERA. During the past three seasons, as he has embraced a new pitch and altered his mentality, he has recovered to become a steady, useful contributor with a 3.76 ERA.
Sabathia has learned to love soft contact and revel in outsmarting hitters. Unable to overpower opponents, he adjusted. He credited the tutelage of former teammates Andy Pettitte and Hall of Fame closer Mariano Rivera, who instructed him how to use a cut fastball, which has become his primary weapon.
"It's the only reason I'm still pitching," Sabathia said.
A cutter itself is unlikely to save Kershaw. After he injured his shoulder last May, Kershaw began throwing his slider with more velocity and less depth. The pitch approached the plate quicker but moved less upon arrival. At times, rival scouts viewed the slider as indistinguishable from Kershaw's four-seam fastball, which often cut inside.
A more analogous addition to Kershaw's arsenal would be a changeup, a pitch he has tried to develop since the Dodgers drafted him in 2006. His relationship with the changeup follows a predictable path. He tinkers with it during the spring, vows to utilize it during the season and then pockets it until the following February. Kershaw threw only 10 changeups in 2018, according to BrooksBaseball.
"The most important pitch in the second half of his career will be the changeup," one Dodgers official said last spring.
During a conversation last season, Kershaw explained if he felt his career approaching a precipice, he was confident he could master a changeup. He has not given an indication that he is at that point, despite his injury-delayed spring training. After he signed a $93-million extension in November, Kershaw said he planned to pick the brains of other veterans for advice. When he arrived at Camelback Ranch this spring, he said he never got around to doing that.
Sabathia evolved by leaning on others. The process was far from immediate. Around 2010 or 2011, he said, he started quizzing Pettitte about how to handle diminishing velocity. Pettitte counseled him on the importance of sequencing and the value of reading swings. From the trio of Pettitte, Rivera and pitching coach Larry Rothschild, Sabathia learned the intricacies of the cutter.
Sabathia took in the information. Implementing it was more of a challenge. His performance did not demand immediate alterations. At 30, he finished fourth in the American League Cy Young Award voting. At 31, he made his sixth All-Star team. But as he turned 32 in 2013, when his average fastball velocity descended from 93 mph to 91 mph, his ERA ballooned to 4.78.
No longer was he formidable. Three years of bludgeoning ensued. The team was stuck with Sabathia; he had inked a $122-million extension after the 2012 season. The financial burden was too sizable for even the Yankees to swallow.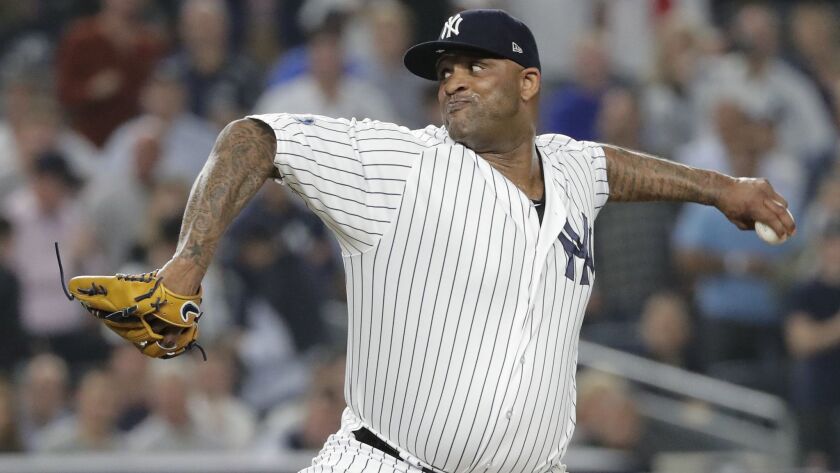 "During that time, we were pregnant with his contract," Yankees general manager Brian Cashman said. "So if he was a free agent, maybe three years earlier in that process, I'm not sure if the marriage would have continued. Because you can't bet on future performance."
After missing most of 2014 because of damage in his right knee, Sabathia muddled through 29 starts with a 4.79 ERA in 2015. He checked himself into a program for alcohol rehabilitation on the eve of the 2015 playoffs.
On the mound, Sabathia found himself caught between the man he was and the pitcher he had been. He knew his body no longer cooperated and his fastball no longer blazed. Yet, he still leaned on his old habits.
"You have to reprogram your brain to not try to do those things," Sabathia said. "For me, that was the hardest thing.
"I would get in the game sometimes, and I would be half 'I'm trying my cutter' and half 'I'm still the same old guy.' I would pitch three or four innings and give up no runs. And then I would go to my old stuff, and give up five runs.
"At a certain point, I just got tired of it. I said '. . . it. I'm going to this new way of pitching.'"
The light bulb flickered into a glow in 2016. Sabathia turned the cutter into his essential offering. He threw it 29.3% of the time that season. By 2018, he was using the cutter more often than his fastball.
The pitch moved late, which disrupted the timing of hitters. When they expected the cutter inside, Sabathia found he could fool them with changeups and sliders away.
"Where the game is going nowadays, you've got to have some gas behind it," catcher Austin Romine said. "If you don't, it better be moving. That's kind of what he figured out: 'I don't need to throw it hard. I just can throw a cutter in there, and it serves the same purpose as throwing 95 mph.' "
Armed with the cutter, Sabathia could command the entirety of the plate, a task that Kershaw often ignored earlier in his career, in favor of pounding pitches inside and leaving the hitters helpless. When Sabathia saw his body could no longer generate the feeble swings, he turned to his brain.
After Sabathia's extension ran out in 2017, the Yankees brought him back on a one-year, $10-million deal for 2018. Sabathia took an $8-million contract this past winter. He announced his impending retirement upon his arrival at camp.
Sign up for our daily sports newsletter »
No longer does Sabathia start opening day for the Yankees. But he still starts playoff games. He spent three years trying to be someone he no longer was. He has learned to enjoy who he is.
"I feel like I can toy with the hitters," Sabathia said. "I feel like I'm really accomplishing something. When I had the stuff that I had before, I just felt like I was overpowering them. It's not really pitching. And now I feel like I'm pitching."
Twitter: @McCulloughTimes
---
Get our Dodgers Dugout newsletter for insights, news and much more.
You may occasionally receive promotional content from the Los Angeles Times.