Dodgers introduce pitcher Kenta Maeda, who gets incentive-based eight-year deal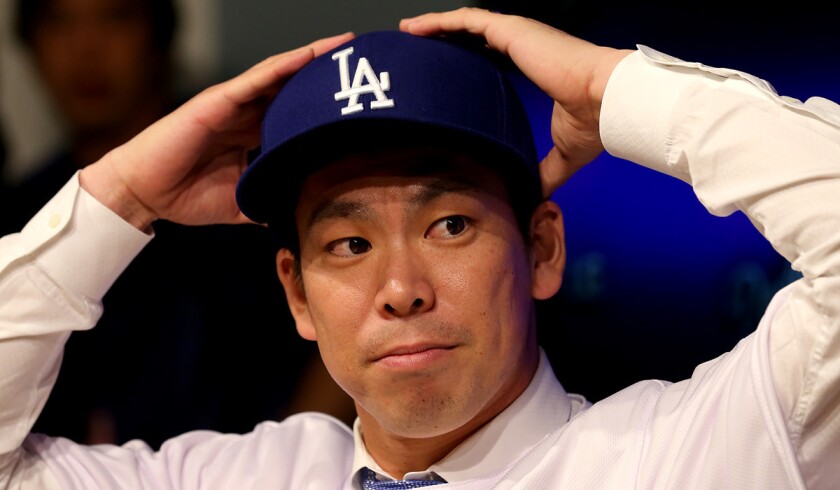 By the time Kenta Maeda was introduced Thursday as the newest member of the Dodgers, the Japanese right-hander already held a distinct place in the franchise history.
Maeda's eight-year deal was the longest-ever for a Dodgers pitcher.
The contractual terms were not a reflection of Maeda's perceived durability, but, rather, the lack thereof.
Speaking in Japanese, Maeda acknowledged the results of his physical examination were "irregular," which explained the incentive-based structure of his deal. Maeda is guaranteed $25 million over the next eight seasons, a relatively low figure considering he was voted the top pitcher in his country's domestic league last year.
If he remains healthy, his contract could be worth more than $100 million; he can earn more than $10 million a year in bonuses based on games started and innings pitched.
Maeda, 27, declined to specify the problem uncovered during his physical, which is thought to be in his elbow. Whatever the issue, Maeda didn't foresee it becoming an obstacle.
"I have absolutely no uncertainty," he said. "Zero."
Maeda said he was never sidelined for an extended period in his eight seasons with the Hiroshima Carp. He was able to pitch the entire season last year, when he had a record of 15-8 with a 2.09 earned-run average and won the Japanese equivalent of the Cy Young Award.
He said his goal for the upcoming season is to pitch 200 innings.
Andrew Friedman, the Dodgers' president of baseball operations, was cautiously optimistic.
"The fact that he's totally asymptomatic, the fact that he pitched as recently as roughly six weeks ago, gives us as much confidence as we could have at this point that he will be a meaningful part of our team in 2016," Friedman said.
The Dodgers were aware of Maeda's medical problems before they opened negotiations with the five-time Japanese league All-Star. Shortly after Maeda came to the United States, he underwent a physical examination, the results of which were distributed by his agent to interested teams.
The financial obligation to Maeda is relatively minimal. The Dodgers will pay him a signing bonus of $1 million and an annual salary of $3 million. Maeda's salary is only twice that of Brandon Beachy, who pitched in only two major league games last season. The Dodgers figure to be able to make up a portion of Maeda's salary from jersey sales and Japanese sponsors.
But in addition to the $25 million guaranteed to Maeda, the Dodgers also have to pay $20 million to Maeda's Japanese league team. The $20-million release fee made the Dodgers insist on a longer deal. If Maeda were to miss an entire season at some point, they would be assured of having him under contract for seven more.
"We're optimistic that he is going to help us win a lot of games over a lot of years," Friedman said.
Maeda said he was grateful the Dodgers made a long-term commitment to him — enough so that he was willing to commit his foreseeable future to them. His contract doesn't include an opt-out provision that would allow him to terminate the deal before eight seasons.
"I want to repay them with results," he added.
Maeda's deal also doesn't include a no-trade clause.
Although the Dodgers have a potential surplus of starting pitchers, Friedman said he expects Maeda to be part of the rotation. Aside from Maeda, the Dodgers have five other proven starters who are expected to be healthy on opening day in Clayton Kershaw, Brett Anderson, Scott Kazmir, Hyun-Jin Ryu and Alex Wood. Brandon McCarthy is projected to make a midseason return from reconstructive elbow surgery.
"We feel his pitch mix will play here," Friedman said of Maeda.
Friedman praised Maeda's trademark slider, as well as his improving changeup and curveball.
Hiroki Kuroda, another pitcher who made a similar move from the Japanese league to the majors, thinks Maeda's greatest challenge will be pitching once every five days. Pitchers in Japan are accustomed to pitching once a week.
"That was the hardest part for me," Kuroda said in Japanese during a phone interview.
Kuroda pitched seven seasons in the major leagues, including four with the Dodgers. He and Maeda were teammates on the Carp last year.
Kuroda complimented Maeda's feel for pitching. "If he can overcome the difficulty of pitching on four days' rest, he'll do well," Kuroda said.
Maeda said he has pitched on four days' rest on a few occasions and has ideas on how he can prepare his body to do so on a regular basis. He said he would also be open to receiving advice from the Dodgers.
Maeda will wear No. 18, the same number Kuroda wore with the Dodgers. Maeda wore No. 18 with the Carp.
Maeda will be the eighth Japan-born player in Dodgers history, a list that includes Hideo Nomo and current Manager Dave Roberts.
Twitter: @dylanohernandez
---
Get our high school sports newsletter
Prep Rally is devoted to the SoCal high school sports experience, bringing you scores, stories and a behind-the-scenes look at what makes prep sports so popular.
You may occasionally receive promotional content from the Los Angeles Times.