Column: Dodgers pitcher Kenta Maeda is mum on shift in role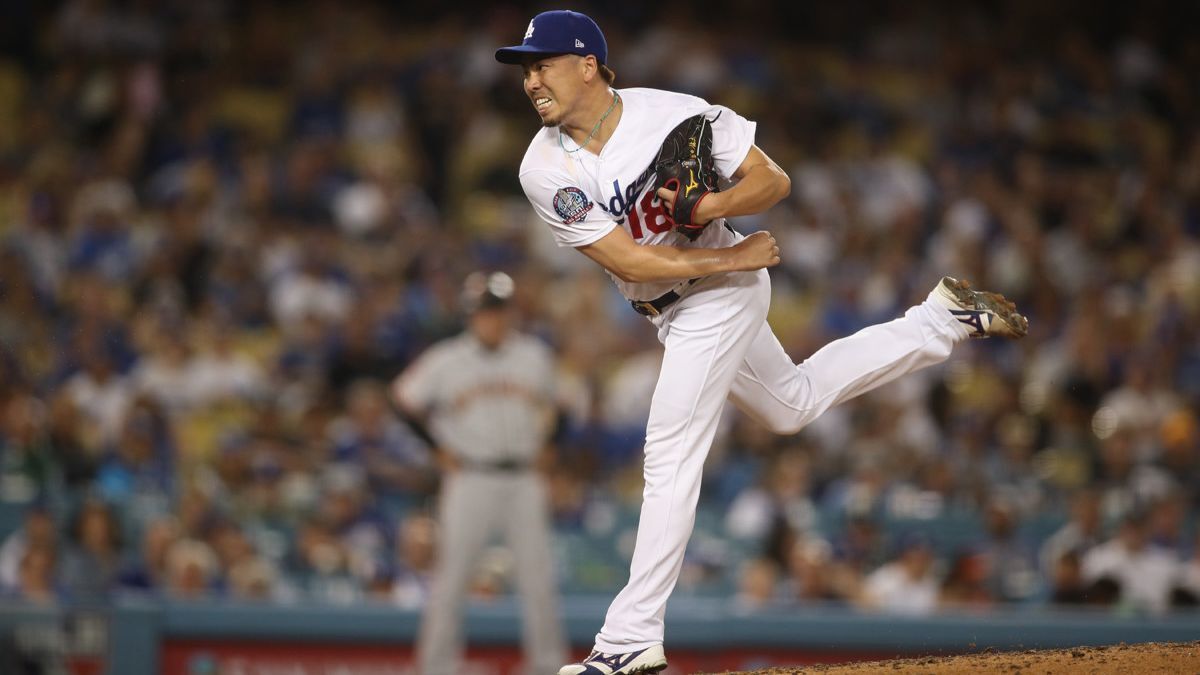 What Kenta Maeda didn't say about his move to the bullpen registered considerably louder than what he did.
He didn't say he accepted his new role as a late-inning, high-leverage reliever.
He didn't say he understood why he was taken out of the rotation.
In fact, speaking before the Dodgers' 2-1 defeat to the San Francisco Giants on Tuesday night, he barely said anything at all.
"It's still the middle of the season, so … ," Maeda said in Japanese when explaining his refusal to address the subject.
Was he disgruntled?
"I won't talk about that," Maeda said.
The Japanese language allows this to be said a great deal more politely than in English, but that wasn't a denial in any tongue.
And so if the Dodgers didn't already have enough problems with their bullpen, it's pretty clear their most capable reliever is pitching under protest. The result Tuesday night was a 2-1 defeat to the San Francisco Giants, as Maeda gave up three hits and the go-ahead run in the ninth inning.
The game alone shouldn't be viewed as a sign of trouble. Disagreements over roles are commonplace in professional sports, and the best of teams survive them. By refusing to air his grievances, Maeda showed he was willing to place the team's ambitions ahead of his individual ones. He already demonstrated that last year, when he overcame the disappointment of a similar change in roles during the playoffs and excelled as a reliever.
What makes the situation problematic is there is a long-term relationship to consider. When this season ends, Maeda will still have five years remaining on his contract.
Now, it's true Maeda signed the incentive-heavy, eight-year, $25-million deal under his own volition. The right-hander wanted to pitch for the Dodgers, and he accepted what they offered him after a physical examination showed irregularities with his pitching elbow.
The agreement calls for an annual base salary of $3 million, with an additional $10.15 million in bonuses based on games started, innings pitched and making the opening day roster. Maeda can earn significantly more money as a starter than a reliever.
Maeda insisted his previously stated preference to start had nothing to do with that.
"It's not a case where I want to start because of the contract," he said. "I've been a starter my whole life."
He said he wouldn't feel any different about pitching out of the bullpen if the terms of his deal made it more lucrative. In that case, so much for the idea of him and the Dodgers reworking his deal over the offseason, which would probably require the approval of the players' union.
His resistance is almost certainly founded in something in which a compromise would be harder to reach: culture.
Though starting pitchers have been devalued in the major leagues by new-age strategies employed by teams such as the Dodgers, the disparity in status between starters and relievers remains significant in Japan, where complete games remain relatively common.
And even after a few years in the United States, players such as Maeda continue to view baseball through the lens of their home country. And the fans at home are the fans they most want to make proud, which explains why they care more about how they are covered by Japanese news outlets than their American counterparts.
"I know, with some knowledge of Japanese baseball, what it means to be a starter culturally," manager Dave Roberts said.
And no amount of explaining could adequately convey to fans in Japan how much high-leverage relievers are valued here. Relievers are relievers, an underwhelming role for a right-hander who was twice named the best starting pitcher in Nippon Professional Baseball.
Ironically, the decision to move Maeda into the bullpen was based in part in the Dodgers' confidence that he could be an effective reliever. He's previously excelled as one. He also posted an earned-run average of 6.45 in his four starts after the All-Star break.
Maeda could argue that the four starts were a rough stretch in an otherwise solid season. Determined to remain in the rotation this year, he sharpened his slider and altered the grip of his changeup. He went into the All-Star break with a 7-5 record and 3.12 earned-run average.
"He feels he's the best option to make a start every fifth day," Roberts said. "We want all of our pitchers to feel that way."
If Maeda doesn't feel valued, it's not because the Dodgers haven't tried to make him feel that way.
"The last few years, we've done things to show our appreciation for him," Roberts said. "I don't need to go to specifics, but there are certain things that we've done."
Such as how they adjusted their plans to let Maeda reach certain incentive benchmarks or provided him with extra days between starts to help him perform better.
The Dodgers could also point out their investment in him included the $20- million posting fee they paid the Hiroshima Carp, his team in Japan. And how the terms of their agreement allowed him to collect almost $13 million as a major league rookie in 2016; he never earned $3 million in any single season in Japan.
Still, something remains lost in translation.
The Dodgers have to do something about that. Failure to do so won't result in them losing Maeda in body, as his contract binds him to them through 2023. But they could eventually lose him in spirit, which could be as damaging.
Follow Dylan Hernandez on Twitter @dylanohernandez
Get our Dodgers Dugout newsletter for insights, news and much more.
You may occasionally receive promotional content from the Los Angeles Times.