Jose Peraza makes his debut with Dodgers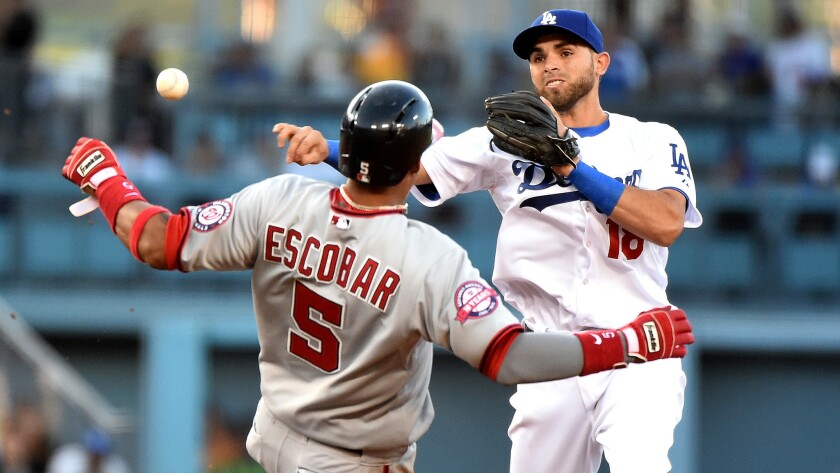 Adrian Beltre was 19 when he made his major league debut for the Dodgers. He batted eighth, and he doubled in his first at-bat, against the Angels' Chuck Finley.
That was 17 years ago. When Jose Peraza started at second base on Monday, the 21-year-old became the youngest position player to debut for the Dodgers since Beltre.
Peraza bobbled the first ground ball hit to him, in the top of the first inning, but recovered to throw out Bryce Harper. He batted second, and in his first at-bat he flied out. In his next at-bat, he flashed his speed by turning a single that skipped past a diving Harper into a triple, punctuating his first major league hit with a headfirst slide.
The Dodgers called up Peraza on Monday to replace second baseman Howie Kendrick, who was put on the disabled list because of a strained left hamstring. Peraza, acquired from the Atlanta Braves in the Dodgers' three-team, 13-player trade on July 30, batted .385 in 10 games at triple-A Oklahoma City.
He could add the speed dimension the Dodgers have lacked since they traded second baseman Dee Gordon to the Miami Marlins last winter. However, Manager Don Mattingly said Enrique Hernandez would get "the first shot" at most of the playing time at second base, with Peraza getting some time there and third basemen Alberto Callaspo and Justin Turner also working out at the position.
Hernandez started in center field Monday.
Mattingly said Turner is expected to return this week after recovering from a leg infection. He said that Turner would remain the Dodgers' third baseman and said that the possibility of him working out at second base did not mean the team would move Turner to second and call up another 21-year-old — phenom Corey Seager — to play third.
"I don't think anybody is willing to change what we're doing with Corey," Mattingly said.
This is the fourth time in his career that Kendrick has been on the disabled list because of a strained hamstring, the first time since 2011. In the three previous DL stints, he sat out six and a half weeks, three and a half weeks, and the minimum 15 days, respectively.
Kendrick, 32, can file for free agency after the season. He played in 105 of the Dodgers' first 111 games, batting .296 with nine home runs. Kendrick's .759 on-base plus slugging ranks third among National League second basemen.
Wood watch
In Alex Wood's first start with the Dodgers, he threw his curve 39% of the time. In his second start, on Sunday, he threw his curve 23% of the time, according to brooksbaseball.net.
Sunday's figure was in the range of his usual pitch selection. However, until his first start with the Dodgers, he had not thrown his curve more than 27% of the time in a start this season.
Wood said the extra curves in his first start represented an attempt to neutralize the Philadelphia Phillies, whom he was facing for the fourth time this season.
"They're just a super, super aggressive team," Wood said.
Wood joined the Dodgers from the Braves, in the trade that included Peraza. He said the Dodgers have asked him to use his curve more often, and he said his move to the first-base side of the pitching rubber — a move he made just before the trade — had enhanced the effectiveness of his curve.
"They like the action on my breaking ball and the weak contact I get off of it," Wood said. "So it's something we can do a little bit more.
"Ever since I moved back to the first-base side, my curveball is a lot easier for me to repeat and get consistency with, so that's played a role in it too. They like my breaking ball, and they definitely probably want me to use it a little bit more. It's probably finding that happy medium between the first one in Philly and last night."
MORE DODGERS
The real concern about Dodgers should be how average they've become
Don Mattingly and Dodgers are still doing penance for sins of the 'pen
Justin Turner's return within days will bring more change to infield
---
Get our high school sports newsletter
Prep Rally is devoted to the SoCal high school sports experience, bringing you scores, stories and a behind-the-scenes look at what makes prep sports so popular.
You may occasionally receive promotional content from the Los Angeles Times.