Nationals stick with Danny Espinosa, for a simple reason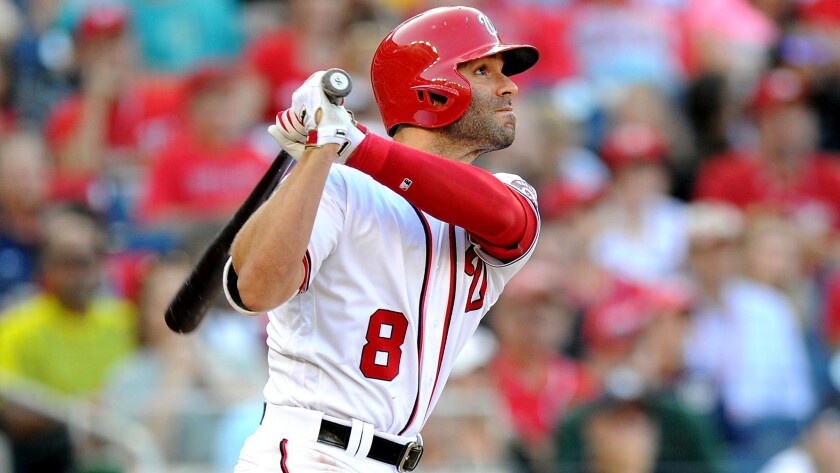 Reporting from Washington, D.C. —
The modern manager speaks in bland corporate tones, but Dusty Baker will have none of that. To the question of why he continues to play slumping shortstop Danny Espinosa, Baker had a blunt reply.
"Who else do I got?" Baker said.
Espinosa started 152 games at shortstop for the Washington Nationals this season. Stephen Drew started seven, but only one since July 6. Trea Turner, the Nationals' rookie sensation, moved from shortstop to center field when the team called him up in July. His last start at shortstop came at triple-A Syracuse on July 7.
"I mean, you give me somebody better, then I can play somebody instead," Baker said. "You know, certain times you have certain people on your team, and that's what you've got."
Espinosa, from Santa Ana Mater Dei High and Long Beach State, struck out in each of his three at-bats in Friday's playoff opener. He batted .172 after the All-Star break, with a .552 OPS. Nationals pitcher Joe Ross had a .588 OPS this season.
In September, Espinosa batted .106, with 40 strikeouts in 85 at-bats.
He did hit 24 home runs, second to the Dodgers' Corey Seager among National League shortstops.
"He's a good player," Nationals General Manager Mike Rizzo said. "We're loyal to good players."
::
All-Stars in L.A.?
It has almost become a running joke: When are the Dodgers going to play host to an All-Star game?
The Dodgers have not hosted an All-Star game since 1980, as commissioners reward teams and cities that have opened new ballparks. So Commissioner Rob Manfred was asked whether the Dodgers were ever going to host another All-Star game and, if so, when?
"It is going to happen at some point," Manfred said. "I can't give you a date.
"The current Dodger ownership group has expressed an interest in having an All-Star game. They have been very forceful in that regard. And I fully expect there will be an All-Star game in Los Angeles before I'm done being commissioner."
How long do you plan on being commissioner?
"That's a floating date," he said, laughing.
Manfred is in his second year as commissioner. His predecessor, Bud Selig, served 22 years.
"My date's not going to float that long," Manfred said.
Not to say 1980 was a long time ago, but five of the starters in the 1980 All-Star game are at least 70 years old: Rod Carew, Davey Lopes, Reggie Jackson, Graig Nettles and Reggie Smith.
Twitter: @BillShaikin
---
Get our Dodgers Dugout newsletter for insights, news and much more.
You may occasionally receive promotional content from the Los Angeles Times.