Dodgers stay quiet about Clayton Kershaw pitching on three days' rest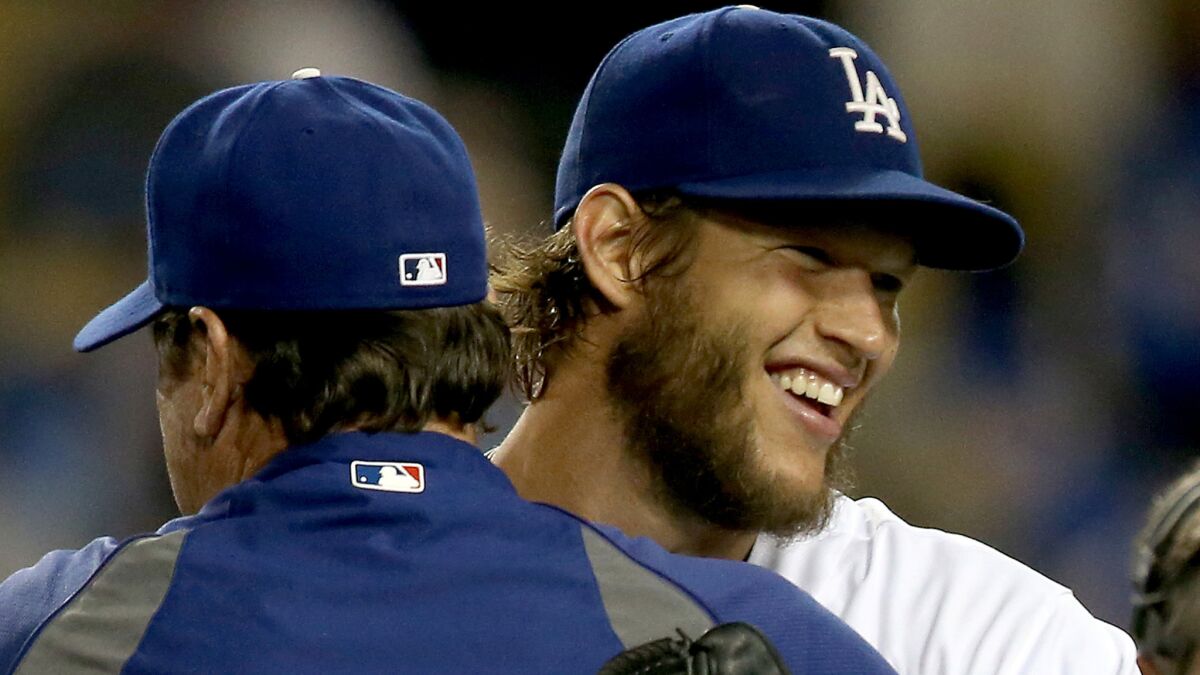 Clayton Kershaw pitched Game 4 of a National League division series last year on three days' rest.
Could Kershaw do the same again this year?
Kershaw and the Dodgers wouldn't say.
"Anything like that, we wouldn't talk about now," Manager Don Mattingly said.
Kershaw threw a bullpen session Tuesday at the team's workout at Dodger Stadium as a final preparation for his Game 1 start Friday against the St. Louis Cardinals.
"I'm pitching Friday, so that's all I'm trying to figure out right now, how to get those guys out on Friday," Kershaw said. "I'll worry about the next game after that, whenever it is. It's too hard to think about two games."
If Kershaw pitches Game 4, the Dodgers could have Kershaw or Zack Greinke on the mound as many as four times in the best-of-five series.
Game 4, if necessary, will be played Oct. 7 in St. Louis. Game 5 is scheduled for two days later in Los Angeles. Greinke, who is expected to start Saturday in Game 2, could pitch that final game on regular four days' rest.
Hyun-Jin Ryu's status could affect the Dodgers' thinking. Ryu, who sat out the final three weeks of the regular season because of an irritated shoulder, will pitch a simulated game Wednesday to determine whether he could start Game 3.
If Ryu is available, the Dodgers could start Dan Haren in Game 4 and save Kershaw for a potential Game 5 or, if they are fortunate, the next round. But if Ryu can't pitch, Haren would start Game 3 and the Game 4 alternatives to Kershaw would be Roberto Hernandez or Carlos Frias, neither of whom the Dodgers want starting.
Last year, Kershaw beat the Atlanta Braves in Game 1 of a division series. With the Dodgers ahead, two games to one, he returned four days later to pitch the fourth and final game.
Kershaw went on to start Game 2 of the NL Championship Series and limited the Cardinals to an unearned run over six innings, but lost. He was pounded for seven runs in four-plus inning in a Game 6 defeat that eliminated the Dodgers.
Short hops
Second baseman Dee Gordon said his recently irritated right hip felt fine as he ran bases and fielded grounders Tuesday. Gordon said he would be in the Dodgers lineup in Game 1 "for sure." … Shortstop Erisbel Arruebarrena, infielder Alex Guerrero, outfielder Roger Bernadina, right-hander Yimi Garcia and left-hander Daniel Coulombe were sent home or to the Dodgers' spring-training complex to continue working out. … The Dodgers' regular-season games will continue to be broadcast on KLAC-AM (570), as the team reached a multi-year agreement with iHeartMedia. As part of the deal, the Dodgers obtained an ownership stake in KLAC. The agreement is subject to the approval of the commissioner's office.
Times correspondent Steve Dilbeck and staff writer Kevin Baxter contributed to this report.
---
Get our Dodgers Dugout newsletter for insights, news and much more.
You may occasionally receive promotional content from the Los Angeles Times.