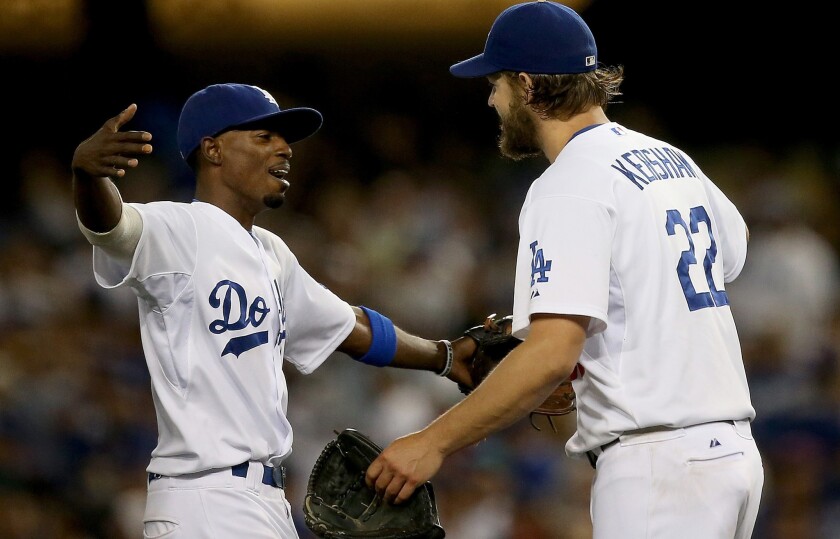 ON THE MOUND: Clayton Kershaw's scoreless streak ended at 41 innings on a sixth-inning solo home run by Chase Headley, but the Dodgers ace was otherwise nearly flawless in a complete-game victory. Kershaw won his eighth consecutive start by limiting the Padres to a run and three hits. He struck out 11 and walked one, lowering his earned-run average to 1.78.
AT THE PLATE: The Dodgers had a relatively quiet day against Odrisamer Despaigne, a 27-year-old rookie from Cuba. Making only his fourth career start, Despaigne held the Dodgers to two runs and seven hits over seven innings. Despaigne allowed a fourth-run double to countryman Yasiel Puig, who later scored on a hit by Scott Van Slyke. The Dodgers scored the winning run in the sixth inning, when Adrian Gonzalez drove in Hanley Ramirez with a sacrifice fly to center field. For Gonzalez, the run batted in was his team-leading 59th.
ROSTER MOVE: With Carl Crawford returning from the disabled list, the Dodgers opened a roster spot for him by designating Clint Robinson for assignment. Robinson could be claimed by another team. If he isn't, he could return to the Dodgers' farm system. "You hope he ends up in the big leagues for someone," Manager Don Mattingly said. "But if he doesn't, we hope he ends up back with us."
THE ROTATION: With Josh Beckett on the disabled list, the Dodgers will turn to either swingman Paul Maholm or minor leaguer Red Patterson to start in his place Saturday. Maholm hasn't started a game since May 14, but Mattingly said he thinks he could throw 80 to 90 pitches. Patterson made his major league debut on May 1, when he limited the Minnesota Twins to a run and two hits in 42/3 innings.
VOUCHERS: The Dodgers were scheduled to distribute Hello Kitty travel mugs Thursday night, but most of the items failed to reach the ballpark because the truck transporting them broke down. In response, the Dodgers issued vouchers to the first 40,000 fans who entered their gates but didn't receive mugs. Starting Monday, the vouchers can redeemed for a mug at stadium team stores until Aug. 24.
MEDICAL REPORT: Beckett played catch at 90 feet, three days after he received a cortisone injection in his left hip. Sidelined utilityman Chone Figgins hit on the field from both sides of the plate and ran the bases.
UP NEXT: Dan Haren (8-5, 4.06 earned-run average) will face the Padres and Jesse Hahn (4-2, 2.34) at Dodger Stadium on Friday at 7 p.m. On the air: SportsNet LA. Radio: 570, 1020.
---