Dodgers' rotation hit with another injury in loss to Phillies 6-1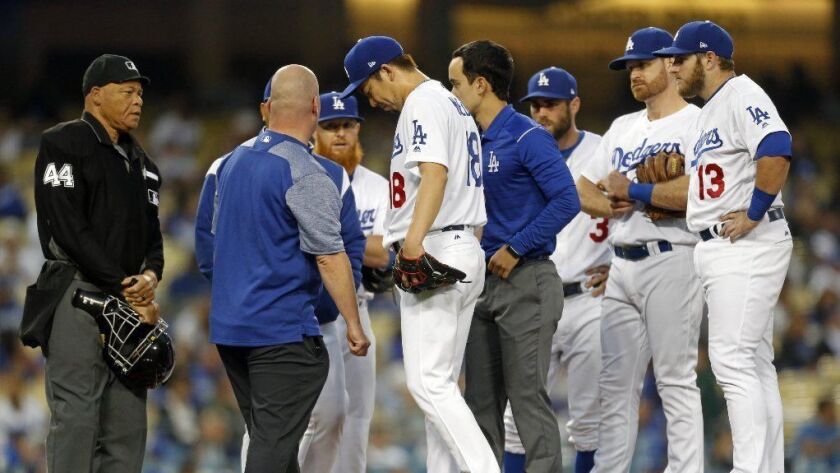 Kenta Maeda held up his right hand in protest. He raised both hands as he saw Dodgers manager Dave Roberts and a member of the training staff approach him on the mound for the second time in two batters. He shook his head as his superiors drew closer. The gestures were futile. Maeda could not talk his way into staying.
In the second inning of a 6-1 loss to the Philadelphia Phillies, Maeda exited the game because of a right hip strain. The injury lacked the sinister connotations of soreness in the elbow or shoulder. Even so, the Dodgers have already lost three members of their opening day starting rotation to the disabled list, and have stretched their pitch depth thin to compensate.
Maeda will undergo an MRI on his hip Wednesday. Roberts described the injury as "not too severe" but indicated Maeda could land on the 10-day disabled list and miss at least one start.
"I think I won't be away for a long time," Maeda said through his interpreter, Will Ireton. "At the same time, I do have to see what the MRI says."
After Maeda exited, the Dodgers (25-29) struggled to solve Phillies starter Jake Arrieta. The offense could not place a runner on third base through seven innings against him. Justin Turner provided an RBI single in the eighth inning, but Daniel Hudson gave up two runs in the ninth.
A day after stringing together five scoreless innings, the Dodgers bullpen needed to cover the majority of a game once more. Maeda recorded five outs. The Dodgers may need to recall Brock Stewart, who was optioned Tuesday afternoon following his abbreviated start Monday, to pitch this weekend against the Rockies.
The Dodgers may need to make a roster move Wednesday to bolster their bullpen. Roberts utilized six relievers Tuesday to fill the void created by Maeda's injury.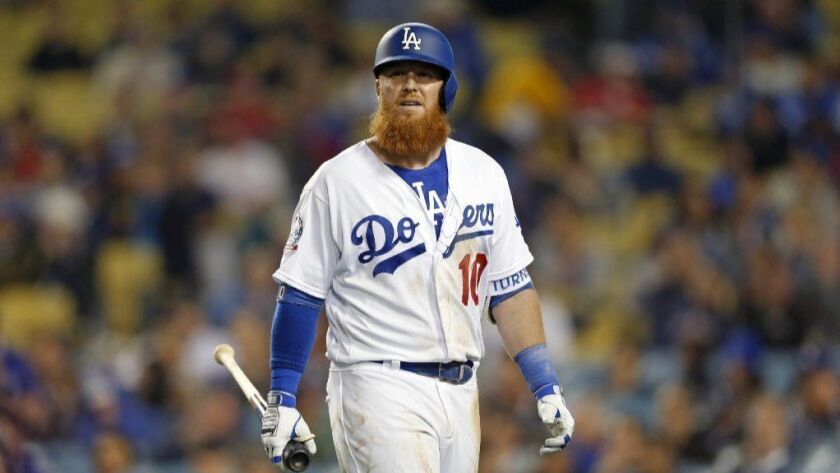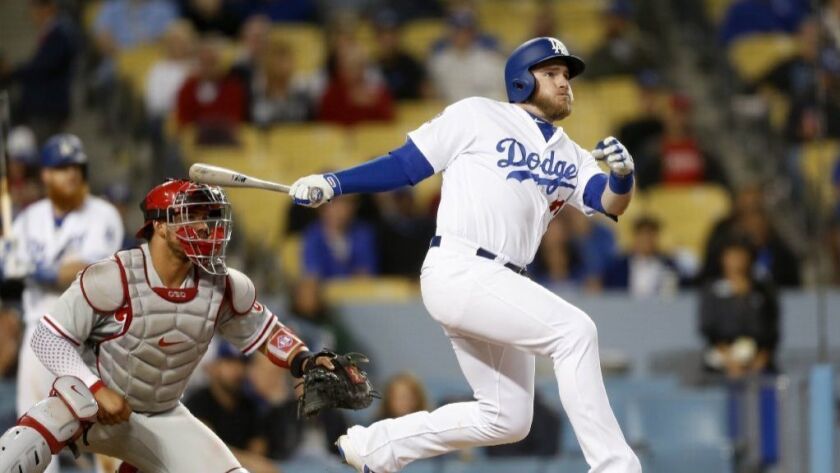 Maeda indicated he felt discomfort with his hip after his last outing. The condition improved in between starts. He hoped he could pitch through it. He discovered early Tuesday he could not, as he felt strain on his hip when placing weight on his back leg.
"I made the decision that I was able to pitch today," Maeda said. "Getting pulled out early is something I don't want to do. That puts a lot of pressure on the team."
The rotation is already beset with maladies. Clayton Kershaw missed almost the entirety of May with biceps tendinitis; he will be activated Thursday. Hyun-Jin Ryu is not expected to return from his torn groin muscle until the second half. Rich Hill remains indefinitely sidelined with a blister on his left middle finger.
Keeping the group afloat are Walker Buehler and Ross Stripling. Buehler owns a 2.20 ERA average in seven starts. Stripling has a 2.42 ERA in five starts. Maeda was dominant in his previous two outings, with 20 strikeouts across 14 2/3 scoreless innings. He could not extend that stretch of dominance Tuesday.
"It's an unexpected, Murphy's Law type thing," Roberts said. "But our guys are resilient."
The second inning did not begin well for Maeda. He fired an 0-2, 92-mph fastball on the inner half of the plate to outfielder Nick Williams. The ball landed beyond the fence in right field.
Two batters later, Maeda hung a slider and watched catcher Jorge Alfaro smash a double. Roberts and trainer Neil Rampe jogged to the mound to visit Maeda. The group conferred for a minute before Maeda threw some warmup pitches. Roberts and Rampe returned to the dugout. They did not stay there for long.
As Maeda faced Arrieta, the velocity on his fastball dipped to 90 mph. Roberts and Rampe hustled back out after Arrieta struck out. This time, Roberts took the baseball from Maeda.
The concern about Maeda's condition did not solve the dilemma on the diamond. There was a runner on base with two outs. Scott Alexander arrived to handle the rest of the inning. He walked Cesar Hernandez and watched a soft grounder from Maikel Franco find space for an infield single. When a single by Odubel Herrera bounced past Logan Forsythe at second base, the Phillies had two more runs.
The fourth inning featured three Dodgers singles. Turner, Matt Kemp and Chris Taylor all supplied hits. What they did not do was produce a run: Cody Bellinger grounded into a double play after Turner's single and Yasiel Puig stranded Kemp and Taylor by fanning on an 0-2 slider from Arrieta.
The Dodgers bullpen kept Philadelphia's offense quiet until the sixth. Pedro Baez gave up a double to shortstop Scott Kingery. Alfaro punched an RBI double down the right-field line in the next at-bat to pad the Phillies' lead.
The offense spent the sixth and seventh squandering chances against Arrieta. After a leadoff single by Max Muncy and a one-out walk by Bellinger in the sixth, Kemp popped up and Taylor took a called third strike. Logan Forsythe followed a leadoff walk by Puig in the seventh by hitting into a 6-4-3 double play.
"Arrieta pitched well tonight," Roberts said. "We couldn't put anything together."
Follow Andy McCullough on Twitter @McCulloughTimes
---
Get our Dodgers Dugout newsletter for insights, news and much more.
You may occasionally receive promotional content from the Los Angeles Times.