Matt Kemp puts on offensive show in Dodgers' 8-2 win over the Phillies
Los Angeles Times sports writer Andy McCullough and columnist Dylan Hernandez talk about Dodgers baseball and Clayton Kershaw's return.
Matt Kemp finished a round of autographs on Wednesday afternoon and waded through his dugout. A half-dozen pint-sized Dodgers fans gawked as Kemp returned with one of his bats. He asked the kids to rub the lumber for good luck, a sprinkling of witchcraft for his charmed season.
Acquired as an afterthought during the winter, Kemp has been a steady force through a rocky two-month start to the season. He has delivered critical hits as a starter and as a pinch-hitter. In Wednesday's 8-2 victory over the Phillies, Kemp provided an RBI double in the first inning, a two-run home run in the third and a sacrifice fly in the eighth as Ross Stripling silenced his guests at Dodger Stadium.
Voting for the All-Star game opens Friday afternoon, and Kemp may be the most deserving Dodger, an outcome that sounded preposterous when the team acquired him from Atlanta for a trio of curdled contracts in December. Unable to offload Kemp during the winter, the Dodgers invited him to Camelback Ranch. Kemp played his way onto the roster and into the heart of the lineup. He has been essential as the Dodgers (26-29) crawl back toward a .500 record.
"Honestly, all I care about is us getting to the playoffs and winning a championship," Kemp said.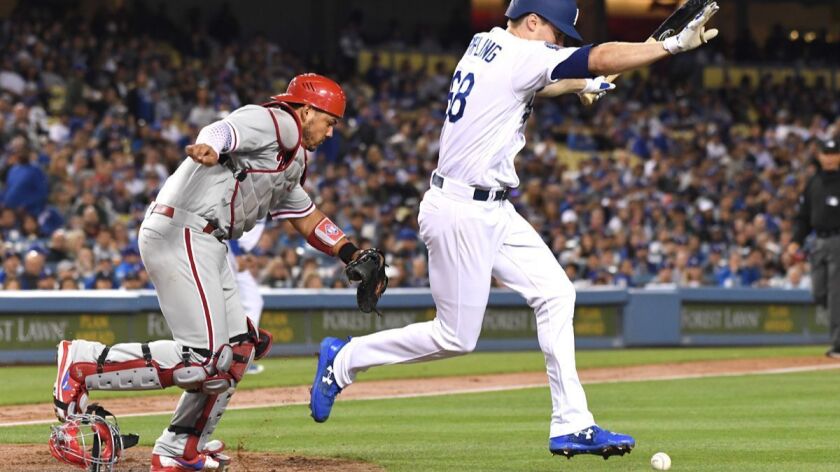 Led by Kemp's four RBIs, the offense pilloried Philadelphia starter Zach Eflin, but Stripling did not require much backing. He struck out nine. His only blemish occurred on a solo home run by Phillies outfielder Nick Williams in the seventh. Stripling completed seven innings for only the third time in his big league career and for the first time since Aug. 12, 2016. He did so in 92 pitches, a model of efficiency against a prolific Phillies offense.
And this afternoon, for the first time since May 1, the Dodgers will turn Clayton Kershaw loose in the series finale against budding Phillies ace Aaron Nola.
"Any time you get him back, that's a huge morale boost," Stripling said.
The Dodgers missed Kershaw this month. But the starting pitching remained sturdy. The team entered Wednesday's game with a 3.36 ERA average for starting pitchers, the fifth-lowest in the sport. Stripling played a role in generating that number.
Paired with rookie Walker Buehler, Stripling has provided ballast for the rotation. He had not been a regular member of the starting five since the first half of 2016. He made a four-inning emergency start in late April, and then filled the void created by Kershaw's arm injury this month. In four starts in May, Stripling struck out 31 and permitted three earned runs in 22 innings.
The Dodgers gave Stripling a lead in the bottom of the first inning. Joc Pederson led off with a single, but lingered at first base as Eflin struck out Max Muncy and Yasmani Grandal. Eflin had less luck with Kemp.
Kemp has been the Dodgers' most productive hitter in 2018. He entered the day leading the team in batting average (.341), on-base-plus- slugging percentage (.902) and doubles (13). He finished the evening as the leader with 30 RBIs. He added another double to his resume against Eflin, ripping a slider into the left-field corner to provide Pederson enough time to chug home.
"Matt put three really good swings on the ball tonight," manager Dave Roberts said. "He's just seeing the ball well, using the whole field."
The lead ballooned to four runs in the third. Eflin tempted Muncy with three consecutive changeups. Muncy blasted the third for his seventh home run of the season.
After Grandal walked, Kemp returned to the plate. Eflin flung a first-pitch fastball on Kemp's hands. The pitch did not lock Kemp up. He launched the baseball several rows deep in the left-field pavilion.
"I just try to go out there and make things happen," Kemp said. "Whatever happens, happens."
The Dodgers produced a run under strange circumstances in the fourth. Stripling came to the plate after a pair of singles. Trying to move the runners with a bunt, he tapped the ball into the grass. Stripling broke for first base with Phillies catcher Jorge Alfaro trailing him. Alfaro nudged Stripling out of the way to get to the baseball, only to muff the scoop. After Alfaro's error, Pederson provided a sacrifice fly.
Stripling did even more for the offense in the fifth. Eflin departed after four innings, but the Dodgers transitioned to pounding Phillies reliever Victor Arano. Chris Taylor, on his bobblehead night, smacked an RBI double. With Logan Forsythe intentionally walked in front of him, Stripling lined a 93-mph fastball into the outfield for a single. He had not recorded a hit all season. He drove in a run for the first time since 2016.
It was a good day for Stripling. It was a good day for Kemp. It was a good day for Dodgers as they creep out of their early-season hole.
"Guys are just starting to get a little bit more confident, feel a little better about how we're playing baseball," Stripling said. "When you have talent like this, it's just bound to start swinging our way."
Los Angeles Times sports writer Andy McCullough and columnist Dylan Hernandez talk about Dodgers baseball and Clayton Kershaw's return.
Twitter: @McCulloughTimes
---
Get our Dodgers Dugout newsletter for insights, news and much more.
You may occasionally receive promotional content from the Los Angeles Times.