Curtis Granderson hits a river shot as Dodgers down Pirates, 5-2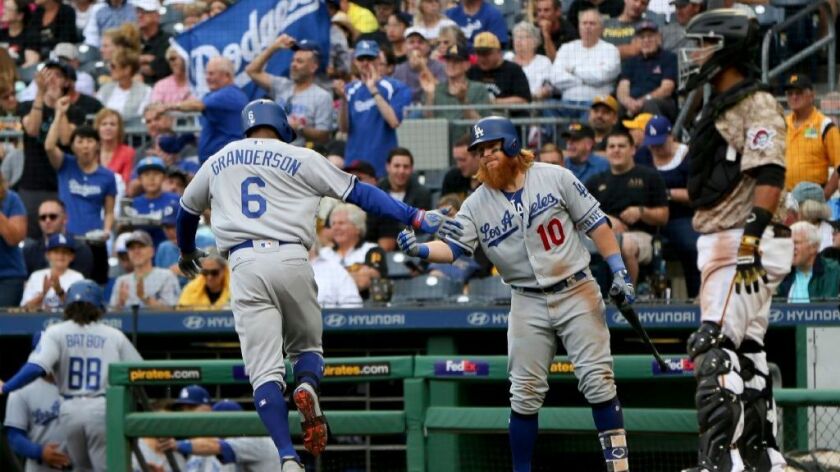 Reporting from PITTSBURGH —
The brownish-green waters of the Allegheny River surge beneath a trio of bridges — one named after environmentalist Rachel Carson, another commemorating pop artist Andy Warhol and a third recognizing Pirates legend Roberto Clemente — as the backdrop at PNC Park.
The river was calm on Thursday afternoon, undisturbed until receiving a visitor sent by Dodgers outfielder Curtis Granderson in a 5-2 victory over the Pirates.
In his sixth game as a Dodger, Granderson hit his third home run for his new team. This one was a solo shot in the fourth inning against Pittsburgh starter Chad Kuhl. The blast cleared the stands in right field, bounced off the concrete concourse and splashed into the drink.
"That's pretty cool," Granderson said. "Take advantage of the elements. The wind had been blowing."
The Dodgers (90-36) took three of four games from the Pirates despite another inefficient outing at the plate, coming up empty in bases-loaded situations in three different innings. In the eighth, Yasmani Grandal and Adrian Gonzalez battered rookie reliever Angel Sanchez, who was making his major league debut, with back-to-back solo homers. Gonzalez went deep for the second time this season.
A stout performance from Hyun-Jin Ryu kept Pittsburgh quiet. Ryu gave up one run in six innings to lower his second-half earned-run average to 1.54. Josh Fields and Tony Watson combined to give up a run in the eighth. With Kenley Jansen getting a day off, Brandon Morrow recorded his first save since May 10, 2009.
The Dodgers reached 90 wins faster than any other group in franchise history, besting the 1953 team, which won its 90th game on Aug. 31. With six games left in August, the Dodgers are two victories away from matching their win total from last season, when they won the National League West for the fourth season in a row.
"I like wins," manager Dave Roberts said. "After last night's game, we seem to find a way after losses to come back and have a quality baseball game."
The Dodgers returned to PNC Park a little more than 12 hours after Rich Hill's tarnished gem on Wednesday. He threw nine innings of no-hit baseball, but did not receive credit for a no-hitter because his teammates failed to score a run. He took the loss after Pirates second baseman Josh Harrison hit a homer in the bottom of the 10th.
Hill maintained his composure after the game. He declined to criticize Logan Forsythe for bobbling a grounder in the ninth, which broke up Hill's perfect game, or the offense, which cost him the no-hitter. Roberts spent time with Hill at the team hotel later in the night, to make sure the left-hander wasn't too forlorn.
"He said all the right things — and I know he believes it," Roberts said. "But the tone in the clubhouse, guys felt bad that we couldn't push one across for him. But you look at what he did last night, it was some kind of special."
Hill did not appear downcast as he went about his work. He said he had already flipped his focus toward his next start. During his outing on Wednesday, he insisted, he felt no issues with the blisters on his left hand that have hampered him in the past. "I feel great," he said.
The first inning on Thursday felt like a replay of the previous night, when the Dodgers went 0 for 9 with runners in scoring position.The Dodgers started the game against Kuhl by loading the bases in the first inning — then leaving them loaded after strikeouts by Gonzalez and Yasiel Puig.
A breakthrough occurred in the second. Enrique Hernandez walked, took second on a bunt by Ryu and scored on a two-out single by Chris Taylor. Pittsburgh evened the score in the bottom of the inning. Ryu paid for a two-out walk to outfielder Sean Rodriguez. He scored after singles by catcher Elias Diaz and shortstop Jordy Mercer.
Granderson broke the tie two innings later. He has lived up to his advertisement during his first week as a Dodger. The team hoped he could deliver lengthy at-bats and swat homers. On Thursday, he walked three times.
In the seventh, a double by Puig set up a two-out RBI single for Hernandez. An inning later, Grandal and Gonzalez punished Sanchez, the rookie. Grandal clubbed a belt-high, 92-mph fastball into the right-field seats. On the next pitch, Gonzalez volleyed a 96-mph fastball into the same area.
The late-game outburst underscored how Granderson felt about joining the best team in baseball. He was dynamic on his first trip as a Dodger. But so were so many of his new teammates.
"It's not necessarily me doing anything," Granderson said. "This is what they've been doing all season long. I'm just trying to come in and fit in."
Twitter: @McCulloughTimes
---
Get our Dodgers Dugout newsletter for insights, news and much more.
You may occasionally receive promotional content from the Los Angeles Times.