Dodgers show vulnerability by blowing late lead at San Diego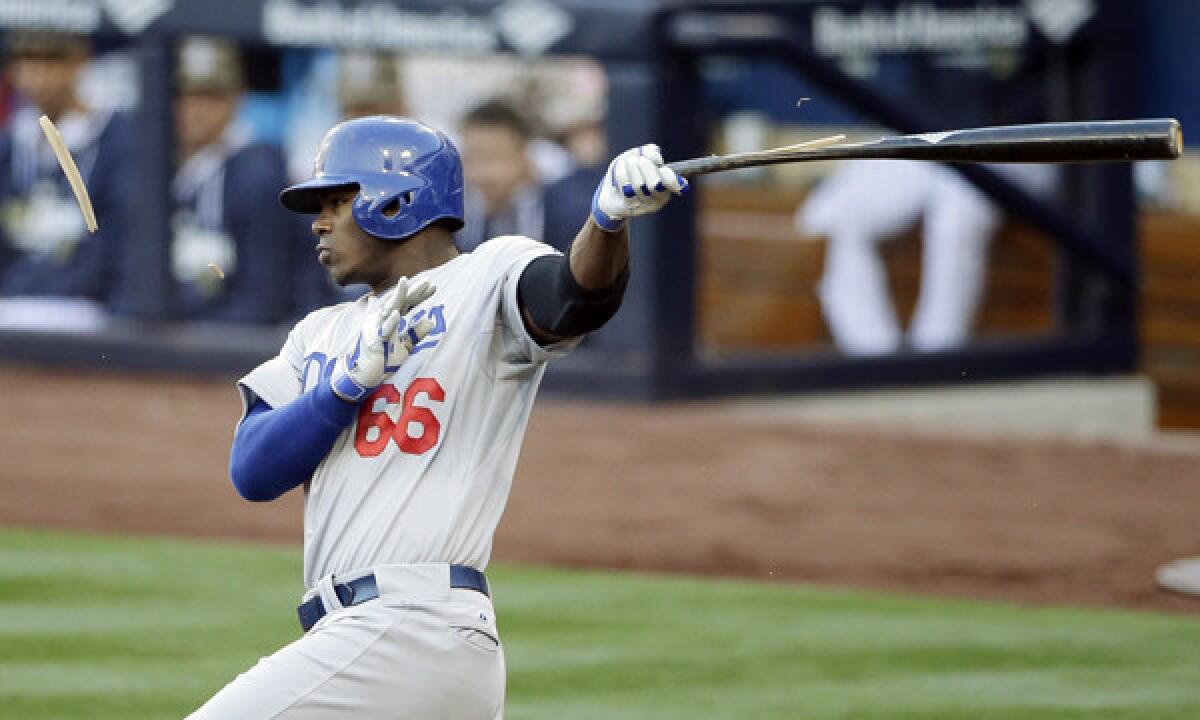 SAN DIEGO — For seven innings, it was a game that glittered with the Dodgers' brightest hopes.
Then, in what felt like seven minutes, it was a game that swallowed them up in their worst fears.
What began as a nice first chapter highlighted by great pitching and smart hitting devolved into a woeful opening verse of lousy relief, shoddy fielding, managerial second-guessing and a giant poke in the belly of the $250-million beast.
What began as a pleasant night at Petco Park suddenly became a raging storm that thundered with chants of "Beat L.A.''
It was a sweet opener, until the Dodgers forgot to close it, losing a one-run lead in the eighth inning in a 3-1 loss to the San Diego Padres on Sunday in baseball's first 2014 game on U.S. soil.
No, they aren't in Australia anymore, where they started the season with two wins. They're also not in last autumn anymore, when Brian Wilson was unhittable and Juan Uribe was untouchable and the middle of their batting order was unstoppable.
Where are they, exactly, after two games down under and one game that was just ... down? Maybe a tad stunned, possibly a little edgy, but mostly awash in the stark realization that even baseball's richest team is going to have to roll up its sleeves for every bit of nine innings.
"We'll let this one hurt for a while, it's good for us," catcher A.J. Ellis said. "We need to know we can't make these mistakes and win games, let alone anything big."
Some fans think the mistake began in the dugout, where Manager Don Mattingly replaced Hyun-Jin Ryu with Wilson after seven innings with a 1-0 lead even though Ryu had given up only three hits and had barely broken a sweat with 88 pitches.
For several reasons, that second-guessing doesn't work. First, Ryu said he was tiring and asked out of the game. Second, the Dodgers' game plan this season is to work the starters seven innings if possible and then give the ball to Wilson and closer Kenley Jansen. Remember, Wilson gave up only one run last year in nearly two months as a Dodger and pitched a perfect inning in Australia.
"[The situation] is what we want, we'll take it every night … that's the blueprint for us," Mattingly said. "Your starter gives you a good seven, your back end is as good as ours, you're going to feel pretty good at that point."
Yet, three pitches into Wilson's night, the Dodgers felt absolutely awful as Seth Smith lofted a 2-and-0 slider into the right-field seats to tie the score.
"It was about not being able to get ahead of the hitter, then throwing a pitch that was uncharacteristic of me," Wilson said. "From there, the tire deflated."
Psssst. Wilson walked Yasmani Grandal on six pitches. Psssst. Wilson dropped a bunt by Everth Cabrera.
Then it was Uribe's turn to mess up, as he charged too far from third base on a bunt try by Chris Denorfia . When Denorfia's bat missed the ball, Grandal was able to steal an unattended third base because Uribe couldn't get back in time. After Cabrera stole second unchallenged, Denorfia singled up the middle to drive in two runs for the lead and, eventually, the victory.
"You feel like you got yourself in a position to win, we feel like we'll win our share of those right there," Mattingly said.
Last year, yes. This year, everyone expects the same, the Dodgers having been picked by everyone to win the National League West and contend for what would be their first World Series berth in 26 years.
But who knows. Things felt different in Sunday's nationally televised "opener," and not only because the Dodgers had already played two games.
Neither of the Dodgers' two most visible owners, Mark Walter or Magic Johnson, were in attendance, with Johnson being seen cheering for his beloved Michigan State basketball team in the NCAA regionals in New York.
On the field, it was also different to see the Dodgers' aggressive bats struggle, with Hanley Ramirez, Adrian Gonzalez and Andre Ethier being a combined four for 32 with only one extra-base hit in three games.
One of the few familiar sights at Petco was the play of Yasiel Puig, who encapsulated his 2013 struggles in the first inning alone, striking out wildly on three pitches and then overthrowing the cutoff man from right field.
In more Puig news — can there ever be enough? — there has been clarification on a report last week that Mattingly called a team meeting about Puig. Actually, it was Puig who summoned several players hanging around the clubhouse and asked them if anybody had a problem with the way he played.
One veteran spoke up. Then another. Both had the same problem, that Puig was playing too fast and loose with their championship hopes.
There is no sign yet that he has listened, but at least on this night, the losing story revolved around the older guys.
"It's a hard one to swallow," Wilson said shortly after a hopeful Dodgers nation quietly took the 2014 season's first uncomfortable gulp.
Twitter: @Billplaschke
Get our Dodgers Dugout newsletter for insights, news and much more.
You may occasionally receive promotional content from the Los Angeles Times.