The muscle is blinding. The power is inspiring.
The deal for mashing Manny Machado was followed by a deal for slugging Brian Dozier on Tuesday, and the Dodgers trade deadline tinkering resulted in a batting order that is World Series worthy.
"We're looking good, man," marveled Kenley Jansen.
Yeah, well, until you really look.
In attempting to put the finishing touches on a complete October team, the Dodgers got it only half right.
They're thick in the chest but frail at the knees. They're powerful early but vunerable late. They can absolutely crush, but it is far more uncertain whether they can close.
Great job with that lineup, fellas, but what about the bullpen?
The Dodgers did everything this trading season except the one thing they absolutely needed to do.
They needed to ensure that a hard-fought lead on an October night isn't handed to someone who has no idea what to do with it.
They needed a setup guy for Jansen. They needed one of the several available closers who could supply a strong-enough bridge to Jansen that the Dodgers could avoid a repeat of last fall's two bullpen-blown World Series losses.
"We were hoping to add a bullpen arm with some end of the game experience," general manager Farhan Zaidi said Tuesday.
Yet, in what could wind up being the most questionable inaction of the front office's busy four-year regime — even more than the 2015 failure to acquire Cole Hamels — they didn't grab one.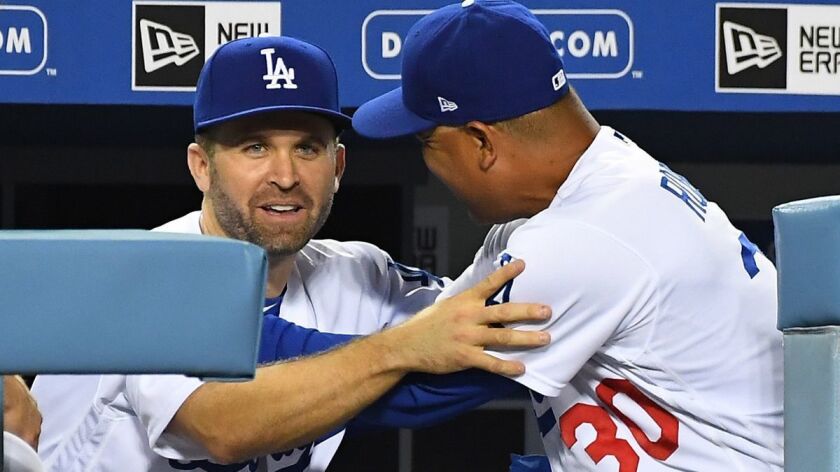 Zach Britton went to the New York Yankees. Joakim Soria went to the Milwaukee Brewers. Brad Hand went to the Cleveland Indians. Keone Kela went to the Pittsburgh Pirates.
Raisel Iglesias, perhaps their most coveted arm, stayed with the Cincinnati Reds. Ryan Madsen and Kelvin Herrera, two other potential targets, didn't leave the Washington Nationals.
The Dodgers scoured the league's bullpens for what they know could have been their most important arm this October and they came up with … John Axford?
He was acquired from Toronto on Tuesday for a minor league pitcher. He is supposed to be a great guy. He had 25 saves as recently as three seasons ago in Colorado. But he's 35 and coming off consecutive struggling summers and will probably be relegated to middle-innings matchup duty.
The Dodgers needed more than that, and they know it, and now everyone has to spend the next two months holding their breath and praying they will not have to relive the nightmare of Scott Elbert.
Remember him? He was another nice guy who, in the fall of 2014, was inexplicably brought into a division series in St. Louis in the seventh inning with only one postseason inning on his resume. He quickly gave up two runs, the Dodgers lost the game, eventually lost the series, general manager Ned Colletti lost his job, and manager Don Mattingly lasted only one more year.
Bad October bullpens can not only lose games, but disintegrate teams. Elbert was used only because he was part of a bad bullpen. Without an additional arm, this fall's Dodgers bullpen could enter the postseason as the team's scariest one since then.
It ranks seventh in a league where the bullpen earned-run average is led by playoff contenders Arizona, Chicago and Milwaukee. On Tuesday night, the Diamondbacks, with two new relievers, moved into the first place while the Brewers bullpen shut down the Dodgers for a second consecutive night in a 1-0 Dodgers loss.
The Dodgers bullpen has some decent arms, but some are inconsistent arms, and others are crunch-time untested arms. From Daniel Hudson to Pedro Baez to a recuperating Tony Cingrani, just to name a few, all would present the sort of risk the Dodgers just don't need. The front office knew this when they started chasing relievers this summer, but they lost every battle.
Each loss can probably be rationalized, but, after a 30-year title drought, each loss is also difficult for Dodgers fans to swallow.
They really couldn't get Britton because they didn't want to go over the luxury tax and hinder their ability to sign free agents next winter? Next winter? They've spent so much money already, and they're so close, why wouldn't they want to make a move that could make it all pay off?
Other teams wanted a competent major leaguer or a top-10 prospect? With the window closing fast on this particular Dodgers team, what price would be too much?
Regardless of how they lost, they lost, and here's what happens now.
They mix. They match. They cut. They paste. They piece a bunch of odd parts together and hope it holds. They try something that can work for the occasional playoff game, but rarely is strong enough to withstand the rigors of an entire series.
"I don't know that we're going to evolve into a team that has a pure eighth-inning guy, as opposed to kind of, matching up and playing out the end of the game that way," Zaidi said.
Zaidi believes Axford could wind up being that guy. He also believes in their other guys. When I asked him if he thinks the bullpen is October-sound, he offered a resounding endorsement.
"This 'pen and this group of guys have come a long way from earlier in the season," he said. "So, yes, my answer is yes."
That said, Zaidi also acknowledged that part of this mix will be castoffs from the starting rotation. Ross Stripling, Kenta Maeda, come on down.
"We may look at different ways to play out the pitching staff, maybe some unconventional ways to do it, because we have a lot of guys who can give quality innings," Zaidi said. "Everything is going to be on the table."
That will be some table. Playoff games could feel like spring-training games. Players will be shoved out of their comfort zones. The operative word could become "piggyback."
Maybe the starter goes five, Maeda goes three and Jansen closes? Maybe the starter and Stripling go four innings each before Jansen closes?
Maeda was nearly unhittable in nine postseason appearances last season. Stripling issued a devastating walk in Game 2 of the World Series but didn't give up an earned run in five postseason innings.
Anything is possible, but everything is risky. It's going to be more interesting than it should be. It's going to be more tenuous than necessary.
The only thing certain is that the Dodgers bullpen positively, absolutely will not contain Enrique Hernandez.
For now.
Get more of Bill Plaschke's work and follow him on Twitter @BillPlaschke
---