Reconstructing the Dodgers' 2016 Game 5 NLDS win over Washington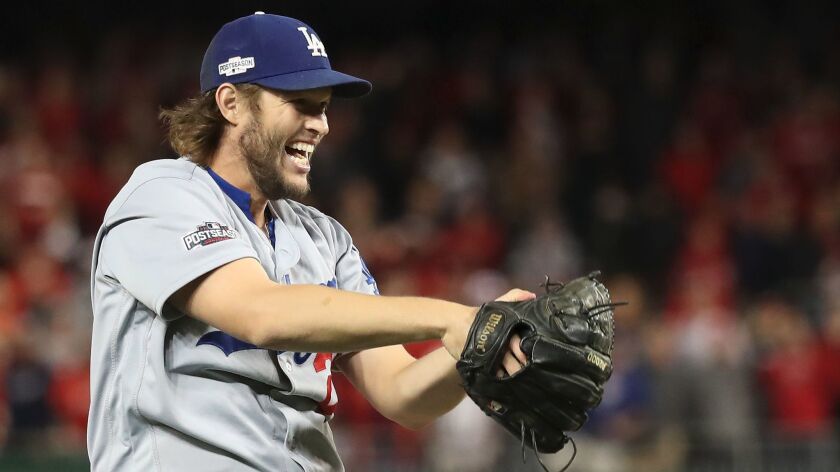 On the ground floor of Nationals Park in Washington, in a hallway underneath sections 116 and 117, Clayton Kershaw emerged from isolation as his teammates jogged off the field. He ascended a flight of seven steps into the third base dugout. He zipped a Dodger blue jacket to his neck. He understood the fate of his franchise rested on his shoulders.
Kershaw conferred with manager Dave Roberts before leaving the dugout. His presence was spectral but unmistakable, a source of bewilderment and giddiness to teammates. Kershaw climbed six steps to the field and crossed paths with a winded Kenley Jansen.
"Am I dreaming?" Jansen wondered.
As he walked along the left-field line toward the visitor's bullpen, his chin tucked to his chest, Kershaw thought about how he might disarm Washington slugger Daniel Murphy. The Mid-Atlantic breeze swept through his hair. It was 12 minutes past midnight on Oct. 14, 2016, just before the start of the ninth inning of the decisive Game 5 of the National League division series, a game that began four hours and three minutes earlier, a game the Dodgers led by the score of 4-3, a game Kershaw felt he must save.
In a suite above the diamond, Andrew Freidman, the Dodgers' president of baseball operations, huddled with his lieutenants. They were counting outs along with Roberts in the dugout, sweating as they wondered how to finish the ninth. Jansen had pushed himself to exhaustion, entering the game in the seventh, two innings earlier than usual. The Dodgers were unsure if he could collect the final three outs.
The group had spent hours poring over spreadsheets and scouting reports to plan for this night. The game had not cooperated. Now, as Friedman looked down at the field, he saw Kershaw. .
"What the …?" Friedman said. He figured it must be a ploy by Roberts to rattle Washington manager Dusty Baker. Little else made sense. Only one day separated Kershaw from his grueling 110-pitch outing in Game 4. Only three months separated him from the herniated disk that could have ended his season.
As Kershaw loosened up in the bullpen, a phone rang inside Friedman's suite. It was a member of the training staff. "Kersh is going to see if he can get loose," the trainer said. "And there was nothing we could do to stop him."
::
The record shows that Kershaw spent less than six minutes on the mound that night. He faced two batters. He threw seven pitches. In the joyous aftermath, he tried to cast himself as a bit player in a team-wide production. He was not wrong.
Rich Hill volunteered to pitch on short rest for the first time in his career. Roberts orchestrated a tactical masterpiece. Joc Pederson altered the game's trajectory with one swing and Justin Turner finished off the implosion of Washington's bullpen. Unmoved by the siren song of free agency, Jansen expanded the horizon of his own ability.
At the end, though, there was only Kershaw. His manager and his pitching coach did not want him to pitch. He convinced them otherwise. When it was over, his teammates engulfed him in the middle of the diamond. Twenty-four players converged around one, as one.
"It was important for guys to understand it's about swallowing your pride, that it's not about your role, that it's about whatever it takes for the team," Turner said. "That was the ultimate team-first win."
Full gratification eluded the Dodgers after Game 5. They lost in the next round to Chicago, still unable to reach the World Series since 1988. Yet the victory over Washington capped the team-building quest Roberts undertook in his first season as a manager. He preached sacrifice and selflessness; on this night, his players drank from the same well.
It is an apex the team may not reach again. After riding this formula of cohesion and cooperation for five months in 2017, the group saw its veneer of confidence shattered by a wretched September. They have limped into October. Questions linger about every phase of their operation, including Kershaw.
As these playoffs begin, the Dodgers need not search far for inspiration. The men who led this team as the clock passed midnight on Oct. 14, 2016 will also lead this team on Friday in Game 1 of the NLDS. In order to end this 28-season championship drought, to fulfill the promise created by this summer, they must return to the spirit of that night last October, the night Kershaw decided, "You just have to say 'Screw it,' and go pitch."
That was the ultimate team-first win.
— Dodgers third baseman Justin Turner
Dodgers Charlie Culberson players celebrates in the locker room after defeating the Nationals in Game 5 of the NLDS.
(Wally Skalij / Los Angeles Times)
Dodgers outfielder Yasiel Puig celebrates after defeating the Nationals in Game 5 of the NLDS.
(Wally Skalij / Los Angeles Times)
Dodgers ace Clayton Kershaw is swarmed by teammates after recording the final two outs in the ninth inning of Game 5.
(Wally Skalij / Los Angeles Times)
Dodgers pitcher Clayton Kershaw reacts after recording the final out against the Nationals in Game 5 of the NLDS on Thursday night.
(Wally Skalij / Los Angeles Times)
Dodgers pitcher Clayton Kershaw celebrates as Washington's Wilmer Difo is thrown out at first base after he struck out swinging at a pitch in the dirt for the final out in Game 5 of the NLDS.
(Wally Skalij / Los Angeles Times)
Dodger players and coaches celebrate after pinch-hitter Carlos Ruiz delivered a run-scoring single to take the lead over the Nationals in the seventh inning of Game 5.
(Wally Skalij / Los Angeles Times)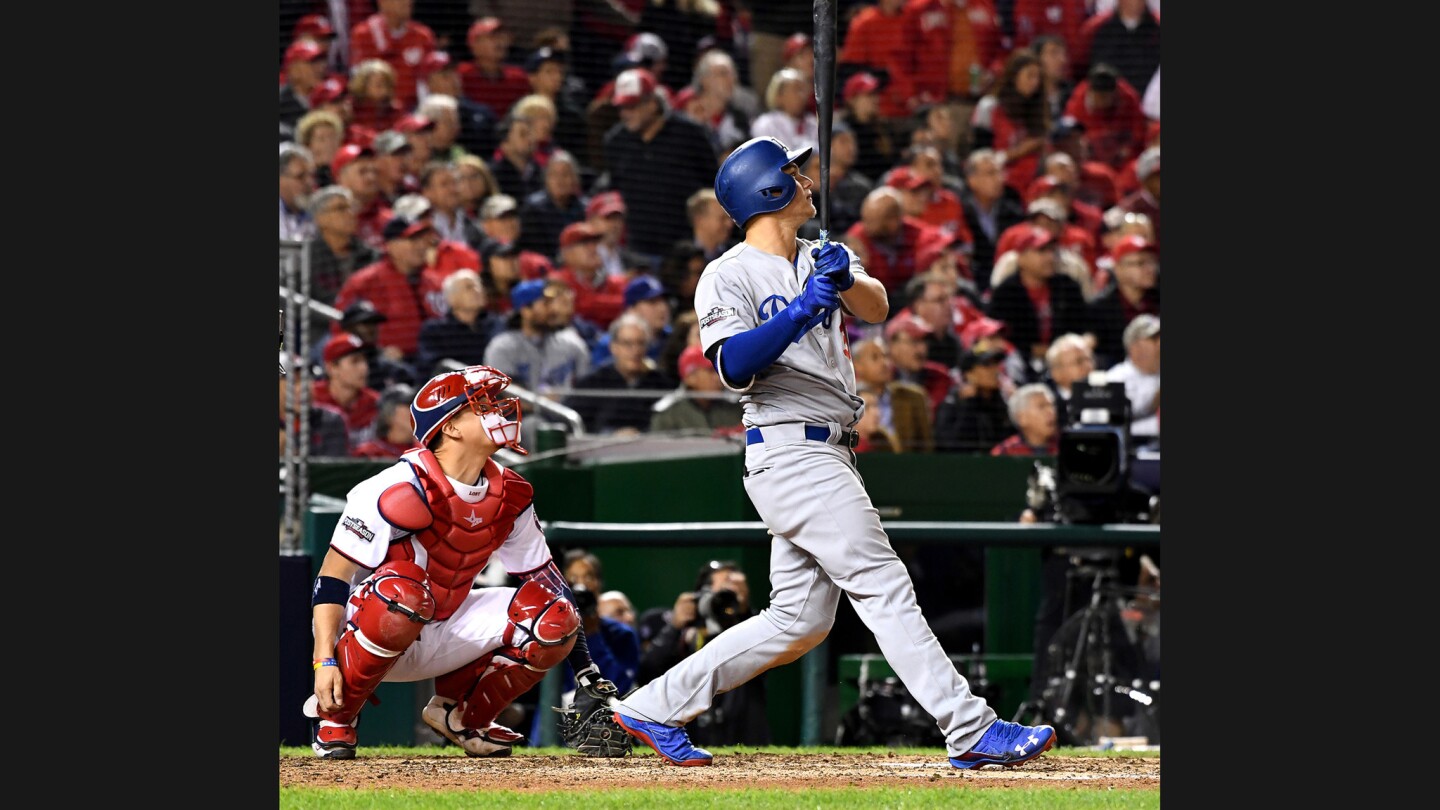 Dodgers center fielder Joc Pederson hits a solo home run against Nationals starter Max Scherzer to lead off the seventh inning of Game 5.
(Wally Skalij / Los Angeles Times)
Nationals center fielder Trea Turner crashes into the wall after failing to catch up to a triple by Dodgers third baseman Justin Turner in the seventh inning of Game 5. Turner drove in two runs to give L.A. a 4-1 lead.
(Wally Skalij / Los Angeles Times)
Dodgers Carlos Ruiz hits an RBI single in the 7th inning against the Nationals in Game 5 of the NLDS.
(Wally Skalij / Los Angeles Times)
Dodgers third baseman Justin Turner celebrates his two-run triple against the Nationals in the seventh inning of Game 5.
(Wally Skalij / Los Angeles Times)
Dodgers pitcher Julio Urias threw two innings of scoreless relief against the Nationals in Game 5. He walked two and gave up one hit.
(Wally Skalij / Los Angeles Times)
Dodgers catcher Yasmani Grandal tags out Nationals right fielder Jayson Werth at home plate as he tried to score from first base on a double by teammate Ryan Zimmerman in the sixth inning of Game 5.
(Wally Skalij / Los Angeles Times)
Dodgers catcher Yasmani Grandal tags out Nationals right fielder Jayson Werth at home plate as he tried to score from first base on a double by teammate Ryan Zimmerman in the sixth inning of Game 5.
(Wally Skalij / Los Angeles Times)
Nationals starter Max Scherzer did not give up a hit to the Dodgers until the fifth inning of Game 5.
(Wally Skalij / Los Angeles Times)
Dodgers pinch-hitter Andre Ethier heads back to the dugout after striking out with the bases loaded in the fifth inning of Game 5.
(Wally Skalij / Los Angeles Times)
Nationals second baseman Daniel Murphy celebrates after scoring a run against the Dodgers and pitcher Rich Hill (background) in the second inning of Game 5 of the NLDS on Thursday in Washington.
(Wally Skalij / Los Angeles Times)
Nationals second baseman Daniel Murphy beats the throw to Dodgers catcher Yasmani Grandal to score a run in the second inning in Game 5 of the NLDS.
(Wally Skalij / Los Angeles Times)
Dodgers pitcher Rich Hill flexes the wrist on his pitching arm after he was hit there by a grounder in the first inning of Game 5. Hill fielded the ball for an out and stayed in the game.
(Wally Skalij / Los Angeles Times)
Dodgers pitcher Clayton Kershaw works out before Game 5 of the NLDS. The ace left-hander pitched Game 4 on Tuesday and is not available for the deciding game.
(Wally Skalij / Los Angeles Times)
::
On Oct. 11, 2016, Kershaw stood in front of a makeshift backdrop inside the clubhouse at Dodger Stadium. Hints of red tinged his eyes. He struggled to relay his emotions after his team's 6-5 victory in Game 4, in which he kept his team's season alive while pitching on three days of rest.
Down 2-1 in the series, Kershaw carried a three-run lead into the seventh inning. He struck out 11 but he departed with two outs and the bases loaded. The duo of Pedro Baez and Luis Avilan incinerated the lead. Television cameras captured Kershaw's anguish in the dugout. Chase Utley delivered a go-ahead hit an inning later, but Kershaw still appeared stunned afterward.
"I'm exhausted, just physically and mentally drained," he said. "But we get to live another day."
Elated to stay alive, the Dodgers scrambled to figure out how to handle another elimination game as they prepared to fly back to D.C. The Nationals lined up ace Max Scherzer. The Dodgers did not know who would start let alone how long that pitcher could go.
Because a rainout pushed Game 2 back a day, Hill had pitched on Oct. 9 at Nationals Park. He would not have his usual amount of rest for Game 5. Blisters had dogged him since he joined the Dodgers a couple months earlier. The front office felt uncomfortable asking Hill, a pending free agent, to take the ball. Their perspective changed when a few reporters spoke to Hill after Game 4.
"I'm pitching Thursday," Hill said.
That was news to Friedman. Hill had never pitched on short rest, save for an appearance three days after a relief outing in 2009. He did not care.
"This," Hill said, "is what you play for."
That answered one question. As the Dodgers prepared to travel east, they knew the puzzle was far from solved.
::
The team landed at Dulles International Airport late on Oct. 12. Most of the traveling party took a bus to a hotel in Arlington, Va. Kershaw went to the ballpark with strength and conditioning coach Brandon McDaniel, trainer Nate Lucero and physical therapist Yosuke Nakajima.
Kershaw compressed his schedule so he could be ready for another start on short rest in the next round against the Chicago Cubs. He labored in the weight room. Earlier in the summer, as Kershaw recovered from an injury Friedman felt would have ended the season for most players, the medical staff helped devise a workout regimen that kept Kershaw viable while not putting his back at risk.
Despite the alterations, the strain on Kershaw was obvious. Teammates noted how uncomfortable he looked at times, how the fluidity of his movements had decreased. After games, he sounded dazed. Yet he forced himself to the ballpark a day after expending himself in Game 4.
Kershaw wanted to keep his arm loose, but there wasn't enough room to throw indoors. He walked to the outfield. The ballpark was empty. The lights were off. He played catch beneath the moonlight.
The subject of a relief appearance never came up.
"I don't know if I had the cojones to even ask him," McDaniel said.
::
Roberts arrived at Nationals Park in the early afternoon of Oct. 13 and did not dawdle. A crowd gathered in his office that included Friedman, general manager Farhan Zaidi and director of baseball operations Alex Tamin. Looped into the discussion were pitching coach Rick Honeycutt, bench coach Bob Geren and bullpen coach Josh Bard. They were scripting a blueprint for the game, which they called "The Road Map to 27 Outs."
They tried to simplify a wide-ranging headache — how to navigate an elimination game with a bedraggled pitching staff — into a math problem. They started by blocking out the innings they had covered. They trusted Jansen for six outs at the end. They expected a chunk of outs from Hill at the beginning. But how many?
An answer came as they studied Washington's lineup. Baker stacked a pair of right-handed hitters, Anthony Rendon and Ryan Zimmerman, behind cleanup hitter Murphy. They planned to let Hill face Murphy twice, then re-evaluate.
That meant Hill would see 13 hitters. A sizable chunk of the game remained. They designated Joe Blanton, the 35-year-old veteran, as the multiple-inning fireman and Julio Urias, the 20-year-old wunderkind, as the long man. If Hill could drag the game into the fourth, they could orchestrate a handoff from Blanton to Urias to Jansen.
As a precaution, Roberts found Jansen in the cafeteria and told him to be ready by the fifth inning. During batting practice, Bard told Blanton to be ready by the fourth inning. The executives retreated upstairs, hopeful that the cramming would be worthwhile.
"We were trying to convince ourselves that we had enough pitching and we could handle most of the scenarios," Zaidi said. "As it turned out, we didn't have everything covered."
As the planning unfolded, Kershaw roamed the outfield. His schedule called for him to throw a bullpen session. He elected to skip it. Just in case.
During Robert's pregame news conference, a question recalled the 1988 National League Championship Series, when Orel Hershiser materialized from the bullpen to save a game against the New York Mets.
"Would Kershaw be available for an out?"
"No," Roberts said. "Absolutely not."
Roberts insisted later he was not bluffing. "I remember reading that and thinking, 'Why did they even ask that question? Are they crazy?'" Zaidi said.
::
One day last month, Blanton stood inside the Nationals clubhouse. He had signed with Washington over the winter, but his eyes grew wide as he recalled Game 5.
"It was just one of those games," Blanton said, "where everything happened."
The prologue contained multitudes. Washington pulled ahead when Hill gave up a run in the first inning. After Hill reached his 13th batter, intentionally walking Murphy with two outs in the third, Blanton stranded two runners to douse the rally. Blanton provided another scoreless inning and passed the baton to Urias. After two scoreless frames from Urias, the Dodgers still trailed by a run.
Scherzer looked indomitable as the seventh inning began. He had struck out seven and given up only four hits. He had thrown 98 pitches when Pederson stepped into the box to start the inning.
The game tilted on Scherzer's only pitch in the inning, a 95-mph fastball, down and away. It might not have been a strike. Pederson hammered it over the left-field fence. "Anybody who questions how good of a player Joc is, or what natural ability Joc has, go back and watch that homer," Zaidi said.
Anybody who questions how good of a player Joc is, or what natural ability Joc has, go back and watch that homer.
— Dodgers General Manager Farhan Zaidi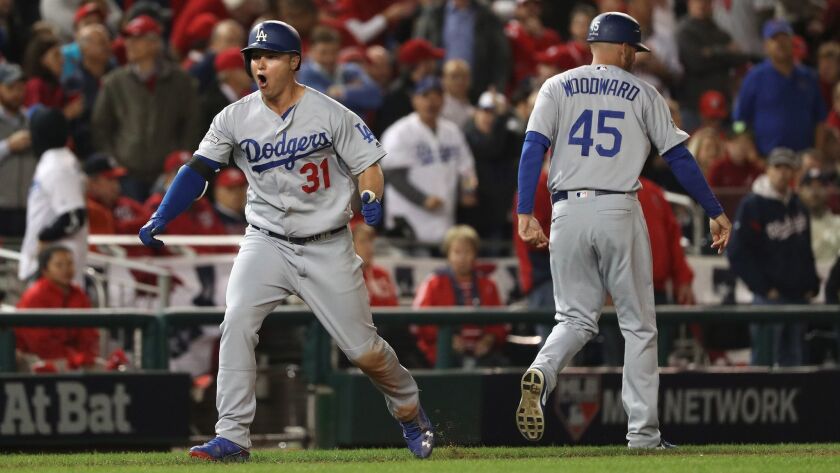 Pederson pumped his knees and punched the air as he rounded the bases. The reaction in the dugout was raucous. The blast knocked over a domino in a series of ill-fated decisions by Baker.
It was a slow-motion collapse. Baker brought in left-handed reliever Marc Rzepczynski; Yasmani Grandal walked. Baker inserted right-hander Blake Treinin; Howie Kendrick singled. Baker tried left-hander Sammy Solis; backup catcher Carlos Ruiz stroked a go-ahead single. Baker sent right-hander Shawn Kelley in to face Turner and Turner thumped a two-run triple to give the Dodgers a 4-1 lead.
All of a sudden, the math made sense. The Dodgers needed nine outs. It might be hairy getting through the seventh, but after that …
"We were just thinking 'Let's just squeak through this inning somehow,'" Zaidi said. "That obviously went sideways pretty quickly."
The excitement lasted precisely two batters into the bottom of the seventh. Grant Dayton, a rookie reliever, walked Nationals infielder Danny Espinosa. Then he left an 0-2 fastball at the belt of former Dodger Chris Heisey. A two-run blast soared over the left-field fence.
Seated in the bullpen, Jansen shouted to Bard.
"Call down," he said. "I want to get in the game."
Bard waited for instruction from the dugout. The phone soon rang. Roberts needed Jansen. When Dayton yielded another hit, Jansen hopped up. Roberts was not sure how long Jansen could go. Neither was Jansen. But the game required his presence.
::
As Jansen entered, the wheels in Kershaw's mind rotated. The numbers didn't add up. A nine-out save? Kershaw voiced his worry to Utley as they stood together in the dugout.
"Did you throw your side?" Utley asked.
"No," Kershaw said.
"Can you pitch?"
"Yeah."
Utley told Kershaw to speak with Roberts and Honeycutt. "If there's any chance of you being available to pitch," Utley said, "you better tell them right now."
Kershaw found Honeycutt.
"Is the plan for Kenley to go three?" Kershaw asked.
"That's the plan," Honeycutt said.
Kershaw informed Honeycutt he had skipped his bullpen. He felt good, he said. Honeycutt did not care. "Absolutely not," he said. But Kershaw kept pressing, so Honeycutt offered to loop in Roberts.
"No way," Roberts said.
The response was instinctual and protective. In his mind, Roberts admitted, "I was like 'S—-, I don't know who is going to finish this game.'"
Kershaw bargained with them. He figured once the process started, it would be difficult to stop. He asked for something small.
"Just let me go try and get loose," Kershaw said. He promised to be honest about how he felt. Roberts and Honeycutt acquiesced.
Kershaw bolted from the dugout. There was no time for routine. He clambered up the 28-step stairway to the clubhouse and jumped into the hot tub. McDaniel was running to the trainer's room when he spotted Kershaw soaking. McDaniel pumped his fist. "He's going to get the ball," he thought.
Kershaw put on his cleats and returned to the tunnel outside the dugout. He threw balls off the net of the batting cage while monitoring the progress of the game.
Jansen pushed himself into unfamiliar territory. He struck out two to strand two runners in the seventh, finishing off Rendon with a 95-mph cutter.
After working around a leadoff walk in the bottom of the eighth, Jansen knew he was approaching the brink — he had thrown a season-high 37 pitches, more than he had tallied in a game in five years. He compartmentalized his assignment into pitch-sized bites.
"Stick in that moment, and keep focused," Jansen thought. "Know who you are. Know you're one of the best."
When Nationals outfielder Michael A. Taylor struck out to end the eighth, Kershaw approached his manager. Roberts told Kershaw to be ready for Murphy, who was due up fourth in the ninth. As Kershaw approached the bullpen, the other relievers did a collective double-take: Was this really happening?
Jansen heaved onto the bench. McDaniel plied him with energy bars and Gatorade. Jansen hounded Honeycutt about the plans for the ninth. "Am I still in?" Jansen kept asking. Honeycutt responded by talking through the upcoming hitters. "It's you," he told Jansen. "Keep going."
In the bullpen, the relievers held their fists aloft, a ritual for any pitcher about to enter the game. Kershaw punched his way down the line. "He is like the most aggressive fist-bumper ever," reliever Ross Stripling said.
Jansen started the ninth like he finished the eighth, striking out Trea Turner. His command wavered against Bryce Harper. Jansen missed above and below the zone on a four-pitch walk. Roberts raised a finger for Jansen: "One more." Then, with Jayson Werth due up, Roberts left the dugout to steady his closer.
Murphy settled in the on-deck circle. He loomed for Kershaw. Tension gripped the Dodgers' dugout.
"Everybody was legitimately worried," pitcher Alex Wood said. "'Is this the right thing to do?' But Clayton is going to be Clayton."
::
Behind the plate, Ruiz raised his glove to the waist of Werth. On his 51st and final pitch of the night, Jansen was not close. He yanked a cutter into the dirt for ball four. Werth flipped his bat, which had barely landed when Roberts emerged from the dugout.
Roberts raised his left hand and pointed his index finger.
At third base, Turner wondered what was going on. He was unaware of anyone warming up. He turned to see a figure trotting in from the bullpen. The upright gait gave Kershaw away.
"Oh s—-," Turner thought. "This is awesome."
A cascade of jeers greeted Kershaw's entrance. He slowed to a walk in the infield dirt. Roberts wrapped his arm around Jansen's midsection. Jansen waited for Kershaw to reach the mound. Roberts took the baseball from Jansen and slipped it into Kershaw's glove.
"Please," Jansen told Kershaw, "pick me up."
Turner slapped Kershaw on the backside. The infielders dispersed. Ruiz had never caught Kershaw in a game before. They strategized before Ruiz left Kershaw alone to confront his antagonist.
In the on-deck circle, Murphy wedged his tan Louisville Slugger into his armpit and adjusted his gloves. A soft-spoken Floridian, Murphy morphed from a slap-hitting irritant into a full-blown force the previous October. He did so at the expense of Kershaw, homering off him twice in the 2015 NLDS for the Mets. Murphy came to the plate batting .467 in this series.
Kershaw intended to challenge Murphy. He could not afford to lose an off-speed pitch in the dirt and allow the winning run to advance into scoring position.
Kershaw rocked into his delivery and flung a first-pitch fastball, 95 mph, up and in. Ruiz had set up outside, and he dropped the pitch. Umpire Jeff Kellogg called it a ball.
Ruiz returned the baseball. Kershaw licked his left hand for grip. In the dugout, Jansen felt overcome by stress. Roberts shifted his weight on the balls of his feet. Ruiz trotted to the mound for a conference. They settled on another fastball, aiming for the same quadrant Kershaw missed the first time.
"I was trying to throw it really hard, down and away," Kershaw said. "I missed, up and in."
The radar gun registered pitch at 95 mph. It rode far closer to the heart of the plate than Kershaw desired. Murphy turned his hips and slashed. At the last moment, the pitch ran an inch or so inside, perilously close to the barrel of Murphy's bat.
Murphy watched the ball soar skyward. He hung his head as he realized its path. It was a harmless pop fly, bound for the glove of second baseman Charlie Culberson. "He just beat me to the spot," Murphy said after the game.
"I don't even remember if it was a good pitch or not," Wood said. "But Murphy tried to hit a homer, instead of taking his hit."
The denouement featured little drama. Baker had splintered his lineup when he double-switched a relief pitcher into Rendon's spot in the batting order to begin the eighth inning. Instead of Rendon, a dangerous right-handed hitter, Kershaw faced Wilmer Difo, a utility player who posed little threat.
Kershaw pounded Difo inside with fastballs and sliders. At 12:41 a.m., he spun a curveball that buckled as it approached the plate. Difo's swing struck nothing but air. The ball bounced off Ruiz's chest. Kershaw raised his arms as Ruiz threw to first base to secure the 27th out.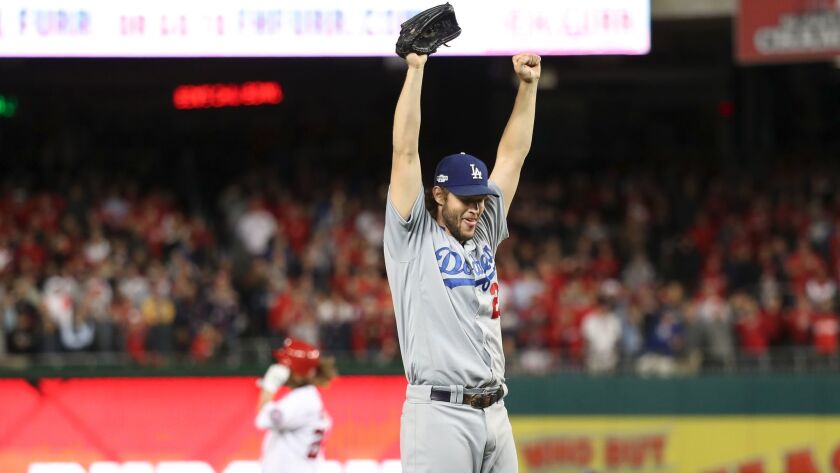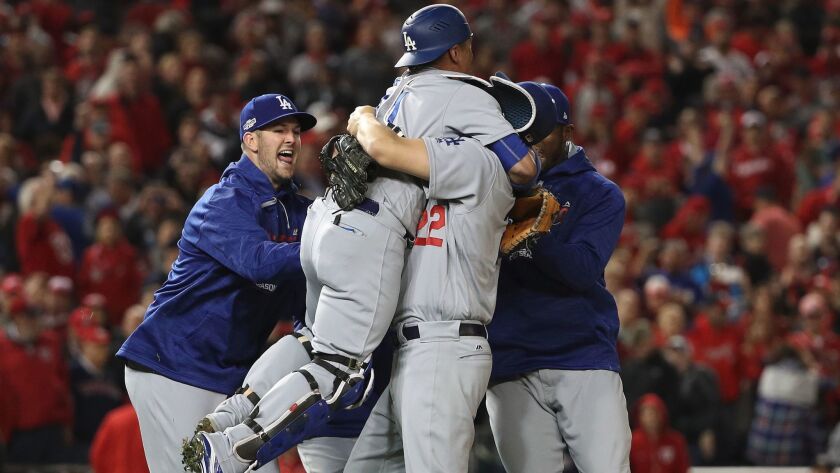 A mob greeted Kershaw. Ruiz leaped into his arms. They disappeared into the delirious pile. The Dodgers defeated the Nationals three times in a five-game span -- and Kershaw appeared in all three games, collecting the victory in Game 1, occupying the mound for the majority of Game 4 and earning the save in Game 5.
"It felt like there were heroic performances," reserve catcher Austin Barnes said. "People really stepping up and doing whatever it took to get the victory."
::
The group charged up the stairs and laid waste to the visitors' clubhouse. Kershaw eschews goggles during champagne celebrations — he prefers to let his eyes burn. He sloshed through puddles of bubbly and Budweiser. At one point, he ducked out of the room and looked like he might vomit into a trash can.
"We've got to win eight more of these?" he said.
As the party wound down, Kershaw grabbed McDaniel and video advance scout Danny Lehman. The trio hopped into an Uber to get breakfast around 5 a.m. They were exhausted but exultant as they perused the menus. They were also anonymous. A little less than five hours after the baseball world marveled at Kershaw, he ate his meal in peace.
Kershaw gave himself another hour to enjoy his achievement. Chicago loomed. Kershaw silenced the Cubs for seven innings in Game 2 but got blitzed in the decisive Game 6.
After their season ended at Wrigley Field, the Dodgers resolved to reunite for 2017. Jansen, Turner and Hill all re-signed over the winter, with Jansen spurning a more lucrative offer from the Nationals.
To cap his first season running the club, Roberts won National League manager of the year. He appeared untouchable for most of this summer too, as the team soared through a 52-9 stretch. When the Dodgers sputtered in September, Roberts drew criticism during a wretched 1-16 skid. October affords him another opportunity to display tactical acumen.
At the trade deadline this July, the Dodgers made a move designed to reduce some of the strain off Kershaw. They acquired Yu Darvish, a right-handed ace, to deepen their rotation and avoid the necessity of forcing Kershaw to pitch on short rest.
He will never be invincible. Kershaw hurt his back again this summer, and his playoff history remains mixed. But for his teammates, for the men he hopes to lead to glory this autumn, his legacy became unimpeachable when he walked to the bullpen last fall at Nationals Park.
"I don't know if it's possible to respect the guy any more than I did," Turner said last month. "But when he came out of that bullpen, it was …"
Turner paused for a moment. He was standing inside the visitors clubhouse at Nationals Park for the first time since Oct. 14, 2016. He gazed toward Kershaw's locker.
"I'll have the utmost respect for him for the rest of my life."
Twitter: @McCulloughTimes
---
Get our Dodgers Dugout newsletter for insights, news and much more.
You may occasionally receive promotional content from the Los Angeles Times.