Matt Kemp takes time to appreciate his season in Dodger blue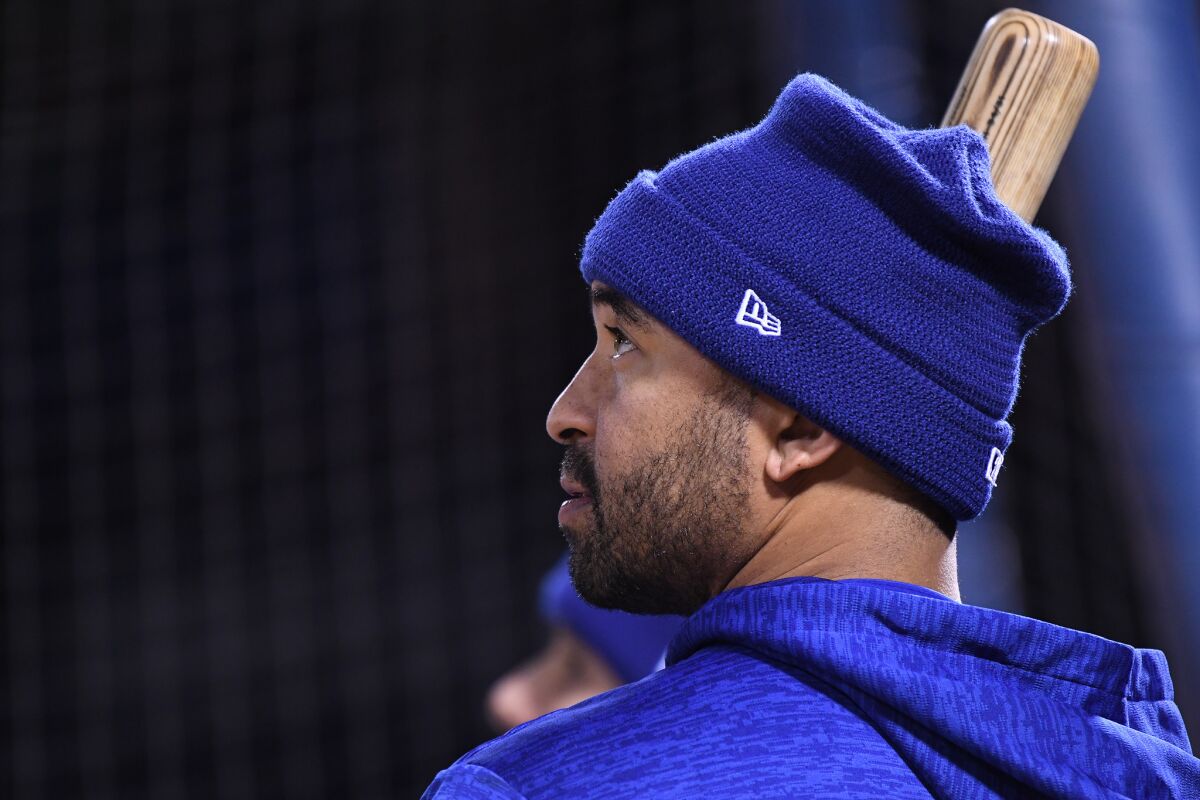 Matt Kemp sat in the Dodgers clubhouse Sunday night, his gaze flitting between the contents of his locker and the scrum of reporters that had gathered nearby to interview a teammate when Yasiel Puig put a hand on his shoulder and bid him farewell.
To this point, Kemp had mostly been left alone.
His teammates had showered and dashed out of Dodger Stadium, the sting of losing Game 5 of the World Series and watching the Boston Red Sox lift the Commissioner's Trophy on the Dodgers' field too overwhelming for them to linger.
Not for Kemp.
Even 30 minutes after the Dodgers lost 5-1, he hadn't changed out of his uniform pants or undershirt. He hadn't packed much in his duffel bag.
"For these guys, they were here last year and to come back two years in a row and to lose two years in a row, it probably hurts them a little bit worse," Kemp said. "But I'm right there with them. We battled all year. A lot of people counted us out, didn't really think that we were gonna make it to where we made it to. So, I'm proud of my guys. We fought through a lot of adversity, injuries, everything, shows the character of this team. Hopefully we come back next year bigger, badder, stronger."
My guys, he said. We.
Kemp, 34, wants to remain in Dodger blue. He wants to accomplish something with the team that drafted him in 2003 and gave him his first big payday.
But practicality may win out.
Kemp has one season remaining on the $160-million deal he signed in Los Angeles in 2012, before he was shipped down the coast, then east and back again. His steep rate of $21.75 million might motivate the Dodgers to trade him.
He went one for nine with a home run in this World Series and made just three starts in the first two rounds of the playoffs.
Sunday night might have been his last in the home clubhouse at Dodger Stadium. Maybe the lingering can be explained by a desire to hold on to this moment.
"Who ever thought that I would be back with the Dodgers — and in the World Series?" he said.
A year ago, Kemp had one of the worst seasons of his career. He accumulated a career-worst -1.3 wins above replacement, according to Baseball-Reference.com's version of the statistic, and reached base less than 32% of the time in his first full season in Atlanta. His defense was atrocious. His -17 defensive runs saved was the fourth-lowest of all major league outfielders.
He wound up back in L.A. in a homecoming manufactured for salary relief. It was no sure thing he'd even earn a spot on the 25-man roster out of spring training.
Kemp did. He hit .310 in his first 92 games and became an all-star for the first time since 2012. He cooled off considerably after the break, but his final .290 average and .481 slugging percentage still outpaced other Dodgers outfielders.
Yet, that won't guarantee Kemp another chance to ride out his final year under contract in the place he calls home.
"This is where I grew up," Kemp said. "L.A. kinda raised me a little bit as a 21-year-old kid from Oklahoma. This is a big city, a lot of bright lights and a lot of things going on, but this will always be home. This will always be love."
---
Get our Dodgers Dugout newsletter for insights, news and much more.
You may occasionally receive promotional content from the Los Angeles Times.