It's a slow start for new Dodgers Josh Reddick, Rich Hill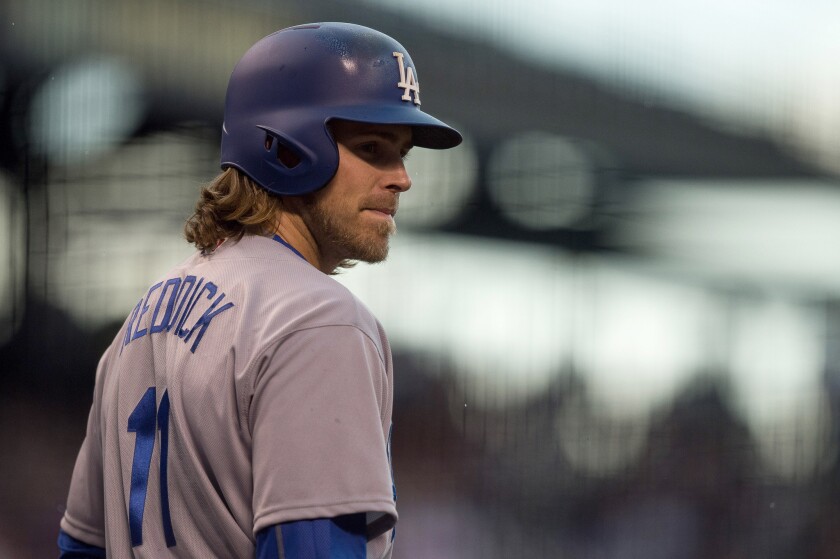 Reporting from DENVER —
Rich Hill and Josh Reddick piled into a car in Anaheim on Monday so they could join their new team at Dodger Stadium. The Oakland Athletics were scheduled to face the Angels this week, which made the travel simple for the recently acquired duo.
The Dodgers installed Reddick into the cleanup spot and started him in right field Tuesday night against the Colorado Rockies. He went 0 for 4 as the Dodgers fell, 7-3, at Coors Field. Even so, Reddick had a more successful debut than another player picked up before Monday's trade deadline.
Jesse Chavez, the reliever acquired from Toronto in exchange for minor league pitcher Mike Bolsinger, gave up two runs on a trio of hits in the sixth inning. He also allowed a runner he inherited from J.P. Howell to score.
As has become a relatively common occurrence this season, the Dodgers (59-47) opened up the bullpen well before the team intended to do so.
Making his sixth start since returning from Tommy John surgery, Brandon McCarthy set a career high with five walks in a brief outing. The Rockies tagged him for three runs and sent him to the showers after he walked the first two batters in the fourth inning.
"I've never felt like that on a big league mound before," McCarthy said. "Coming back, this process has had a lot of ups and downs. Some games, the feel's been off and I've been able to get through it. And today was just the opposite."
Help for the rotation comes in the form of Hill, a 36-year-old left-hander. But it is unclear when he will make his debut for the club. On Tuesday, Hill became the 23rd Dodger to spend time on the disabled list, which the team indicated was a National League record.
Hill is suffering from a blister on his left middle finger. He has not pitched since July 17, when the blister ripped open during a start in Oakland.
Hill played catch on Tuesday with Dodgers pitching coach Rick Honeycutt nearby. He will throw a bullpen session on Wednesday to determine his readiness.
"I can't wait to get back out there," Hill said. "To miss a couple weeks because of a blister is something else. But it's a big part of it. It's like the steering wheel of a car. You need it."
General Manager Farhan Zaidi indicated Hill could require a minor league rehabilitation start to test the readiness of the finger.
Hill said he was in the process of establishing calluses. In order to maintain his arm strength, he threw a 100-pitch bullpen session last week wearing a pad on the finger.
With Hill on the mend, the Dodgers rotation remains in flux. Rookie Brock Stewart joined the team at Coors Field to make a spot start on Wednesday.
His arrival grants an extra day of rest to Kenta Maeda, who will start on Thursday. Friday at Dodger Stadium against the Boston Red Sox belongs to Scott Kazmir.
But the Saturday starter has not been determined. Bud Norris stayed in Los Angeles to rehabilitate the soreness in his lat muscle.
"He's planning on making his start," Manager Dave Roberts said.
Does Roberts plan to start him on Saturday?
"We'll see," Roberts said. "We'll see how he responds."
Short hops
In addition to Yasiel Puig, the Dodgers sent pitchers Ross Stripling and Josh Fields to triple-A Oklahoma City. The team acquired Fields from the Houston Astros on Monday.
andy.mccullough@latimes.com
Twitter: @McCulloughTimes
MORE SPORTS NEWS
Dodgers Dugout: Breaking down the Rich Hill-Josh Reddick deal; Yasiel Puig's mysterious day
2016 Rio Summer Olympics: Keep track of all the Rio Olympics news
---
Get our Dodgers Dugout newsletter for insights, news and much more.
You may occasionally receive promotional content from the Los Angeles Times.