Vin Scully's last broadcast at Dodger Stadium has a fitting ending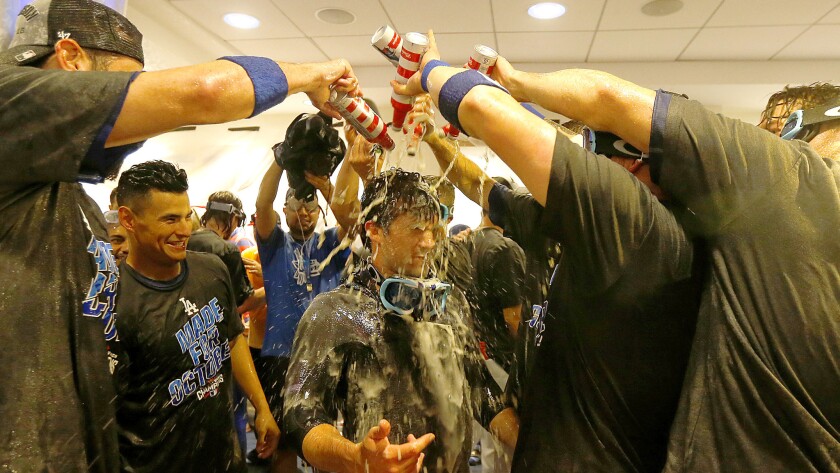 Late Saturday night, after the Dodgers routed Colorado and made their Sunday clinch of their fourth consecutive division title a near formality, Justin Turner and Adrian Gonzalez exchanged text messages. What could they do to honor the retiring Vin Scully during the last of more than 4,000 games the man described at Dodger Stadium?
In their pregame hitters meeting, they suggested tipping their caps to him as they each approached the batter's box. Their teammates agreed, and all did so. Scully did not notice until the second inning, then stood and waved down to each man.
"There's no perfect way, because he deserves way more than that," Gonzalez said. "But that's a little token of our appreciation to him."
Said Turner: "We just wanted to make sure he knew how special he is to us."
When Scully went on the air at 1 p.m., he told viewers that, since 1958, "You and I have really grown up together, through the good times and the bad."
He asked whether they remembered when he mentioned it was an umpire's birthday and the entire Coliseum began to sing. He wondered if he had put any of them to sleep with radios tucked under their pillows. And then he broadcast the 3-hour 33-minute game that culminated in the clinching, 10th-inning home run from little-known, little-used infielder Charlie Culberson.
Vin Scully provides the call to Charlie Culberson's walk-off home run in the legendary broadcaster's final game announcing at Dodger Stadium.
"O and 1 to Charlie," Scully began. "Swung on and a high drive to deep left field, the Dodger bench empties. Would you believe a home run? And the Dodgers clinch the division and will celebrate on schedule."
He remained silent for the next 24 seconds.
"Leave it to the Dodgers," Scully resumed. "Charlie Culberson, a game-winning home run. What a moment to have it, and, would you believe, his first home run of the year."
"It was one of those things where, for him, I don't think the baseball gods were going to let us lose today," said Corey Seager, who sent the game into extra innings with a ninth-inning home run. "It's better to have a game end too late than too early."
Turner, a Southland native, said he could not wait to get home and hear the call.
"I don't know if Charlie knows how special it is," Turner said, "that for the rest of his life, he's going to get to hear Vin broadcasting his walk-off homer in his last game at Dodger Stadium."
After the first of the alcohol was showered on the field, the players tipped their caps up to him again. Scully motioned a hug down. Roberts reciprocated as he reintroduced the man to the fans.
"Vin, we love you," Roberts said. "This is for you, my friend."
Taking the microphone, Scully said he was "terribly embarrassed" at the way the game unfolded. He said he hoped there would be a blowout and no attention on him and "a nice, easy day." But while it was not, he said, he had one thing he'd like to give the crowd, "a very, very small, modest contribution on my last day."
"Do you mind listening?" Scully said to the crowd and the players crowded together on the field. A recording of him singing "Wind Beneath My Wings" began. His wife, Sandi, emerged. They stood together as it played, mouthing many of the words.
When it ended, security officials escorted the Scullys out of the press box, through an alternate exit. A horde of fans surrounded the path to the elevator he typically takes, hoping for one last glimpse of their hero.
They waited, waited and waited. He was already gone.
pedro.moura@latimes.com
Twitter: @pedromoura
---
Get our Dodgers Dugout newsletter for insights, news and much more.
You may occasionally receive promotional content from the Los Angeles Times.