Dodgers shortstop Corey Seager sits out because of elbow injury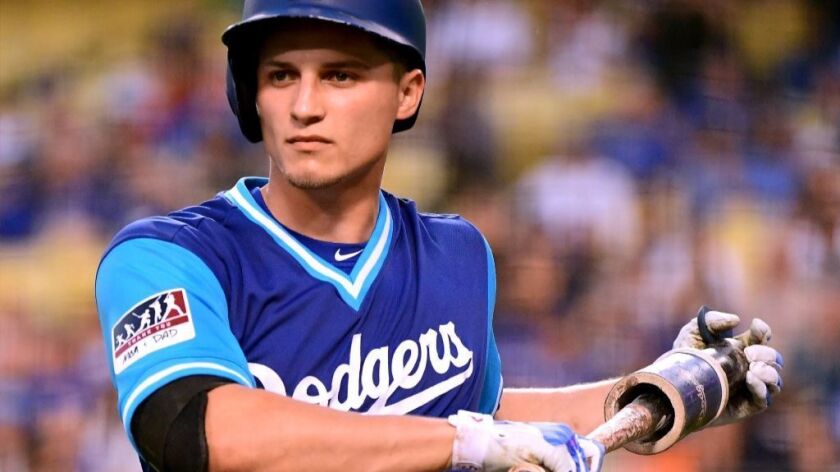 Reporting from Phoenix —
Sidelined because of soreness in his throwing elbow, Dodgers shortstop Corey Seager will not play the field during the three-game series against Arizona, manager Dave Roberts said before Tuesday's game. Seager will be available to pinch-hit.
Seager has been dealing with discomfort for the last two weeks, Roberts said. He wore a compression sleeve on his right arm during pregame workouts with the training staff before being the designated hitter during a game at Detroit on Aug. 18. Seager said that his arm felt fine.
Roberts said Tuesday that the elbow was an issue. Seager was not available to comment before the game.
"As a shortstop, there's different arm angles, sometimes you have to throw with velocity," Roberts said. "You never want to put your arm in a position to potentially cause more damage. So I think that symptomatically there's an acute pain or soreness. So we wanted to try to nip it."
The injury to Seager occurred just as the team prepared to reinstate rookie Cody Bellinger from the 10-day disabled list. Bellinger suffered a sprained ankle Aug. 19 and has not played since. He was scheduled to take at-bats in an Arizona League game Tuesday evening. He is scheduled to be activated Wednesday.
Bellinger will be the primary first baseman when he returns. Adrian Gonzalez will start "at times" against right-handed pitchers, Roberts said. Bellinger may play left field on those occasions, with Curtis Granderson spelling Yasiel Puig in right. Bellinger rolled his ankle while making a catch at the warning track in right field.
"I'm not going to think too much about not putting him in the outfield out of fear that he rolls his ankle," Roberts said.
Scott Kazmir provides relief
Scott Kazmir, a Houston native, said he has made a series of charitable donations to his hometown as Hurricane Harvey continues to ravage the city and surrounding area. Kazmir donated $10,000 to the Houston SPCA, $10,000 to the Houston Food Bank, $10,000 to the Houston Coalition to the Homeless and $100,000 to the Bayou City Fellowship.
The donation to the Bayou City Fellowship was made in conjunction with the Dodgers Foundation, Kazmir said.
"It's a tough time," Kazmir said. "I'm getting videos and text messages of what's going, everything that's ruined. The whole city is just completely shut down. It's unbelievable."
Kazmir owns a home near Buffalo Bayou, a creek that overflowed during the storm. He said his property was fine, but the devastation nearby was hard to fathom.
"We're fine, but not even the next street over is completely underwater," he said.
Short hops
The Dodgers have filled three of the four starting pitching spots for this weekend's series against the Padres at San Diego. Clayton Kershaw will start Friday, pitching for the first time since suffering a strained back July 23. Yu Darvish will start in the night game of Saturday's doubleheader, with the day game's starter not yet named. Alex Wood will return from the disabled list Sunday, after missing a start because of inflammation in a chest joint.
Twitter: @McCulloughTimes
---
Get our Dodgers Dugout newsletter for insights, news and much more.
You may occasionally receive promotional content from the Los Angeles Times.