Dodgers to give Kenta Maeda, Hyun-Jin Ryu chance to make postseason roster as relievers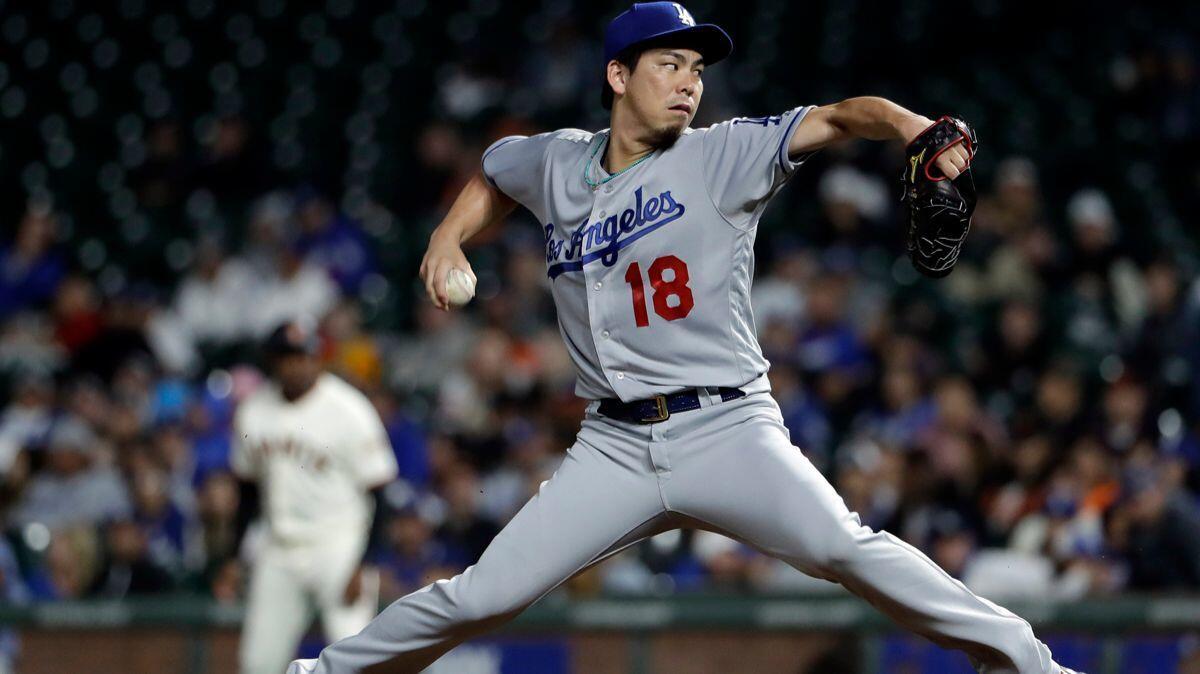 Reporting from Philadelphia —
During the final two weeks of the season, the Dodgers plan to audition Kenta Maeda and Hyun-Jin Ryu for spots in the postseason bullpen, manager Dave Roberts said.
Roberts stopped short of guaranteeing the team had set its rotation for October. But the Dodgers appear ready to use Clayton Kershaw, Yu Darvish, Rich Hill and Alex Wood as their four starters. That's no surprise, but it also creates a quandary for the Dodgers, who will see if there is value to be extracted from Ryu and Maeda in the postseason.
Ryu and Maeda have pitched almost exclusively as starters, but both made relief appearances earlier this season. Maeda spent time in the bullpen during Sunday's series finale in Washington, and they are expected to rejoin the relief corps soon.
"You'll see something like that in the coming days," Roberts said before Tuesday's game at Philadelphia.
The hierarchy of the Dodgers' bullpen remains in flux as the playoffs approach. The team could carry a trio of left-handers — Luis Avilan, Tony Cingrani and Tony Watson — along with Kenley Jansen and Brandon Morrow.
That leaves a handful of right-handed pitchers all vying for time. Josh Fields appears to have a good chance to make the roster, while the jury remains out on Pedro Baez, Ross Stripling and rookie Walker Buehler.
Maeda, who's 12-6 with a 4.21 earned-run average, has made two appearances as a reliever this season. He held hitters to a .167 batting average and struck out seven of the 18 batters he faced. His arsenal does not classify as elite, but he can provide length if the team requires it.
Ryu, 5-7 with a 3.46 ERA, also starred in his lone outing as a reliever. He spun four scoreless innings against St. Louis on May 25.
Ryu presents a curious case for the Dodgers. Since the All-Star break, he has posted a 2.36 ERA in nine starts. But he rarely goes deep into games, and his injury history precludes him from heating up quickly to enter games as a reliever. After undergoing shoulder surgery in 2015, Ryu requires a lengthy pregame routine in order to be ready to pitch. He cannot replicate that as a reliever, pitching coach Rick Honeycutt has said.
"It would be a tough thing to be more of a one-inning guy, plus he never went on back-to-back days, those type of things," Honeycutt said last month. "I think it would be unfair him to ask him to be able to do that."
Twitter: @McCulloughTimes
Get our Dodgers Dugout newsletter for insights, news and much more.
You may occasionally receive promotional content from the Los Angeles Times.