Dodgers ask Adrian Gonzalez to remain a World Series spectator, not a participant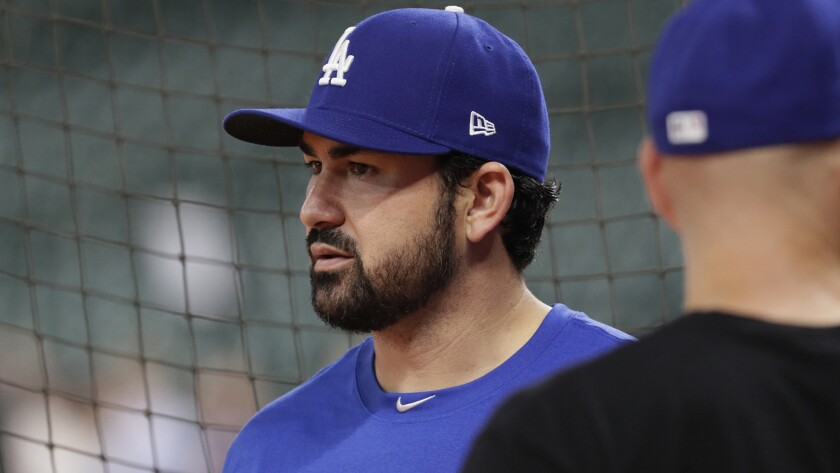 Reporting from Houston —
The awkward October between the Dodgers and Adrian Gonzalez, their five-time all-star first baseman, took another turn over the weekend when manager Dave Roberts asked Gonzalez to spend the rest of the postseason as a spectator rather than a participant in pregame workouts and meetings.
Inactive for most of the regular season because of injuries, Gonzalez was not with the team for the first two rounds of the playoffs and spent part of the postseason in Italy, where he was helping his family settle into accommodations as his wife began a five-month shoe-design course. Gonzalez received permission from the Dodgers to make that trip.
He returned to Los Angeles in time for the World Series. After spending Game 1 in studio for SportsNet LA, Gonzalez was on the field in uniform before the second and third games.
Gonzalez was not in the dugout once the games began, but his presence still rankled some Dodgers, according to people familiar with the situation. Roberts downplayed that notion, but indicated he spoke with Gonzalez on Saturday in order to avoid a distraction during the final days of the season.
The Dodgers lost both games when Gonzalez visited beforehand.
The Dodgers dress only their active players and a select number of players who could join the roster in the event of an injury. Roberts refers to this second group as the "taxi squad," and said Gonzalez is not part of it. Roberts said he spoke with Gonzalez to enforce the team's rules.
Gonzalez, who will turn 36 in May, is owed $22.4 million in the final year of his contract, but Cody Bellinger has emerged as an all-star at first base.
After slumping to start the season, Gonzalez agreed to go on the disabled list in May for the first time in his career in order to keep Bellinger on the big league roster.
Gonzalez rehabbed his back for most of the summer. He finished the season with only three home runs and a career-worst .642 on-base plus slugging percentage.
Gonzalez had hoped to make the postseason roster as a pinch hitter. When the Dodgers informed him he would not be active in the playoffs, Gonzalez requested permission to spend time in October with his family.
Reports: Kapler to Phillies
The Dodgers would not confirm multiple reports Sunday that Gabe Kapler, the club's director of player development, would be the next manager of the Philadelphia Phillies.
Kapler, 42, has worked in the Dodgers' front office since November 2014. He was a finalist to become Dodgers manager when the post went to Roberts.
Kapler grew up in the San Fernando Valley, and played at Woodland Hills Taft High, Cal State Fullerton and Moorpark College. Out of Moorpark, he was drafted in the 57th round of the 1995 draft and signed with the Detroit Tigers.
He played parts of 12 seasons in the major leagues, with six teams, plus spent half of a season with the Yomiuri Giants in Japan.
His only experience as a manger came in 2007, when, at 31, he spent a season guiding the Greensville (S.C.) Drive, the Boston Red Sox' Class A affiliate in the South Atlantic League.
He then returned to the big leagues for three more seasons as a player with the Tampa Bay Rays and Milwaukee Brewers.
Roberts sends condolences
Laura Shipp, an avid Dodgers fan who had moved from Thousand Oaks to Nevada five years ago, was among the 58 people killed at a country music festival in Las Vegas earlier this month.
When her life was celebrated Sunday, the items displayed included a letter of condolence from Roberts.
Roberts said he wrote the letter three days before the Dodgers and Chicago Cubs opened the National League Championship Series. The Ventura County Star posted a picture of Roberts' letter on Twitter.
"The entire Dodgers family is deeply saddened to lose such a dedicated Dodger fan; her loss leaves a void that cannot be filled," Roberts wrote.
Roberts said he was honored to write the letter.
"For me to write a letter and sign it, and have it hopefully bring some comfort and some happiness, just knowing that we as the Dodgers are thinking about that family, that means a lot to me."
Darvish lined up for Game 7
Yu Darvish threw a bullpen session on Sunday in preparation for starting Game 7 on Wednesday, should the World Series go the distance.
Roberts indicated Darvish would be the choice to start that game, though the team should have both Clayton Kershaw and Alex Wood available in relief.
Darvish lasted only five outs in Game 3 on Friday.
The Los Angeles Dodgers in the 2017 World Series
On Now
Video: Kenley Jansen, Cody Bellinger, Rich Hill talk about losing Game 7
1:59
On Now
Video: Analysis: Dodgers lose Game 7 and the World Series
11:43
On Now
Video: Yu Darvish talks about using his slider for Game 7
1:34
On Now
Video: Kenley Jansen and others talk about winning Game 6
1:58
On Now
Video: Analyzing the Dodgers Game 6 win
7:26
On Now
Video: Clayton Kershaw on starting Game 5 of the World Series
1:57
On Now
Video: Dave Roberts Talks Rich Hill and Kenley Jansen pitching in Game 6
1:57
On Now
Video: Dave Roberts talks preparing for Game 7
1:26
On Now
Video: Here it is, Game 7, and Bill Plaschke knows who wins
2:22
On Now
Video: Rich Hill talks about Game 6 of the World Series
1:48
andy.mccullough@latimes.com | Twitter: @McCulloughTimes
bill.shaikin@latimes.com | Twitter: @BillShaikin
ALSO
Dylan Hernandez: More frustration for Clayton Kershaw
Bill Plaschke: Fright night for Dodgers, who will be haunted by blown leads
Astros are one win from World Series title after outslugging Dodgers 13-12 in Game 5
---
Get our Dodgers Dugout newsletter for insights, news and much more.
You may occasionally receive promotional content from the Los Angeles Times.