Walker Buehler has no broken ribs, but Dodgers will be cautious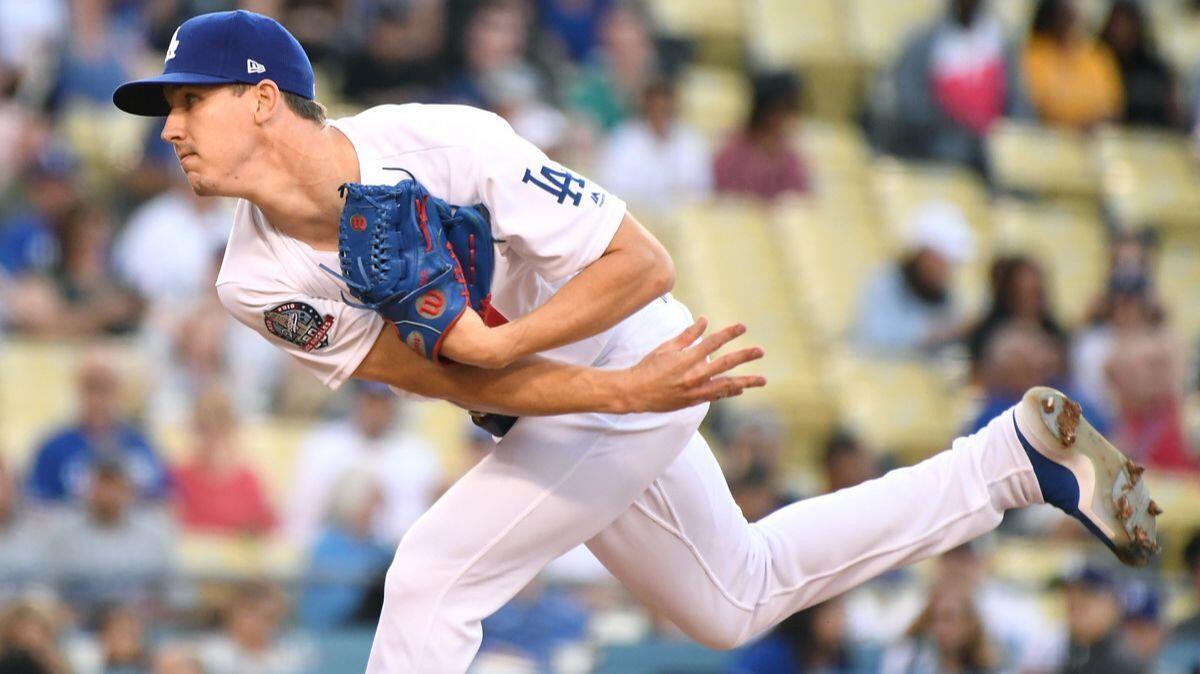 The immediate crisis appears to have passed, with X-rays and a CT scan ruling out a fracture to Walker Buehler's ribs, according to Dodgers manager Dave Roberts.
The team did not put Buehler on the disabled list Saturday, the day after the rookie was removed from a game because of what the Dodgers believe are bruised ribs. For now, Roberts said, the team will await a report from its head physician, and Buehler will not throw for a few days.
The Dodgers' front office has made clear its intention to limit how much Buehler pitches this season, his second since he underwent surgery to replace his elbow ligament. He did not care much for a question about whether he thought the front office might use his injury as an opportunity to skip a couple starts, in the interest of conserving his innings. The Dodgers have interrupted the seasons of other young pitchers, with the same interest in mind.
"I can understand, from the outside view, of how it looks like that sometimes," Buehler said before Saturday's game. "There's a lot of factors that go into that.
"To me, we're a game and a half out. It's not like we're up 50 games in the division. We're trying to win, and win now, and get to the playoffs. I think that, if I give us a chance to win, I'm going to go out there as much as I can. If the front office decides they're going to let me do that, I will. If not, I will respect their decision.
"I think you guys kind of take some of this stuff sometimes and make it a lot more than it really is."
Roberts said the Dodgers have discussed putting Buehler on the disabled list — if he is not going to throw for several days, he is unlikely to take his next scheduled turn — but decided there was no immediate need to do so Saturday.
The Dodgers added a fresh arm by calling up reliever Daniel Corcino from triple-A Oklahoma City and returning reliever Pat Venditte there, and they have a day off Monday and another Thursday. The Dodgers also could activate injured starters Kenta Maeda and Rich Hill within the next 10 days.
Buehler was hit in the ribs by a line drive May 21. His start Friday was his third since then, and Roberts said Buehler has been pitching with some discomfort.
"Last night, obviously, was a breaking point for him," Roberts said. "It was clear to me his mechanics are compromised."
Buehler said he was not concerned about a long-term injury and said tests had ruled out any underlying arm issue. He is 4-1 with a 2.63 ERA, ranking 12th among National League starters with at least 50 innings.
"I got called up and carved myself a place here, I feel like," he said. "You just want to keep that momentum going. It's frustrating to have any kind of hiccup. … I think I give this team a decent chance to win. I want to keep going."
Santana's injury
Dennis Santana was warming up for his first major league start Thursday, when the Dodgers noticed he could not get the proper spin on his slider. They scratched him Thursday, announced he had a strained rotator cuff Friday, and put him on the 60-day disabled list Saturday.
That means he cannot pitch in the major leagues before Aug. 7, and it is unclear when he might pitch beyond that. Roberts said Santana would not even throw "for a few weeks."
"I don't think it's a surgery thing right now," Roberts said.
Santana, 22, had a 2.54 ERA in 10 starts this season, at Oklahoma City and double-A Tulsa, with 65 strikeouts in 49 2/3 innings. He held opponents to a .196 batting average.
Short hops
If all goes well for Maeda in a bullpen session Sunday, he could be activated thereafter, Roberts said. … Hill pitched a four-inning simulated game Saturday. Roberts said the team has not decided whether Hill would require a minor league rehabilitation appearance before he is actiavted. … Third baseman Justin Turner (sore left wrist), who has not started four of the past five games, is expected to start Sunday, Roberts said.
Follow Bill Shaikin on Twitter @BillShaikin
Get our Dodgers Dugout newsletter for insights, news and much more.
You may occasionally receive promotional content from the Los Angeles Times.