Dodgers ace Clayton Kershaw to start Saturday against Mets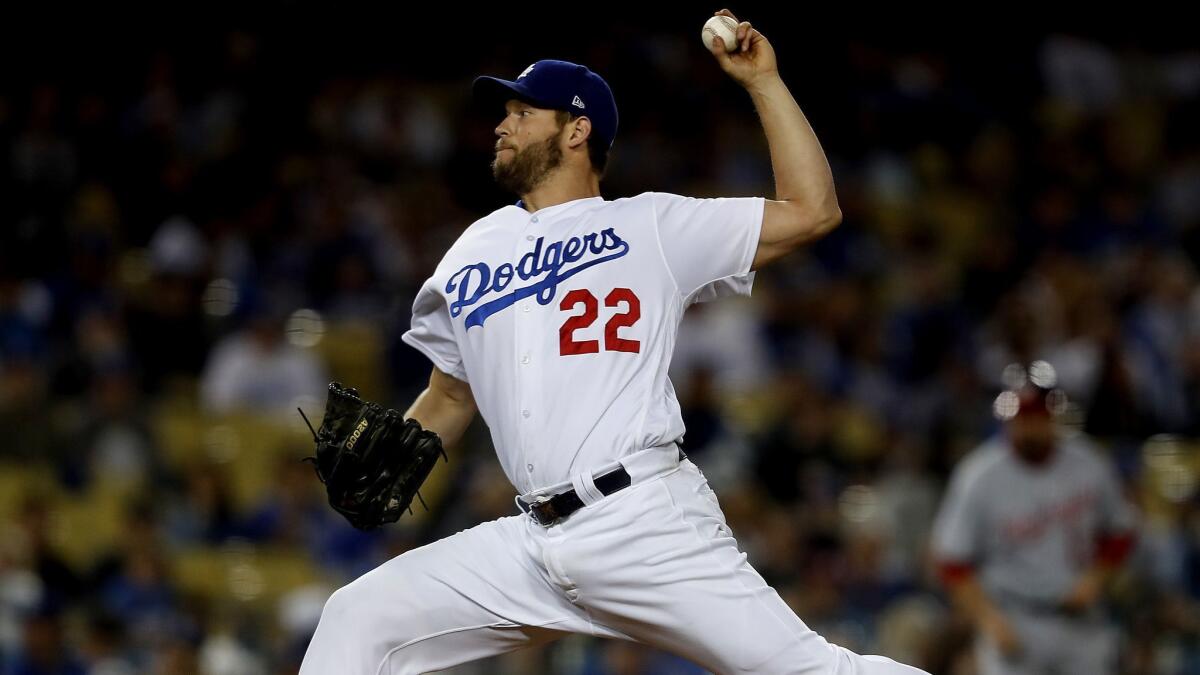 Reporting from new york —
Dodgers ace Clayton Kershaw has accelerated his return to the big-league roster.
Kershaw will start Saturday at Citi Field in New York after being allowed to skip his scheduled minor-league rehabilitation outing with triple-A Oklahoma City.
Kershaw has pitched only once in the majors since May 1 and has been on the disabled list twice, first with biceps tendonitis then with a lower back strain.
Manager Dave Roberts cited the possibility of storms in Omaha, where Oklahoma City is playing this weekend, as one factor in the decision. There is also a significant chance for rain in New York on Saturday, and the weather forecast suggested it was more likely to see rain in Queens than in Omaha. No matter: Kershaw (1-4, 2.76 earned-run average) will not be headed to the minors.
"With the weather uncertainty in Omaha, to keep him here to make his start is probably the best thing for him, and for us," Roberts said before Friday's series opener. "We don't know how much he's going to pitch. I don't want to put a limit on him. Obviously there is a limitation with Clayton, and I'll make that decision."
The matchup should delight executives at Fox, which will broadcast Saturday's game. Mets ace Jacob deGrom (5-2, 1.51 ERA), who has posted a 1.13 ERA in his last nine starts, also is starting.
Kershaw was slated to throw four or five innings for Oklahoma City. The Dodgers will keep Caleb Ferguson, who was scheduled to start Saturday, on the roster in case the New York weather disrupts Kershaw's appearance.
Kershaw never hid his preference for pitching in the majors over the minors. He mentioned the forecast in Omaha to team officials, Roberts said.
"He did play a little weatherman," Roberts said. "With weather.com and Clayton, we were pretty abreast of the weather in Omaha."
Day off for Taylor
After feeling tightness in his left hamstring on Wednesday against the Chicago Cubs, shortstop Chris Taylor received a day off on Friday. Taylor had still not undergone an MRI on the muscle, Roberts said.
"Give him today, and we'll reevaluate tomorrow," Roberts said.
Enrique Hernandez started at shortstop Friday. Taylor was not considered available as a fielder for the game, which left the Dodgers without a backup shortstop.
Short hops
The Dodgers activated Chase Utley from the disabled list. Utley was shut down at the end of May with a sprained thumb. He posted a .381 on-base plus slugging percentage in May.
Twitter: @McCulloughTimes
Get our Dodgers Dugout newsletter for insights, news and much more.
You may occasionally receive promotional content from the Los Angeles Times.