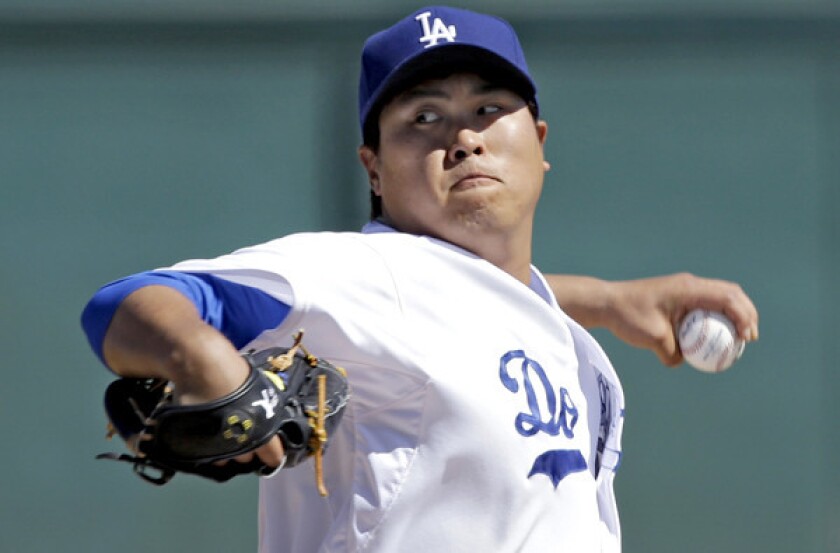 SYDNEY, Australia — Hyun-Jin Ryu has traveled not only to the other side of the world, but also back in time.
On the Australian All-Star team the Dodgers will face Thursday night is 44-year-old Dae-Sung Koo, a fellow left-hander from whom Ryu learned his best pitch, the changeup.
Here to pitch the second game of the Dodgers' two-game, season-opening series against the Arizona Diamondbacks, Ryu saw Koo at the Sydney Cricket Ground earlier this week. When Ryu did, he made it a point to call Koo "sunbae," a Korean term used to show deference to a senior.
"It was very good to see him," Ryu said through an interpreter. "I think it's about three years since I've last seen him. He hasn't changed a bit."
Ryu's career was rising and Koo's declining when they intersected in their native South Korea. Ryu was a 19-year-old rookie when he met a then-36-year-old Koo, a teammate on the Hanwha Eagles.
Ryu had reasons to admire him. The previous year, Koo had pitched for the New York Mets. He was a former Olympian and Korean league most valuable player who had also spent four seasons playing pro ball in Japan.
In Ryu, Koo saw a special talent.
"I noticed right away he had a great frame and good control of his pitches," Koo said through an interpreter.
He also found Ryu to be persistent.
"When Ryu was a rookie, for the first month, he used to follow me around, asking me to teach him the changeup," Koo said. "So we started to play catch together."
Koo laughed when recalling how quickly Ryu learned to throw the pitch.
"Within 30 minutes, his was almost as good as mine," Koo said.
Asked if Koo was a particularly effective teacher, Ryu smiled and said, "I think I learned it really well and perfected it."
Ryu was joking, but it's hard to dispute his version of the story. "He just has a great ability to learn and pick things up," Koo said.
The results were immediate.
Ryu had a record of 18-6 with a 2.23 earned-run average with the Eagles that season, earning the Korean Baseball Organization's most valuable player award.
Koo thinks Ryu's physical features made him particularly well suited to throw the changeup. Ryu is 6 feet 2 and has wide shoulders, but Koo pointed out that he has relatively small hands.
"The changeup is the perfect pitch for his hand," Koo said. "He's able to grip it perfectly. For him, it's better than the slider or the curve. He has more control over it."
Ryu is able to pinpoint not only the location, but also the speed.
"Because he has smaller hands, he can throw that slow changeup," Koo said. "If you have bigger hands, you can still throw a changeup but it would be a faster changeup."
Over the last year, Dodgers catcher A.J. Ellis has become familiar with Ryu's trademark pitch and what he can do with it.
"Ryu will throw a softer changeup at 77, then come back with a harder change at 83-84," Ellis said.
Koo remained with the Eagles until 2010, when he moved to Australia to pitch for the Sydney Blue Sox. Ryu departed for the United States three years later.
Ryu smiled as he reflected on their days as teammates.
Koo and some of the team's other veteran players imparted lessons that Ryu hasn't forgotten.
"He had a huge influence on my career, not only that he taught me a pitch or two, but that he taught me a lot of different things as a mentor.
"Looking back, there are still two or three things that I was taught by him and some of the other veterans. Everything from how to stand on the mound, to how to carry myself, to the etiquette of the game, they really did teach me a lot."
Twitter: @dylanohernandez
---