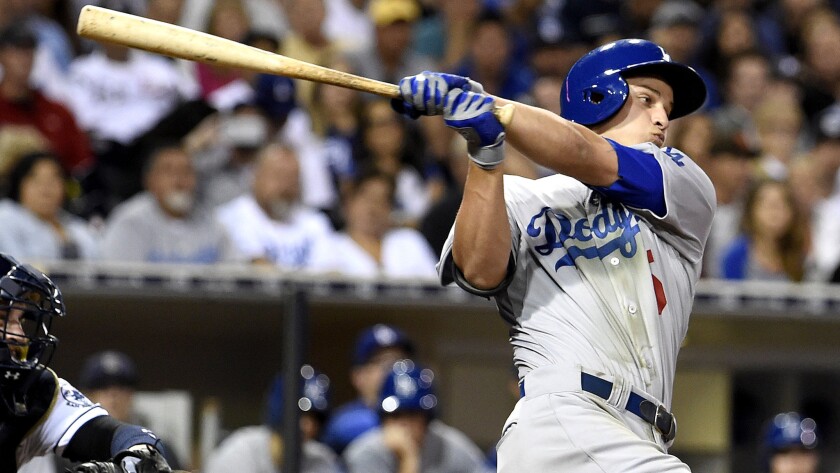 Reporting from San Diego —
While playing in the Pacific Coast League, Corey Seager watched several other highly regarded prospects become impact players at the highest level of baseball.
Kris Bryant with the Chicago Cubs. Carlos Correa with the Houston Astros. Miguel Sano with the Minnesota Twins.
Seager was granted a chance to do the same Thursday.
The consensus No. 1 prospect in the Dodgers farm system, Seager spent his first day in the major leagues batting eighth and starting at shortstop in a 10-7 defeat to the San Diego Padres at Petco Park.
Other than the final score, the debut was a resounding triumph for the 21-year-old infielder, who was two for four with a double, two runs batted in and two runs scored.
With his parents in the stands, Seager collected his first major league hit in the fifth inning, when he doubled to right field off Padres starter Colin Rea. Seager scored the Dodgers' first run that inning on an infield single by Joc Pederson.
Seager singled in two runs and scored another in a five-run sixth inning that reversed a 4-2 deficit and moved the Dodgers in front, 7-4. The bullpen failed to preserve the advantage, as Pedro Baez, J.P. Howell, Jim Johnson and Juan Nicasio gave up a combined six runs.
Seager's promotion to the major leagues was expedited by the Dodgers' sudden loss of infield depth, as the club was looking for a capable backup for Jimmy Rollins at shortstop and Justin Turner at third.
Seager batted a combined .293 with 18 home runs and 76 runs batted in over 125 minor league games, of which 105 were at triple A.
The organization initially planned for Seager to remain in triple-A Oklahoma City through the PCL playoffs. The front office's thinking changed as infielders Enrique Hernandez and Jose Peraza went down with hamstring injuries and Howie Kendrick was taking longer than expected to return from his strained hamstring.
So hours after Seager celebrated a division championship with his minor league teammates, he received a call from Damon Berryhill, his triple-A manager.
"Congratulations," Seager recalled Berryhill telling him.
"For what?" Seager asked.
"You're going to the big leagues," Berryhill said.
Seager called his parents in North Carolina. He called his older brother, Kyle, a third baseman for the Seattle Mariners. He didn't sleep until he boarded a flight for California.
When Seager landed, he was aware of the expectations that awaited him.
"There's always going to be pressure," he said, "but I try to put the least amount on myself as I can."
Most of the questions regarding Seager are related to his defense.
At 6 feet 4, he is taller than the average shortstop, which has led to speculation he could one day be moved to third base.
Outfielder Scott Schebler, who was also promoted from triple A this week, said he thought that Seager was motivated by the speculation.
"He was outstanding at short for us at Oklahoma City," Schebler said.
Seager played a handful of games at third base, specifically to prepare him for the situation he is in now. Dodgers Manager Don Mattingly said Seager will "definitely" play more games at third base this month than he will at shortstop.
Seager's first start at third base will come Friday, Mattingly said.
While Mattingly spoke highly of Seager's natural ability, he said he particularly liked the prospect's approach to the game.
"The intangibles are where you think that he has a chance to separate from some other guys," Mattingly said.
Rollins, a former National League most valuble player, said he liked what he saw of Seager in spring training.
"He's a confident kid, which is one thing you need to be up here," Rollins said.
Schebler is 3 1/2 years older than Seager but said he continues to be struck by Seager's maturity.
"His ability to be even-keel all the time is pretty astounding for his age," Schebler said. "When I was that age, my highs were high and my lows were low."
His character also made him stand out to Logan White, the former Dodgers scouting director who selected him with the 18th overall pick in the 2012 draft.
White, now the professional scouting director for the Padres, said he learned of Seager's promotion not from a news report or a social media posting. He learned directly from Seager, who sent him an early-morning text message to thank him for drafting him.
"Whether I drafted him or not, he was going to be a big leaguer," White said. "That tells you a lot about the kid."
Up next
Right-hander Mike Bolsinger (5-3, 2.83 ERA) will face right-hander James Shields (10-6, 3.78) and the Padres on Friday at 7 p.m. at Petco Park. TV: SportsNet LA; Radio: 570, 1020.
Twitter: @dylanohernandez
---