Dodgers shortstop Corey Seager to have elbow surgery and sit out rest of season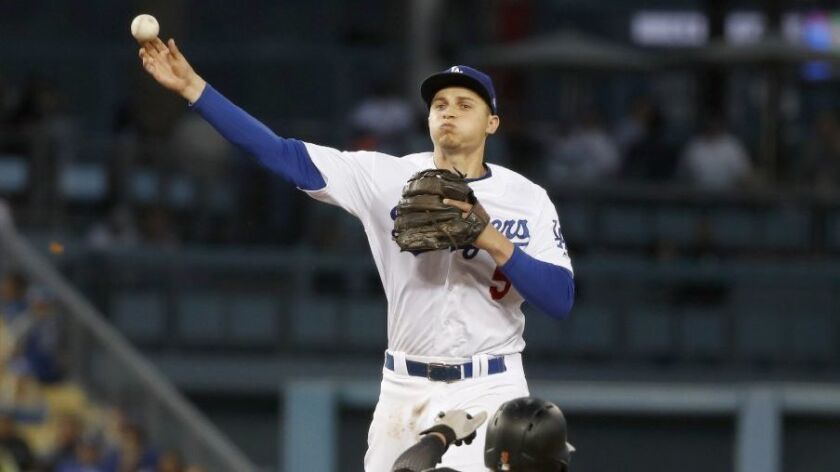 Reporting from PHOENIX —
Corey Seager slipped inside an MRI tube Monday morning at a Phoenix hospital. His right elbow had ached over the weekend after a "few bad throws that really irritated me," he said. He hoped the examination would only reveal more of the bone chips and inflammation that had bothered him since last summer. The actual diagnosis delivered far more devastating consequences for Seager and the Dodgers.
Soon after he left the MRI tube, Seager joined a conference call with general manager Farhan Zaidi, manager Dave Roberts and team physician Neal ElAttrache. There was only one option for his sprained ulnar collateral ligament. Seager would undergo ligament-replacement surgery, a procedure that will rob the Dodgers of their two-time All-Star shortstop for the duration of 2018 and jeopardized his readiness for the start of 2019.
"It obviously sucks," Seager said.
ElAttrache is scheduled to perform the surgery Friday. The Dodgers hope Seager, 24, can resume baseball activities by next spring and be ready by opening day. Until then, the team will improvise without one of their cornerstones and attempt to salvage a season that is swiftly spiraling.
The year began with a setback when third baseman Justin Turner suffered a fractured wrist March 19. Turner may return in May, but he will not share the field this season with Seager. The Dodgers will finish April with their No. 2 hitter and their No. 3 hitter on the shelf — and with a losing record.
The Dodgers planned to use internal options to replace Seager "for the time being," Zaidi said. Chris Taylor will become the starting shortstop. His spot in center field will be handled by a platoon that includes Enrique Hernandez, Joc Pederson and top outfield prospect Alex Verdugo.
The Dodgers engaged with the Baltimore Orioles in the offseason about three-time All-Star shortstop Manny Machado, and they could revisit those talks. But Machado can become a free agent after this season, and the cost to acquire him would be significant. The Dodgers are wary of barreling past the $197-million luxury tax threshold, and are considered unlikely to add sizable salary commitments.
"We're going to have a pretty high bar, if we go outside the organization," Zaidi said. "We're still digesting this news right now, too. And we still feel good about the lineup we can field on an everyday basis."
Zaidi defended the organization's decision not to recommend surgery for Seager over the offseason. Seager had complained of elbow discomfort throughout the second half of 2017. By August, his elbow hurt every time he threw the baseball. The MRI exams on the ligament did not show enough damage to merit a procedure, Zaidi said.
The Dodgers kept Seager on ice for most of spring training. He completed a protective throwing program before being cleared to play shortstop in games. Seager did not play the field until March 12. The precautions could not delay the inevitable.
"Where we were in the calendar at the time, it made sense to take a conservative approach, and see if that would alleviate the symptoms," Zaidi said. "It obviously worked for a while. Things deteriorated now to the point where it's clearly surgical."
Seager insisted he did not regret forgoing surgery.
"Where I was last year, it was the right decision to [not have surgery]," he said. "It just didn't work out the way I was hoping."
Seager has dealt with injuries throughout his brief big league career. He tweaked a knee in the spring of 2016. He sat out a playoff series in October because of a back strain. He began this season with his elbow as a significant cause for concern.
The elbow occupied his thoughts each day, as Seager underwent an extensive routine designed to alleviate any discomfort or stiffness. He performed below expectations in the season's first month. With his year short-circuited, he will finish with a .267 batting average and a .744 on-base-plus-slugging percentage.
Seager felt his elbow give way over the weekend. While making a relay throw Sunday afternoon, he felt numbness around the ligament. Up to that point, he believed he could manage the symptoms and remain productive. His mentality changed after he was examined Monday.
"It's almost peace of mind now," Seager said. "There was no gray area to this decision. It was pretty cut and dry. And that's nice as an athlete, to have a plan, basically, to go forward and just to keep reaching goals."
As Seager searched for sources of optimism, other members of the organization commiserated. Zaidi thanked Seager for playing through pain. Roberts tinkered with the lineup in search of solutions.
Taylor was an infielder for his entire career before shifting into the outfield last season. The Dodgers view Hernandez as a sure-handed shortstop, but he is unlikely to start most days against right-handed pitchers. Roberts sought consistency with the infield, a group already disrupted by a series of ailments.
Turner has begun swinging a bat and could start a rehabilitation assignment this week. Logan Forsythe has begun throwing a baseball despite a sore right shoulder. The Dodgers hope Turner, Forysthe and Yasiel Puig (bruised foot, bruised hip) could all return within the next three weeks.
In the aftermath, the Dodgers tried to stay upbeat. Seager mentioned finding closure for his troublesome ligament. Zaidi suggested the Dodgers could reclaim the "next man up" philosophy they espoused en route to the World Series last fall. Roberts stressed the impending return of key players like Turner and Forsythe.
But the devastation of Seager's diagnosis could not be ignored.
"We just feel for Corey," Roberts said. "It's something that he's had to deal with for a couple years. The elbow finally gave way. And I feel bad for him."
Twitter: @McCulloughTimes
---
Get our Dodgers Dugout newsletter for insights, news and much more.
You may occasionally receive promotional content from the Los Angeles Times.