#PuigYourAgent? Yasiel Puig is happy to fly solo without representation — for now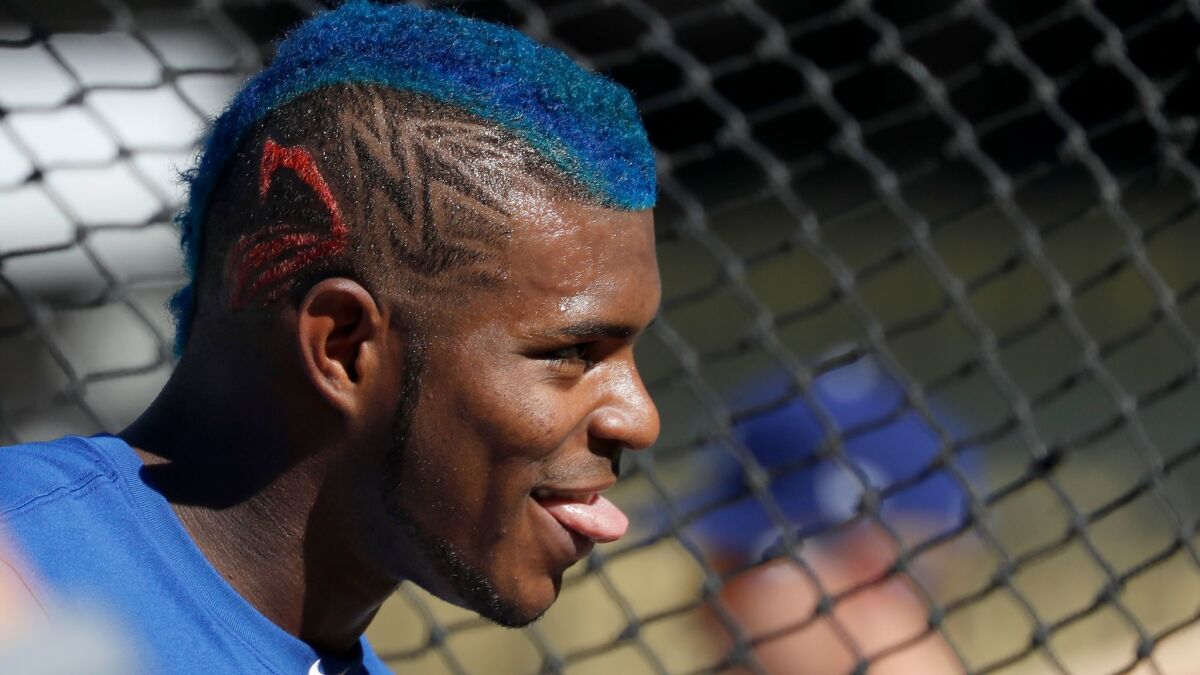 Reporting from phoenix —
He is not a man without a country. Yasiel Puig is merely a man without an agent, which means only so much for a player two years away from free agency. On Thursday afternoon at Camelback Ranch, Puig appeared far more passionate about a post-workout ping-pong match with Dodgers hitting coach Turner Ward than his lack of representation.
More than a week has passed since the Wasserman agency publicly dumped him. Puig was not bothered by the breakup, he said. He insisted he did not feel urgency to find a replacement.
"I'm not looking for anyone," he said, before backtracking to admit he had taken a few meetings with interested suitors. His priorities still fell elsewhere.
"I'm not even worried about that," Puig said. "If I don't hit, no agent is ever going to get me any contract or money."
After two seasons lost to strained muscles and lackluster at-bats, Puig rebounded in 2017 with his most productive year since 2014. His defense in right field was sterling. He hit a career-best 28 home runs. He helped power the offense during the first two rounds of the playoffs en route to the World Series.
And for the most part, Puig avoided controversy. There was a late September snafu, when manager Dave Roberts benched Puig for making a base-running mistake in one game and showing up late a day later. The setback lacked the dramatics of previous years, when Puig warred with teammates or when the Dodgers tried desperately to trade him.
The breakup with Wasserman hearkened back to that earlier era. The agency had stuck with Puig through a series of travails in recent years. They helped him craft his social media persona, which helped Puig connect with fans and show off his sense of humor. Yet the downside of the relationship appears to have overshadowed the potential benefits of negotiating Puig's next contract.
The particulars of the dispute remain unknown. Much like his former agents, Puig lacked interest in discussing them.
Two years remain on the seven-year, $42-million contract Puig signed after leaving Cuba while represented by Jaime Torres. Wasserman had represented Puig since 2014. Puig will earn $7.5 million in 2018 and can opt into arbitration for 2019. He can become a free agent in 2020.
"I'm solo for now," Puig said. "I'm really just focusing on spring training and being 100% for the season. Getting ready for [Feb. 23], when the games start, and just making sure I'm 100% for the season."
Puig spent much of his winter traveling. He went home to Cuba. He took his mother on a trip to France, Italy and Spain. In Madrid, he attended El Clasico, the soccer match between Barcelona and Real Madrid. Puig referred to it as "my dream," one tempered only by watching Barcelona stomp Puig's favorites from Madrid. He tailored his post-vacation workouts to help trim the weight he gained while touring Europe.
Earlier this month, Puig visited Mexico for the Caribbean Series. He walked the red carpet of a film premiere with former teammate Adrian Gonzalez. He threw out the first pitch before a game between Mexico and the Dominican Republic.
Soon after he left the festivities, Puig learned he would require new representation. In a one-sentence email sent to reporters on Feb. 7, Wasserman announced it had "terminated its professional relationship with Yasiel Puig." Adam Katz, one of Puig's primary representatives, declined to elaborate on the situation. Members of the agency have remained quiet since.
Puig declined to reveal the details of the split. He said he was surprised by it, but otherwise opted for amicability.
"I'm really not focused on that," Puig said. "I wish them the best with what they do. But for now I'm just focusing on baseball."
Dodgers officials have indicated they are unaware of why the agency dropped Puig. Roberts said he did not expect the situation to hamper the team.
"I talked to Yasiel, and he said they're moving on, he's moving on, he's open to new representation," Roberts said. "But he's fine with it. And as far as the Dodgers, I don't think it affects us. I don't know what transpired. But he seems like he's in a pretty good place."
At Camelback Ranch, Puig maintains his same locker next to closer Kenley Jansen. One of his new neighbors is a familiar face — and not always a friendly one. Puig sparred with Matt Kemp during their first tenure as teammates. Kemp once aired out Puig in the dugout during a game in 2014.
Yet tension between the two appears nonexistent. Longtime Dodgers credit Puig for growing to trust others in recent years and tempering some of the behavior that rankled teammates earlier in his career. Kemp appears thrilled to be back with the organization.
One day this week, Jansen saw a scene he could not have fathomed four years ago. Sitting next to each other during indoor exercises were Kemp and Puig. Jansen picked up his iPhone to record the moment. He beamed into his camera.
"This is my happiest day, dog," Jansen said. "I've got Puig. I've got Matthew. They're finally talking, guys! They're finally talking. Happiest day of my life. Look at them."
Kemp and Puig smiled. A couple days later, Puig insisted he was happy to team with Kemp again.
"It's good to have him back," Puig said. "He's working really hard for us. He can be a key element on this team to do what we couldn't do last year, which was win Game 7."
So Puig may not have a new agent. But he might have a new friend.
Twitter: @McCulloughTimes
---
Get our Dodgers Dugout newsletter for insights, news and much more.
You may occasionally receive promotional content from the Los Angeles Times.