Kenley Jansen thinks one key part of Dodgers' spring training 'doesn't make any sense'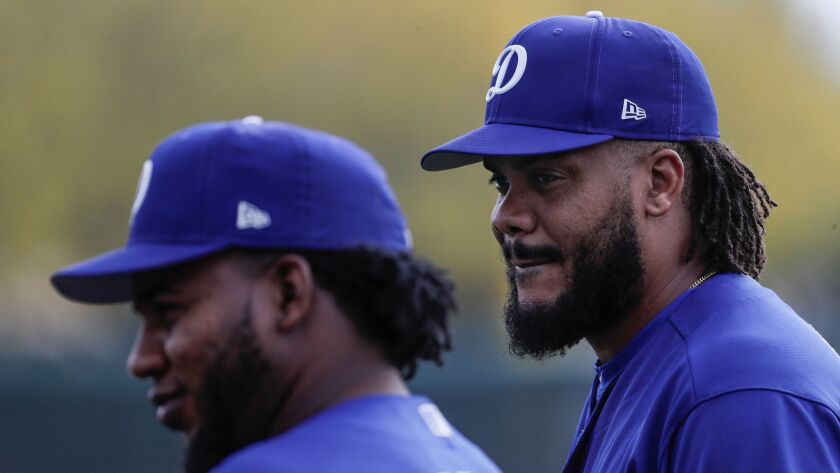 Reporting from phoenix —
The Dodgers have played 11 games this spring, all in the afternoon. And what says spring training better than a day in the sun, watching a game from the outfield lawn and clutching a cold drink?
The notion might be romantic to fans, but All-Star closer Kenley Jansen says he has a better idea: more night games.
If the Dodgers want to exploit every possible edge in pursuit of winning the World Series, Jansen said, they ought to make the Cactus League resemble the regular season environment as much as possible.
"We play at 7 o'clock at night" during the season, Jansen said. "This doesn't make any sense."
The Dodgers have scheduled four of their 15 Cactus League home games at night. The Seattle Mariners scheduled nine of their 16 home games at night, citing in a statement "scientific research into the performance-related benefits players can derive by maintaining regular sleep patterns, and the desire to prepare them for the routine of regular season start times."
Andrew Friedman, the Dodgers' president of baseball operations, said the team has considered adjusting its game times.
"I do think there are benefits to playing more night games in spring training," Friedman said. "Obviously, that's the majority of the games during the season."
He said the Dodgers hope to discuss the issue further with other teams and the city of Glendale, the home of Camelback Ranch. What the Dodgers want to avoid is alternating between night games at their ballpark and day games elsewhere.
"If that's happening too often, there's an inconsistency to that," Friedman said. "That could eat into the value of what you are doing in the first place. Until we have a better grasp of it, we opted for consistency."
Friedman also said the Dodgers have considered starting their morning schedule an hour later, a trend among teams mindful of research that shows performance can be impacted if players do not get enough sleep.
"Every year, we have that meeting talking about how important your sleep is," Jansen said.
The Dodgers generally assemble for a meeting about 9 a.m. and workouts about 10, but players can arrive between 6 and 7 for work in the batting cages and weight room.
The St. Louis Cardinals, Tampa Bay Rays, New York Mets, New York Yankees, Kansas City Royals, San Francisco Giants and Philadelphia Phillies are among the teams reporting to camp later each morning, according to mlb.com.
"I don't think there's any value in getting to the ballpark when it's dark just to get to the ballpark when it's dark," Phillies manager Gabe Kapler told reporters.
Puig a Giant slayer?
The players might be rounding into form, but the fans already are in shape for the season, based on the lusty boos directed at Yasiel Puig by San Francisco Giants fans on Saturday.
Puig will be ready too, if Saturday's game is any indication. He doubled and singled, raising his Cactus League batting average to .400. Manager Dave Roberts said Puig has asked for extra playing time this spring against the Giants and Arizona Diamondbacks, against whom the Dodgers play 13 of their first 15 games.
In their opener, the Dodgers are scheduled to face Madison Bumgarner, who hollered "Don't look at me" to Puig in a game two years ago. The Dodgers, as you might recall, responded with T-shirts.
Grandal power boost?
Yasmani Grandal hit his first home run this spring, after a winter working on his launch angle.
Justin Turner turned into an All-Star with a similar revamping of his swing. He hit more ground balls than fly balls every year until 2014, hit the same number of ground balls and fly balls in 2015, and hit more fly balls than ground balls in each of the past two years, when he topped 20 homers for the first times in his career.
Grandal never has hit more fly balls than ground balls, according to Fangraphs. He hit 135 ground balls last year.
"If I just took 50 ground balls out of the equation, that could give me the opportunity to be great in this game," he said.
Grandal acknowledged the risk in altering a swing that already delivers plenty of power. He has hit 49 home runs over the past two seasons, more than any other National League catcher and one more than Turner.
"At the same time, you still come to the conclusion that you're still not the best in the game," he said, "so why not try to make a change to hopefully be the best?'
Follow Bill Shaikin on Twitter @BillShaikin
---
Get our Dodgers Dugout newsletter for insights, news and much more.
You may occasionally receive promotional content from the Los Angeles Times.