Dodgers have a surplus of starting pitchers that could work to their advantage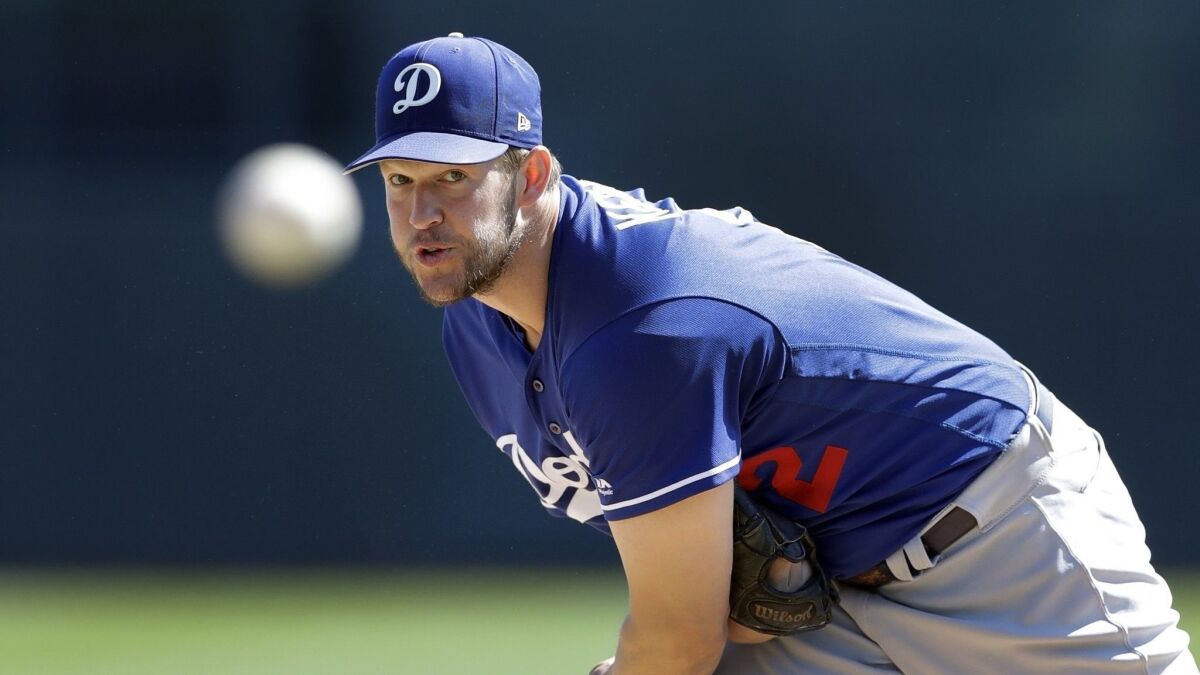 A smile formed on Dave Roberts' face when the arithmetic was presented to him. He had just declared that the Dodgers view Alex Wood as a starting pitcher. He said the same about Kenta Maeda a little earlier. He revealed Ross Stripling would compete for a starting job and projected Julio Urias would be in the mix, on an innings limit. He did not have to mention the other four starters the Dodgers employ: Clayton Kershaw, Walker Buehler, Hyun-Jin Ryu and Rich Hill are locks for the starting rotation.
That's eight pitchers for five spots, and that doesn't include someone like Caleb Ferguson, a youngster groomed as a starter who was asked to convert to the bullpen to help the club in 2018.
"It goes back to my original purging comment," Roberts said with the grin when asked about the excess at the winter meetings in Las Vegas last week.
Rotation depth is valued, but the Dodgers have continuously labeled their glut as a surplus this offseason, one Roberts acknowledged they plan on dealing from. But could they also add to it?
The Dodgers regard their starting rotation as a strength, and it starts up top. But questions linger. They begin with the 30-year-old Kershaw, whose output in 2018 drew alarms even though it would have qualified as a career year for most of his peers. Kershaw posted a 2.73 ERA in 161⅓ innings across 26 starts, pitching around biceps and back injuries that cost him nearly all of May and June before experiencing another up-and-down postseason.
Evaluating Kershaw's campaign is not complete without recognizing the plunge in his fastball's velocity. In 2017, Kershaw's fastball averaged 93.1 mph, a career low but not far off the 93.7 mph he averaged in 2016, according to FanGraphs. That number plummeted to 91.4 mph last season. The decline made his fastball less effective and he used it a career-low 41.6% of the time. The pitch resembled his slider more than ever, which rendered him essentially a one-pitch pitcher with little wiggle room when his curveball wasn't sharp.
Kershaw hinted that he would work on regaining some of his velocity this offseason after signing his three-year, $93-million contract early last month. Roberts cited Justin Verlander as a recent example of an elite starter whose velocity bounced back up in his 30s. While Andrew Friedman, the Dodgers' president of baseball operations, insisted a velocity increase isn't imperative, Roberts acknowledged it would grant more margin for error.
"I think that Clayton feels that there's more in there," said Roberts, who added Kershaw has been working with Dodgers strength and conditioning coach Brandon McDaniel. "We do, medically. And so it's just going to make him that much better and the trust to execute a fastball glove-side. I think that confidence that he can touch 92, 93 consistently, it's going to make it that much tougher and make the slider that much better too. He's pretty set he wants to see that number tick up."
Buehler resides with Kershaw atop the rotation and figures to soon seize the ace title if he can avoid injury. Buehler, 23, displayed his ace-level potential over the second half of the season – he had a 1.55 ERA over his final 12 regular-season starts – and tossed seven shutout innings in Game 3 of the World Series, but he's just three years removed from Tommy John surgery and 2018 was just his second full season as a professional.
Ryu's durability is also unknown – he had career-threatening shoulder surgery in 2015 – and Hill turns 39 in March. The uncertainty could explain the Dodgers' rumored interest in one of two Cleveland starters that the Indians are reportedly willing to trade. Either Corey Kluber or Trevor Bauer would elevate the Dodgers' rotation while supplying protection should injuries inflict their top four.
Below the quartet sit Maeda, Wood, Stripling and Urias. The Dodgers' depth pushed Maeda, 30, into the bullpen to finish last season, but Roberts said the plan is for him to start. Stripling also has extensive experience in the bullpen, but was an All-Star as a starter in 2018. Urias, 22, returned in September from shoulder surgery as a reliever and was a surprise bullpen addition to the NLCS roster, but the talented left-hander's future is in the rotation.
Wood, meanwhile, had his ERA climb from 2.72 during his All-Star 2017 campaign to 3.68 in 2018, which he ended as a reliever. The left-hander ditched the windup last season, but Friedman and Roberts said he plans on reincorporating it in 2019.
"In talking to Alex, he wasn't really synced up mechanically with his delivery all year," Roberts said. "So going back … to the windup, I think that if he feels good about it. I know [pitching coach] Rick Honeycutt feels good about it. So I'm in on that."
Wood and Stripling are trade candidates, chips in the surplus the Dodgers could cash in to upgrade in another department. Wood, 27, is entering his final year of control and MLBTradeRumors.com projects he would make $9 million in arbitration. Stripling, 29, has four years of team control remaining and isn't arbitration-eligible until next winter.
The Dodgers have plenty of options for their rotation, but much can change over the next two months.
"I think that we just don't need to make that decision right now," Roberts said. "We've seen how our roster can shake out, but in December I think you can still have nine starters."
Twitter: @jorgecastillo
Get our Dodgers Dugout newsletter for insights, news and much more.
You may occasionally receive promotional content from the Los Angeles Times.