What does the Dodgers' dynamic pricing schedule mean for fans? A seat that costs $33 one day will cost $80 another day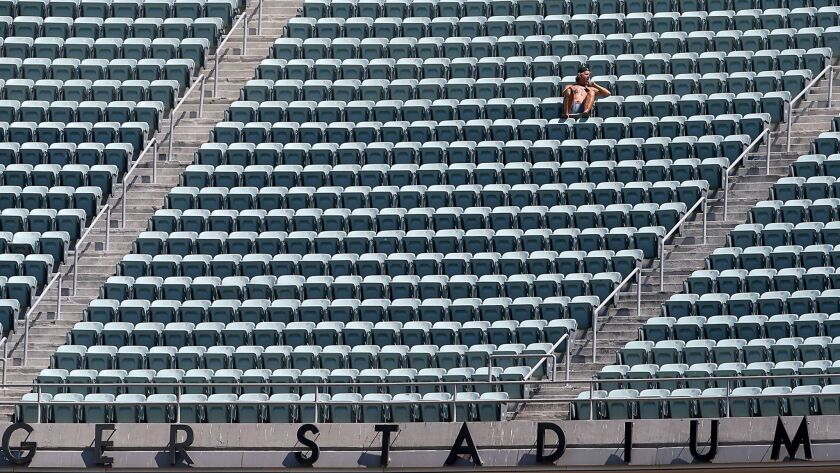 If you would like to see the Dodgers from a field-level seat overlooking the bullpen, the team will charge you $80 for your seat.
That's on April 21. If you can wait four days, the Dodgers will charge you $33 for the very same seat.
The Dodgers put single-game tickets on sale Friday, with seats available in as many as 40 classifications and games priced based on six levels of anticipated popularity. Opening day tickets were not available Friday; the team currently is selling them only as part of multigame packages.
The Dodgers have dropped the number of games for which they offer their lowest price from 16 four years ago to two again this year — two weekday games that start at 4:35 p.m.
The cheapest ticket for those games is $14. But for a working parent who wants to take his or her children to Dodger Stadium but cannot make either of those games, the cheapest ticket on sale Friday was $23.
Bobblehead dolls remain a coveted promotional item, and the Dodgers price their tickets accordingly.
When the Milwaukee Brewers play a four-game midweek series at Dodger Stadium, that box seat next to the bullpen sells for $70 for the game with a bobblehead promotion, $50 for the other three.
Tickets in the loge section are raised by as much as $17 for the bobblehead game in that series; in the left-field pavilion, they are raised by as much as $14, and on the reserve level by as much as $12.
That April 21 game — the one with the $80 seat next to the bullpen — is a Saturday night game against Bryce Harper and the Washington Nationals, with a Cody Bellinger Rookie of the Year bobblehead giveaway. The April 25 game — with the same seat available for $33 — is one of the Wednesday 4:35 p.m. games, against whoever is left to represent the Miami Marlins.
Follow Bill Shaikin on Twitter @BillShaikin
---
Get our Dodgers Dugout newsletter for insights, news and much more.
You may occasionally receive promotional content from the Los Angeles Times.