Koehler, rejected by the Blue Jays, is the Dodgers' latest bullpen reclamation project
Reporting from surprise, ariz —
The offer left Tom Koehler elated but curious. He had just completed what he called "an absolute disaster" of a season in 2017, which convinced the Toronto Blue Jays to cut him. Now the best team in the National League sounded rabid for his services. Something did not add up.
In a meeting with Dodgers president of baseball operations Andrew Friedman and manager Dave Roberts, Koehler found an apt metaphor: He felt like a marching band geek who had been asked to the prom by the most beautiful girl in school.
"You don't know why — but you want to find out," Koehler said. "Not that there was any self-doubt, but you want to find out why. What do they see in me?"
The Dodgers excel at finding band geeks. In three seasons under the leadership of Friedman and general manager Farhan Zaidi, the Dodgers rank fifth in baseball in bullpen earned-run average. The bullpen was one of the best in baseball in 2017: lowest ERA in the National League, highest strikeout percentage, best strikeout-to-walk ratio, best rate of batters stranded on base.
A significant portion of the credit belongs to Kenley Jansen. The Dodgers inherited the closer from the previous regime and heaped upon him a five-year, $80-million contract after the 2016 season. Jansen operates as a safety net for the high-wire act conducted by Friedman and Zaidi, who rebuild bullpens each year through low-stakes trades and low-wattage signings.
In 2016, the Dodgers signed Joe Blanton for a $4 million guarantee. Leaning on his slider, Blanton posted a 2.48 ERA and helped keep the team afloat as the starting rotation crumbled. A year later, Brandon Morrow arrived on a minor-league contract. He emerged as Jansen's most reliable sidekick, a converted starter with an electric arsenal and a 2.06 ERA.
Morrow departed this offseason, signing a two-year, $21-million deal with the Chicago Cubs. Wary of incurring the sport's competitive balance tax, the Dodgers did not counter. Instead, they tried to find a cheaper equivalent. Enter Koehler, who was 1-7 with a 6.69 ERA last season.
In the past, the Dodgers had engaged in conversations with the Miami Marlins about Koehler, a starter for most of his six seasons in Miami. Friedman and Zaidi believed he could be a useful starter — but an excellent reliever.
"Koehler is a guy who has long been on our radar as a reliever conversion candidate," Friedman said. "He's got an excellent curveball. If you look at the stuff and make some small tweaks here and there, and he's going in shorter bursts, there is real upside."
Converting a starter into a reliever is far from revolutionary. Andrew Miller failed as a starter before blossoming into the game's most dominant left-handed reliever. Wade Davis followed a similar trajectory. So did Zach Britton and Dellin Betances and Archie Bradley. Set loose in relief by the Dodgers last October, Kenta Maeda trampled right-handed batters.
Zaidi identified a series of characteristics that appeal to the Dodgers when looking to convert: enough arm strength to generate a credible fastball, the presence of "one particularly exemplary pitch" and a willingness to take instruction. The team searches for pitchers with an open mind, those who will accept change in order to increase their effectiveness or protect their health or fatten their wallet. The key is an intersection between skill and enthusiasm.
"We don't have like a starter reclamation project leaderboard or anything like that," Zaidi said. "But we do have things that we look for."
The strategy matches one that the organization deployed in the trade market the last two seasons. In Josh Fields and Tony Cingrani, the Dodgers found two effective relievers for minimal return. Both classified as distressed assets: Fields had an 6.89 ERA for the Houston Astros in 2016 before the Dodgers intervened; a year later, Cingrani's ERA with the Cincinnati Reds was 5.40.
Each player fit the criteria for rejuvenation. Fields ditched his slider, focusing on spinning his curveball and flinging elevated fastballs. He has a 2.83 ERA as a Dodger.
Not that there was any self-doubt, but you want to find out why. What do they see in me?
— Tom Koehler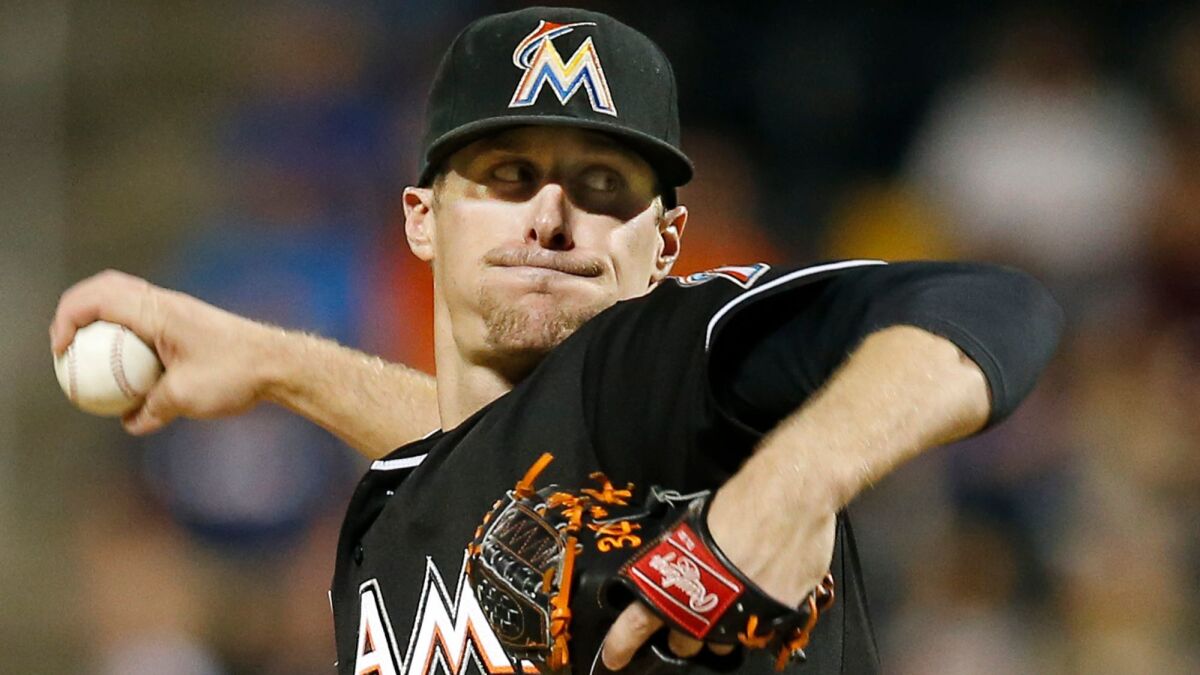 Cingrani underwent a similar revival. His slider was intriguing, and team officials felt he could benefit from changes in his sequencing. While the front office weighed the merits of his addition, they received unsolicited scouting reports from the left-handed-hitting veteran duo of Chase Utley and Adrian Gonzalez, who hated facing Cingrani.
"To say everything fits into a model is oversimplistic," Zaidi said. "Because you just never know where the information is going to come from."
The Dodgers asked Cingrani to throw his slider more, and its usage jumped from 2.4% with the Reds to 21.6% with the Dodgers. He relocated his fastball higher in the zone, toward the arm side of the plate. Pitching coach Rick Honeycutt cleaned up Cingrani's delivery. Cingrani responded with a 2.79 ERA after the trade.
Koehler offered another challenge for the organization. He lost his spot in the Marlins rotation last season. Miami shipped him to Toronto in the summer. The Blue Jays declined to tender him a contract in December.
About 20 hours after Toronto cut him loose, Koehler recalled, the Dodgers contacted his agent. They asked him to consider the bullpen. Koehler figured he could try to find a job as a mediocre starter on another team, or he could aim for greatness as a reliever on a World Series contender. He agreed to a one-year contract with $2 million guaranteed and nearly another $2 million available in bonuses.
The Dodgers chose not to overload Koehler with information upon his arrival at Camelback Ranch. "I didn't just walk in with a binder in my locker saying 'Do this,'" he said.
The suggestions were more subtle. Koehler met with Roberts, Friedman, Honeycutt and bullpen coach Mark Prior. The group advised him to ditch his slider and his changeup, and rely upon his fastball and curveball. There were suggestions about sequencing and location. The instructions will continue as the spring unfolds.
Already, the band geek can start to see why the prom queen desired him.
"What Morrow did last year was unreal," Koehler said. "I'm not going to sit here and say 'That's what I'm going to do.' But I think they have a plan. The blueprint is there of how to make guys successful relievers. And it starts with putting guys in positions to be successful."
Twitter: @McCulloughTimes
---
Get our Dodgers Dugout newsletter for insights, news and much more.
You may occasionally receive promotional content from the Los Angeles Times.