Getting Dodgers' SportsNet LA to new viewers affected by media mergers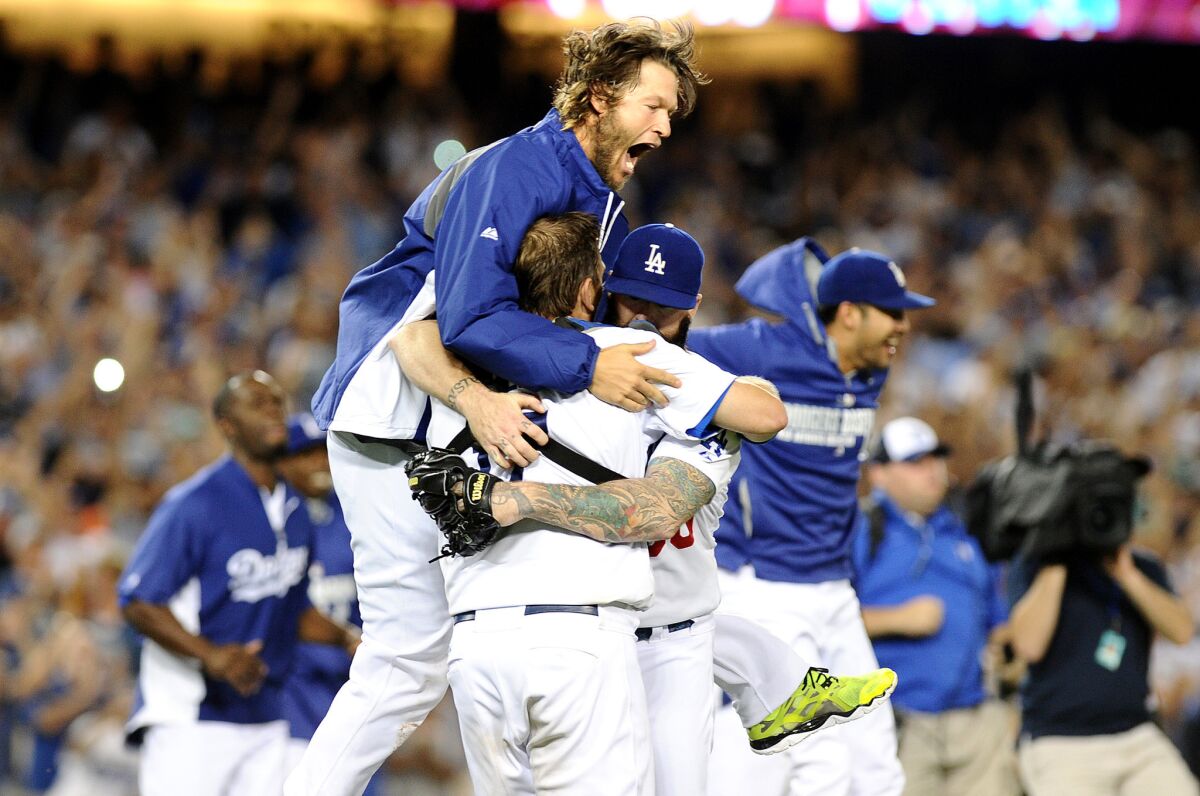 PARADISE VALLEY, Ariz. — Most Dodgers fans face the bitter prospect of another baseball season starting without the home team on their television set.
Getting the Dodgers' SportsNet LA channel into the 70% of local homes without it has been complicated by the federal government's lengthy review of two mega-media mergers — and there is no sign that a resolution will come any time soon.
"I'm very concerned," Dodgers Chairman Mark Walter said Thursday, at the conclusion of baseball's owners' meetings.
The Federal Communications Commission has until March 30 — six days before the Dodgers' season opener — to approve or reject a merger between Comcast and Time Warner Cable. The FCC has delayed the proceedings twice and could do so again.
Walter said he and Dodgers President Stan Kasten have discussed whether they should encourage cable and satellite providers to carry SportsNet LA from the start of the season, pending agreements that would allow financial terms to be applied retroactively.
"All we can do is sit down and talk to people," Walter said.
Even that is tricky because government rules forbid a company from involving itself in the business of a merger partner before the merger is approved.
"They're very careful to maintain separate operations," said Ed Desser, a veteran sports television consultant and negotiator.
The two corporate consolidations — Comcast-TWC and AT&T-DirecTV — were expected to be completed during the first quarter of this year. But both mergers have been delayed by a host of issues in Washington — none related to baseball.
With the companies focusing on their mergers, there have been no negotiations to widen the reach of SportsNet LA in Southern California, according to people close to the companies.
No new negotiations are scheduled.
The Dodgers own SportsNet LA, but TWC is responsible for getting other pay-TV companies to carry it. TWC remains the only major pay-TV company that carries SportsNet LA in the Los Angeles region.
Walter said the Dodgers have no interest in renegotiating their $8.35-billion deal with TWC, rejecting suggestions that the team should take less money in the hope that more providers would carry the channel at a lower price.
"We're not talking about widows and orphans on the three sides of this transaction," Walter said.
Comcast, the nation's largest cable company, is seeking approval for its proposed $45-billion takeover of TWC.
Comcast and TWC have been concentrating on the government's review of their merger so TWC executives have not been trying to strike new carriage deals.
Not that DirecTV says it is interested, at least not without a price break. DirecTV says it has lost relatively few subscribers because it does not carry SportsNet LA.
"Time Warner Cable and the Dodgers' front office owe fans the simple freedom to see Dodger games on TV without obligating every TV customer to bail out Time Warner for its reckless overspending," DirecTV said in a statement. Kasten declined to comment.
TWC contends its asking price is fair by industry standards. According to consulting firm SNL Kagan, SportsNet LA is being offered to pay-TV companies for about $4.50 per month, per subscriber. TWC also said it would be willing to submit the dispute to binding arbitration, which DirecTV has rejected.
Walter would not comment directly about whether the Dodgers, in the absence of new deals, would lean on TWC to make the games available to all fans on KDOC, as it did for the final six regular-season games last year.
"It's just a human issue," Walter said. "A lot of the people on both sides are going to be uncertain about their own positions and reluctant to act in that situation. We can do things to try to talk them into it."
DirecTV is the region's second largest pay-TV company, with more than 1.2 million subscribers in the Los Angeles region, and it has a strong package of sports channels, making it a favored service among hard-core fans. But DirecTV is involved in its own corporate takeover, a $49-billion purchase by AT&T, also subject to government approval.
Although the FCC window to approve the Comcast-TWC transaction is set to end on March 30, some company insiders believe that means the merger likely would not be finalized until sometime in April — after the start of the baseball season.
The AT&T-DirecTV consolidation is on a slightly faster track, with the FCC timeline scheduled to end March 23.
Desser, the industry consultant, said late-March approvals for the mergers would not by themselves preclude deals for SportsNet LA by opening day.
"The network is already up and running. As a technical matter, it's a matter of flipping switches," Desser said. "The paperwork isn't a big issue. The issue ultimately comes down to economics."
Industry observers have speculated that, after Comcast secures government approval for its acquisition of TWC, the company would figure out a way to bring other distributors, including DirecTV, AT&T, Verizon and Cox Communications, on board. Under one scenario, Comcast could write down the value of the contract for SportsNet LA, taking a huge loss, and then lower the price of the channel for the other carriers. Comcast declined to comment.
"I don't think anybody really knows how it's going to play out," Desser said. "Anybody who tells you for certain what's going to happen, I think, is staring into a crystal ball.
"That may not be what Dodgers fans want to hear, but that's where we are."
Twitter: @BillShaikin
Get our Dodgers Dugout newsletter for insights, news and much more.
You may occasionally receive promotional content from the Los Angeles Times.