Column: Arrogance and greed are keeping Dodgers fans in a TV blackout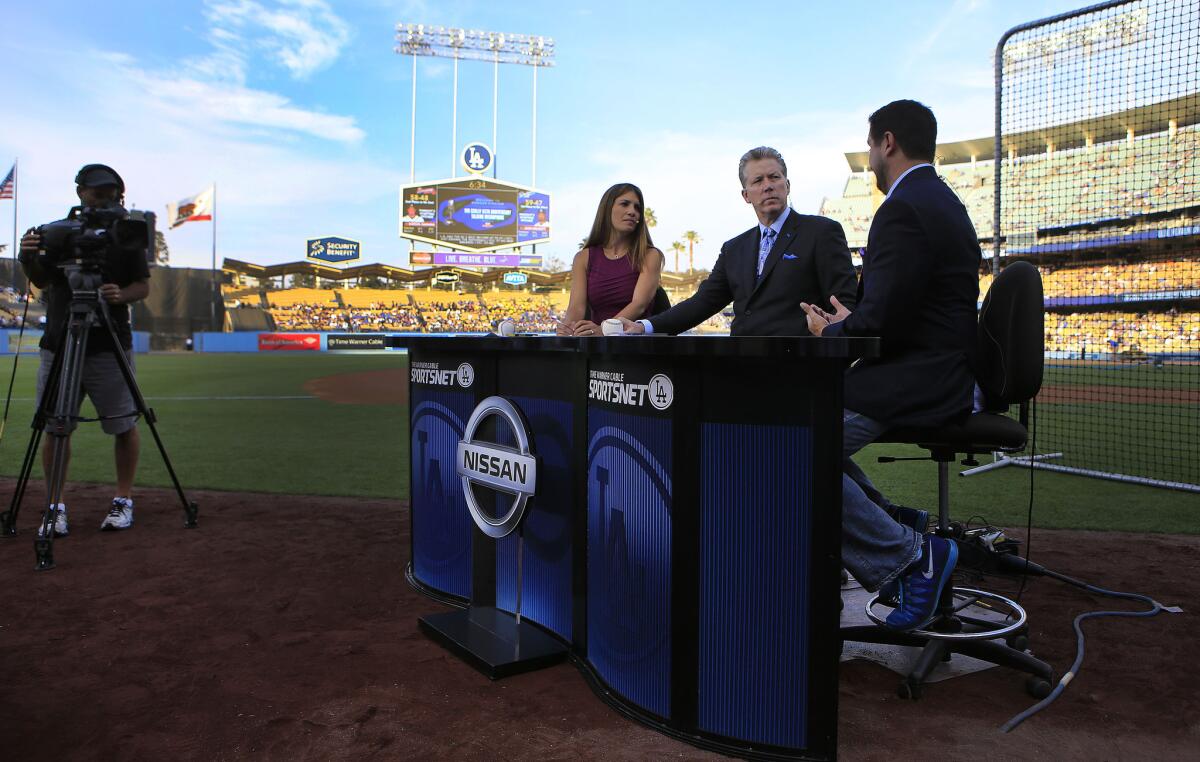 The latest news about the Dodgers television deal is tough to break, and difficult to grasp, so we'll put it in words that all Dodgers fans can understand:
It's like Clayton Kershaw. In October. In the seventh inning. Against the St. Louis Cardinals.
For a second consecutive year, it appears the Dodgers will begin the season in complete TV meltdown, their games hidden from 70% of their fans, their brand slowly wilting with no help in sight.
No, there is still no deal between Time Warner Cable and DirecTV. No, there is no resolution expected until at least the middle of the summer. No, the Dodgers claim there is nothing they can do about it.
Yes, their insanely loyal fans are rightfully furious.
"It's disgusting, it's just disgusting … but didn't I just say that last year?" said Brian Gadinsky, the TV producer and longtime reserved-level season-ticket holder who became a symbol of fan outrage against Frank McCourt. "Are we really having this discussion again? Seriously?"
Seriously. The most impactful collision of greed and arrogance in this town's sports history has resulted in wreckage that is still smoking in the middle of the freeway, looking like another six-month SigAlert, twisted metal everywhere.
The Dodgers still look greedy for doing a Time Warner Cable deal — worth $8.35 billion over 25 years — that priced their games far beyond what most pay-TV operators will accept.
Time Warner Cable still looks bumbling for believing it could sell that package to DirecTV, and failing miserably in the attempt, which has influenced other pay-TV operators to steer clear.
DirecTV still looks stubborn for refusing to agree to an independent arbitration that would force both sides to accept a fair price.
Everyone is arrogant, everyone is wrong, and everyone is now blaming the whole mess on a couple of slow-moving marriages that were supposed to clean it up, but have only made it worse.
The merger between Comcast and Time Warner Cable has been stalled by regulatory hurdles and may never even happen. The merger between AT&T and DirecTV is still likely, but it might not happen until after the start of the season.
Executives with both groups want you to believe their hands are tied until the paperwork is completed. But industry consultants say there are still ways to put the Dodgers on television. Money could solve everything. But the Dodgers don't want to give it back, Time Warner Cable doesn't want to lose it, and DirecTV won't pay it.
"We're not talking about widows and orphans on the three sides of this transaction," Dodgers Chairman Mark Walter told The Times' Bill Shaikin last month.
No, we're talking about egoists and fools.
"Like it or not, the Dodgers are more than just a business, they are a public trust, they are essentially owned by the people of Los Angeles," Gadinsky said. "That they can treat fans like this is just terrible. But just they don't care."
There is a short-term solution here. It's already been used once with great success. With a chance of this blackout lasting another entire summer, why can't the Dodgers again nudge Time Warner Cable to allow the games to be shown on KDOC-TV Channel 56 until this issue is solved?
When the Dodgers appeared there during the final week of the 2014 regular season, viewership tripled from the miserably small numbers — about 55,000 per game — that watched SportsNet LA during the summer.
Such a move could cost Time Warner Cable leverage in future DirecTV negotiations. But that would be a price that both the Dodgers and Time Warner Cable could pay for agreeing to what DirecTV Chief Executive Michael White once said was "an unprecedented deal beyond any rational view of the market."
Let fans see guys such as Jimmy Rollins and Howie Kendrick in Dodgers uniforms. Let them see the first giant steps of Joc Pederson. And, goodness, let them begin the season with the national treasure that is the voice of Vin Scully, more precious by the season.
When I proposed the deal to the Dodgers, they maintained their stance of not commenting on the TV situation.
When I proposed the deal to Time Warner Cable, well, I never did, because they never responded to my request for an interview.
Of course, Gadinsky loved the idea, saying, "If they put it on free TV, I don't care what channel, I'm all over that, it would be awesome!"
That's the first time "awesome" has ever been used in conjunction with this awful story. It will probably be the last time.
In the meantime, many Dodgers fans are busy rigging their computers to bypass the local blackout on mlb.com so they can watch the games while feeling, once again, like hostages, pawns, the Invisible Blue.
Gadinsky was the first public face of the Dodgers fan revolution against McCourt when he refused the owner's invitation to a private lunch. He was briefly buoyed by the new ownership, but now says he purposely avoids Stan Kasten if the two cross paths during the club president's frequent walks around the stadium.
"It sounds like I'm trying to be Vin Scully here, but I do believe this is about a higher purpose, something bigger than dollar signs, a love affair that's been going on since 1958," Gadinsky said. "The Dodgers continue to violate that trust."
Twitter: @billplaschke
Get our Dodgers Dugout newsletter for insights, news and much more.
You may occasionally receive promotional content from the Los Angeles Times.