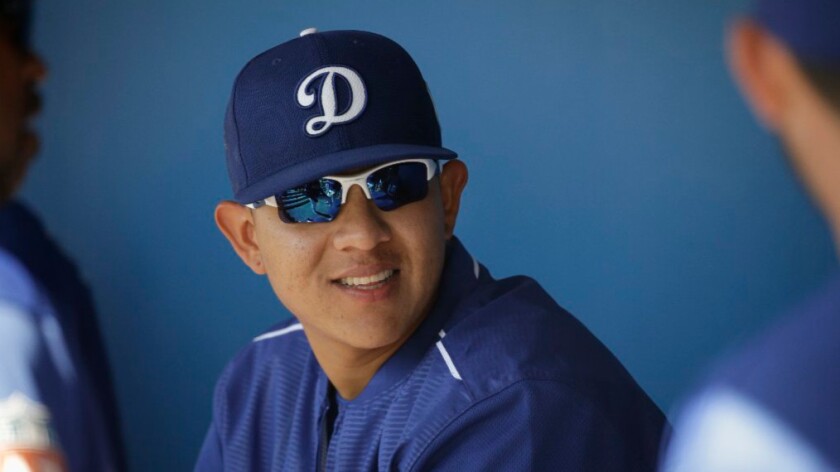 When Julio Urias makes his major league debut Friday, the left-hander will be auditioning for more than a permanent place on the Dodgers' roster.
Urias might not know it, but he will be on trial for a far more significant role.
He has a chance to be Los Angeles' next superstar.
The elements are in certainly place.
See the most-read stories in Sports this hour>>
He is a Mexican pitcher representing a Mexican-American city.
He has a distinct look, the byproduct of a benign mass in his left eye that makes his eyelid droop.
He is a personable 19-year-old with an electric fastball, a breathtaking changeup and a knee-buckling curveball.
And he is at the right place at the right time, his promotion from the minor leagues coinciding with the Los Angeles' search for someone to claim the throne recently vacated by Kobe Bryant.
If the kid who looks and sounds like a star can now perform like a star, his start against the New York Mets at Citi Field could be the genesis of another Fernandomania, as his background positions him to win over the same fans the Dodgers had in mind in 2012 when they acquired Adrian Gonzalez.
Urias will be taking on the defending National League champions at their home, which happens to be located in the media capital of the world. The atmosphere should be especially hostile toward the Dodgers, as the game will mark the first time Chase Utley plays at Citi Field since breaking then-Mets shortstop Ruben Tejada's leg with a controversial slide in the playoffs last year.
It seems almost unfair to burden Urias with such expectations and thrust him on to that kind of stage. But as overwhelming as the situation appears, there are respected baseball minds who believe Urias has the temperament to survive, if not thrive, in this environment.
Hall of Fame manager Tommy Lasorda said he sees similarities in the demeanors of Urias and his countryman Fernando Valenzuela, who became a national sensation as a 20-year-old rookie in 1981.
"Looks to me like he's very, very confident," Lasorda said.
SIGN UP for the free Dodgers Dugout newsletter >>
Former scouting director Logan White, who signed Urias as a 16-year-old, compared the left-hander's maturity to a pitcher he once drafted. The pitcher was Clayton Kershaw.
Urias certainly has a calmness that is rare for a player his age. Nothing seems to bother him, including the inevitable questions about his eye.
"That's how God works," he once said in Spanish. "He gave me a bad left eye but a good left arm."
Last week, as he was about to extend his scoreless streak with triple-A Oklahoma City to 27 innings, he sounded as if he wasn't caught up in the growing buzz over his possible promotion to the major leagues.
"It makes me proud that some people are saying they already want to see me there, but my time will come," Urias said. "God's timing is always perfect."
Urias was downright dominant in the Pacific Coast League, where he was 4-1 with a 1.10 earned-run average. But what made this opportunity possible was a sore arm for Alex Wood, which required his next start to be postponed for three days.
The Dodgers optioned reliever Luis Avilan to Oklahoma City and promoted Urias to step in for Wood.
Andrew Friedman, the Dodgers' president of operations, wouldn't commit to Urias beyond this game.
Part of that is because Dodgers want to prepare Urias to be part of their rotation next season and still haven't determined the level at which that can be done most effectively.
Friedman remarked that Urias is unique in that he has developed the ability to compete in the major leagues before building up the necessary arm strength to shoulder the typical workload of a starter. Urias hasn't pitched past the sixth inning or thrown more than 82 pitches.
Urias pitched 80 1/3 innings last season and the Dodgers will probably limit him to around 115 this season. A likely scenario involves Urias moving to bullpen later this season as he approaches his innings limit, which would allow for him to be part of the major league roster, albeit in a reduced role.
The concerns about Urias' future complicate what figures to already be a significant transition. Predicting the future of prospects in trickier in baseball than in other major sports.
The list of the four previous 19-year-old pitchers to start for the Dodgers includes two Hall of Famers, Sandy Koufax (1955) and Don Drysdale (1956). But the group also includes Joe Moeller (1962), who finished his career with a record of 26-36, and Dick Calmus (1963), who was 3-1.
Furthermore, not every successful career unfolds at the same rate.
Drysdale won 17 games in his second season. Koufax didn't win that many games until his seventh.
"I've been around really good young pitchers who have immediately hit the ground running, I've been around really good young pitchers who have taken some time to feel their way through it," Friedman said.
But even as Friedman did what he could to temper expectations, he acknowledged Friday would be a special day for the Dodgers.
"It's a great organizational moment," he said.
And it could be more than that.
Follow Dylan Hernandez on Twitter @dylanohernandez
MORE DODGERS NEWS
Dodgers need a healthy and productive Adrian Gonzalez to have any shot this season
After The Slide, Chase Utley returns to New York prepared to face the vitriol of Mets fans
From internment camp to Dodgers and Cubs clubhouses, these brothers became part of baseball history
---