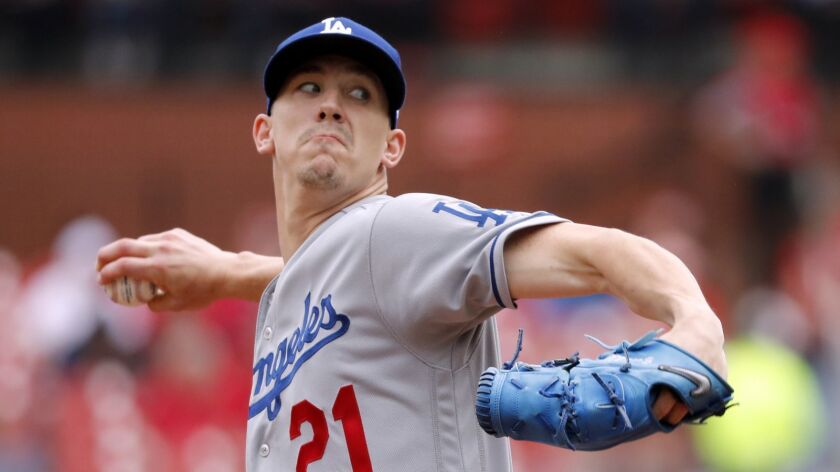 Reporting from St. Louis —
Dodgers manager Dave Roberts succinctly summarized his club's performance Thursday minutes after the Dodgers, four days after swaggering into Missouri behind a mountain of momentum, were sent tottering back to Southern California following a jolting four-game sweep at the hands of the St. Louis Cardinals.
"This is the first game," Roberts said, "where I felt that on the pitching side, really, across the board, the defensive side, we just didn't play well."
Unlike their first three losses at Busch Stadium this week, when they were held to five runs, the Dodgers (8-6) didn't encounter trouble scoring. They scored plenty while seeking to avoid leaving without a victory. Problems surfaced in just about every other department in an 11-7 loss.
The difficulties began with their starting pitcher. Walker Buehler lasted just four innings. He surrendered five runs on five hits and had trouble putting batters away, going to a full count five times.
He has given up 11 earned runs, struck out nine and walked five over 12 innings in his three starts this season and has failed to pitch beyond the fifth inning after a limited spring training in which he appeared in one Cactus League game. Roberts acknowledged that Buehler's light schedule in Arizona may be costing him now, but Buehler was unwilling to cite his spring as the reason for his struggles.
"At some point it's me not making the pitches," Buehler said. "And I should be able to do that my in first outing of the spring. This being my third start of the season, it's just not good enough."
The baton was passed to a bullpen that stumbled again with no help from a shoddy defense. Errors helped the Cardinals score in the fifth and sixth innings as the Dodgers gave up a season-high 11 runs. The gaffes ileft the Dodgers trailing by four runs, and they couldn't rally against a Cardinals bullpen that allowed two baserunners — both on singles — over the final five innings.
To top off the anguish, shortstop Corey Seager exited the game in the fourth inning shortly after getting hit by a pitch on his left hamstring. Seager said the area was bruised, but an ultrasound revealed no significant damage. Whether he plays Friday will depend on how he feels after the team's flight back to Los Angeles.
"Everything was fine," said Seager, who went two for two with a double before departing.
The last time Buehler had pitched at Busch Stadium, on Sept. 14, 2018, he fooled around with his slider grip in the bullpen minutes before the game. Always willing to experiment and adjust on the fly, Buehler found something he liked and carried the modification into the game. With the pitch at his disposal, he logged eight scoreless innings for his best performance as a major leaguer up to that point during a breakout second half to conclude his rookie season.
"We needed that series," Roberts said before Thursday's game. "Now we need one game."
Buehler was not the same pitcher Thursday. He was erratic and hittable. He provided an encouraging 14-pitch first inning, retiring the Cardinals (8-5) in order with two strikeouts. He extended the momentum to the top of the second inning with his bat when he crushed a 92 mph fastball to the opposite field for a home run off Michael Wacha, who gave up seven runs in 3 2/3 innings.
Buehler couldn't control his grin as he rounded the bases for his first extra-base hit as a professional. He became the 12th Dodger to homer this season — David Freese became the 11th earlier in the inning.
Then things fell apart in the bottom of the second.
Jose Martinez and Tyler O'Neill singled and Buehler walked Jedd Gyorko to load the bases after jumping ahead in the count, 0-2. Buehler then hit Harrison Bader with a pitch to push a run home and Matt Wieters delivered a sacrifice fly. Buehler later unloaded a wild pitch that bounced to the Cardinals' dugout — far enough from catcher Rocky Gale for both Gyorko and Bader, one of the fastest players in the majors, to scamper home.
"He just didn't have command of really any of his pitches that inning," Roberts said.
The Dodgers answered with their own four-run output in the top of the third inning. After Turner singled and Seager doubled, A.J. Pollock lifted a sacrifice fly. Two batters later, Freese, perhaps playing in his final game in his hometown, where he became a hero for his playoff heroics in 2011, extended the inning with a two-out RBI single. Enrique Hernandez followed with a two-run home run that cleared the Dodgers' bullpen beyond the left field wall.
Buehler didn't emerge for the fifth inning, having thrown 85 pitches. It was on Pedro Baez to protect the Dodgers' 7-5 lead. He faltered. The Cardinals loaded the bases with three consecutive singles and Bader was struck again for another RBI. Baez got ahead 0-2 on Wieters, but the catcher lined a two-run single to left field, giving the Cardinals an 8-7 lead.
"You got to put them away with your pitch," Roberts said "With the guys that we have, the stuff that they have, 0-2 to 4-2, 0-2 [to] lined base hit. That stuff can't happen."
The margin doubled when Max Muncy bobbled what should have been an inning-ending groundout from Kolten Wong and Bader scored.
The Dodgers' sloppiness spilled into the sixth inning, which began with Paul DeJong working a walk against Yimi Garcia and scoring on Jose Martinez's double. Martinez advanced to third base on a wild pitch and scored when Gale, making his first major league start since 2017, had his throw sail into left field.
"After that first inning I thought we were in good shape," Roberts said. "But we've got to play nine innings."
Twitter: @jorgecastillo
---