Dodgers making progress on reunion with Rich Hill as winter meetings approach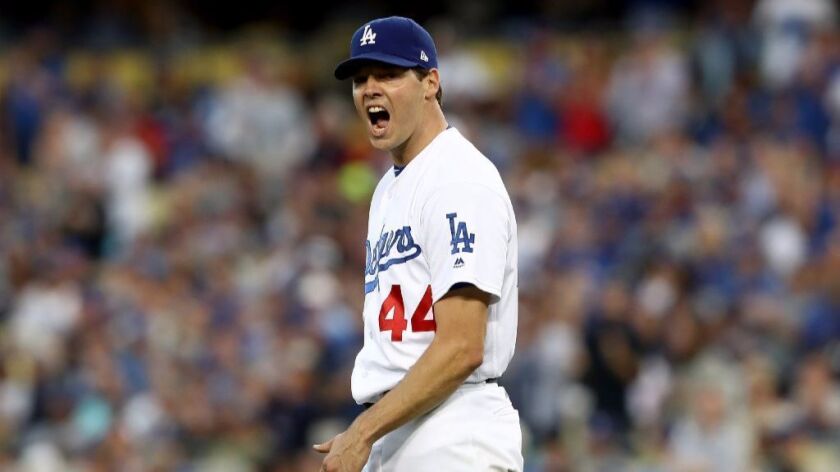 On the eve of the winter meetings, the Dodgers appeared on the verge of re-signing the pitcher they viewed as the best of this free-agent class. The team was believed to be making progress toward a multi-year reunion with Rich Hill, according to people familiar with the situation. The people requested anonymity because no agreement had been finalized.
Hill blossomed into stardom as a 36-year-old in 2016 after stints in the minors and independent baseball. His return would add a fragile but potent option to the team's starting rotation and supply Clayton Kershaw with a left-handed partner to headline the group.
As the Dodgers aim to shed payroll for 2017, the team has yet to determine solutions for vacancies at third base, second base and closer. The club will attempt to plug these holes as the industry gathers Sunday at the Gaylord National Resort and Convention Center outside Washington, D.C., for the annual week-long off-season junket.
Bringing back Hill would help the Dodgers, but it would not fill the void created if Justin Turner and Kenley Jansen depart in free agency. The Dodgers may also pursue Aroldis Chapman as a replacement for Jansen.
Hill posted a 2.12 earned-run average in 20 starts last season with Oakland and the Dodgers. In six outings after the Dodgers acquired him in August, he finished with a 1.83 earned-run average, 10.2 strikeouts per nine innings and a 7.80 strikeout-to-walk ratio. He threw seven perfect innings Sept. 10 in Miami.
That evening at Marlins Park provided a fitting encapsulation of the risk and the reward inherent in Hill. Despite Hill's bid for history, Manager Dave Roberts chose to remove Hill from the game after the training staff informed him about a recurrence of blisters on his pitching hand.
An outbreak of blisters hounded Hill for most of the summer, and limited his availability with the Dodgers after the team traded for him and outfielder Josh Reddick in exchange for three pitching prospects. Hill pitched only once in August. His outings were often cut short to protect his hand.
The previous decade had not been kind to Hill. A promising starter with the Chicago Cubs, he lost his ability to throw strikes. He tore his labrum in 2009. Two years later, he had elbow ligament-replacement surgery. Along the way, he moved to the bullpen. He bounced along the minor league affiliates of the Boston Red Sox, St. Louis Cardinals, New York Yankees and Washington Nationals. He appeared in two games for the Angels in 2014 and could not record an out.
Hill revitalized himself in the summer of 2015, after he left Washington's organization to pitch for the Long Island Ducks. Signed soon after by Boston, he embraced the wicked movement of his curveball and made it his primary weapon. A four-start cameo with the Red Sox convinced Oakland to sign him to a $6-million deal for his 2016, and his performance with the Athletics convinced the Dodgers to trade for him in August.
Given his age and injury history, Hill presents a puzzle for his employers. Few pitchers operate beneath a higher ceiling. Yet his availability may always be a question mark. In 2007, Hill logged 195 innings for the Cubs. During the next nine seasons, he completed 292 1/3 innings in the majors.
The Dodgers consider themselves capable of handling the variance with Hill. Even before he signed, the team featured a rotation depth chart with nine pitchers who have big league experience. After Kershaw and Kenta Maeda, there are veterans like Scott Kazmir and Brandon McCarthy, plus younger options like Julio Urias, Alex Wood, Ross Stripling, Brock Stewart and Jose De Leon.
If Hill returns to the fold, the team might be more interested in trading Kazmir and McCarthy. Neither man appeared on the playoff roster in October. The team owes $32 million through 2018 to Kazmir, who stumbled in his first season as a Dodger and suffered ailments to his neck and back. The price on McCarty is $24 million for these next two years. McCarthy struggled to throw strikes as he returned from elbow reconstruction last season.
The market is not likely to be robust for either pitcher. But the Dodgers do have added incentive to keep their payroll beneath a $235 million threshold in order to avoid additional luxury tax penalties enforced under the new collective bargaining agreement.
Twitter: @McCulloughTimes
---
Get our Dodgers Dugout newsletter for insights, news and much more.
You may occasionally receive promotional content from the Los Angeles Times.