Column: Don Newcombe, a link to Dodgers' greatness, wants to see more of it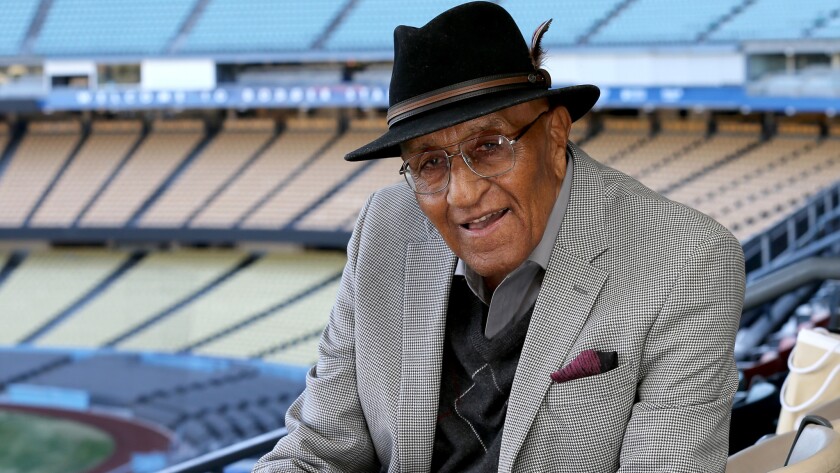 Even on a desolate winter afternoon with a chill wind whistling through empty seats, Don Newcombe elegantly strides into deserted Dodger Stadium dressed like he is visiting a palace.
Gray sport coat, maroon pocket square, plaid sweater vest, black fedora with maroon feather, the standard uniform of the most regal Dodger alive.
"When I was young I had nothing," he says. "I borrowed my brother's suits, I wore my teammate's suits, I always told myself, if I ever made it…"
Newcombe finds a seat on the fifth level overlooking the deep green field, positions himself on the left side of his interviewer because he is blind in his left eye, and tightens his jaw.
"Look at me when I talk to you," he says. "The Dodgers are the greatest team in history of baseball, and the Dodgers will be world champions again before I leave this earth."
------------
FOR THE RECORD:
Don Newcombe: In the Dec. 20 Sports section, a column about Dodgers legend Don Newcombe described him as the first African American pitcher to win a World Series game. Newcombe was the first African American pitcher to start a World Series game, but he did not win one. —
------------
He is 89, he is battling poor health, he hasn't professionally thrown a baseball in more than half century, and there are probably fans who know him only as that tall dude in the funky hats who spends batting practice hanging out in the seats behind home plate.
Yet amid a discontented Dodgers winter filled with criticism of a new-age front office and a modern-day television nightmare, Newcombe remains the Dodgers' epitome of class, their symbol of hope, and their most powerful connection to the greatness of their past.
As he and wife Karen walk past the giant Christmas tree in the Dodger Stadium administrative lobby for a holiday chat, toting bottles of wine in red velvet sleeves as presents for the staff, Newcombe represents an enduring gift of both history and the human touch.
He is the organization's last living bridge to Jackie Robinson. He and catcher Roy Campanella signed with the Dodger organization out of the Negro Leagues for the 1946 season, just like Robinson, he debuted for the Brookyn Dodgers two seasons after Robinson in 1949, and he was Robinson's roommate on the road for two seasons.
He is also the organization's first link to the Los Angeles community, as he was brought back to the Dodgers to run baseball's first community relations department in 1970 and still serves a role as a special advisor, nurturing everyone from inner-city kids to young Dodgers stars.
His long and resilient journey has been steeped in racism, and has included battles with alcoholism and cancer, as well as unemployment and bankruptcy. Yet with his kindly grin, warm handshake and playful teasing, Newcombe often seems like the happiest person in Chavez Ravine
"I remember Jackie calling me and Roy together at Roy's apartment after we first signed," Newcombe said. "Jackie said that people were going to hate us and abuse us, but by changing one letter in one word, we can make a difference."
The word? "Bitter." The letter change? "I to E"
"He said we should fight to be better, not bitter, and sure enough, that's what happened," Newcombe says.
During recent frustrating Dodgers seasons, Newcombe has been the symbol of "better" by showing up during batting practice before most home games and, with Karen at his side, holding court for any player who wants to listen. And many of them do. It's quite a sight.
I've loved the Dodgers from the day they signed me and Campy and Jackie, and I will love the Dodgers as long as I live.
Don Newcombe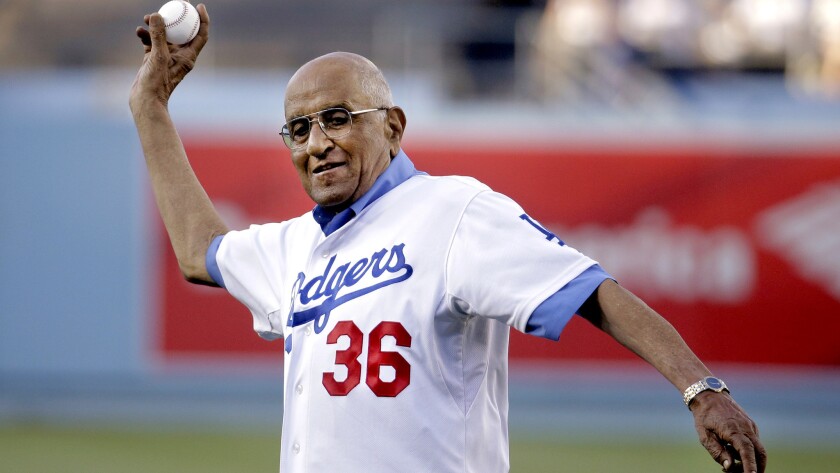 One by one, a stream of Dodgers will approach Newcombe for a handshake, a hug or just a bit of advice. Matt Kemp was a regular visitor. So was Dee Gordon. Today the list includes everyone from Andre Ethier to Adrian Gonzalez . When the game begins, the Newcombes retire to their specially designated seats in the owner's suite.
"We come early, we love being down near the field, just to let the players know they have somebody they can talk to if they need to," Newcombe says.
Newcombe is so consistently accessible and embraceable that many young Dodgers consider him family. He was recently appearing at a stadium event when, out of nowhere, Kenley Jansen came up to hug him.
"From now, I call you dad and you call me son," Jansen told him.
Not that Newcombe ever forgets bitter. He was the first player to win rookie of the year, Cy Young and MVP awards, a feat that has been matched only once since, by Justin Verlander. He was the first African American pitcher to win a World Series game and the first African American pitcher to win 20 games. To use a reference that Dodgers fans would understand, the 6-foot-4 right-hander was Zack Greinke good.
Yet, like Robinson and Campanella, he was abused from the stands, harassed by opposing players, and even his own teammates were afraid to take showers with him.
"Everywhere we went, it was bad," Newcombe recalls. "But our people needed inspiration, and so we tried to give it to them."
When the catcalls from opponents seemed overwhelming and Newcombe appeared to be faltering under their weight, he would be visited on the mound by Robinson.
"Jackie would tell me, 'Hey, sometimes if the ball slips out of your hands, and goes up under a batter's chin, don't feel bad, because they don't feel bad when they throw at me and Roy,'" Newcombe recalls. "He told me to let it go. I told him I will, and I did."
Did he ever. Once in Chicago, Newcombe knocked down seven consecutive batters, leading to an ejection by the home-plate umpire, followed by a plea from Newcombe.
"I said, 'You can't throw me out until I get the other two,'" Newcombe recalls.
When Newcombe was traded from the Dodgers in the middle of their first season in Los Angeles, he wept. When he was rejected for a front-office job after returning to town in 1967 amid his battles with alcoholism, he straightened out his life, proved himself in town by working for philanthropist Henry Salvatori, and finally returned to the Dodgers in 1970 as their first official community connection.
Since then, the Dodgers have been fortunate to have such a living piece of history behind the batting cage, yet it is Newcombe who believes he is blessed.
"Looking out at this stadium today, it's like a wonderful, wonderful dream being answered, just to be here," Newcombe says. "I've loved the Dodgers from the day they signed me and Campy and Jackie, and I will love the Dodgers as long as I live."
The Dodgers love him back, particularly Chairman Mark Walter, who not only continues to employ him full time, but also arranged for the creation of replica MVP and Cy Young trophies to give to Newcombe after hard times led to sales of the originals.
Newcombe continues to take the ball, even as his health declines. This summer he suffered a mild stroke, and then, at the recent news conference introducing Dave Roberts as the first minority manager in Dodgers history, Newcombe required medical attention after a fainting spell. But he actually high-fived one bystander as he was wheeled out on a stretcher, and hasn't slowed much since.
"Like I said, I'm sticking around to see us win another world championship," Newcombe says.
He's also sticking around for phone calls like the one he received before the news conference. It was from Roberts himself, reaching out to the past in hopes of figuring out the future.
Said Roberts: "I'm going to be calling you. I'm going to be needing you."
Said Newcombe: "I'll be here."
Truly, a gift.
Follow Bill Plaschke on Twitter: @billplaschke
---
Get our high school sports newsletter
Prep Rally is devoted to the SoCal high school sports experience, bringing you scores, stories and a behind-the-scenes look at what makes prep sports so popular.
You may occasionally receive promotional content from the Los Angeles Times.