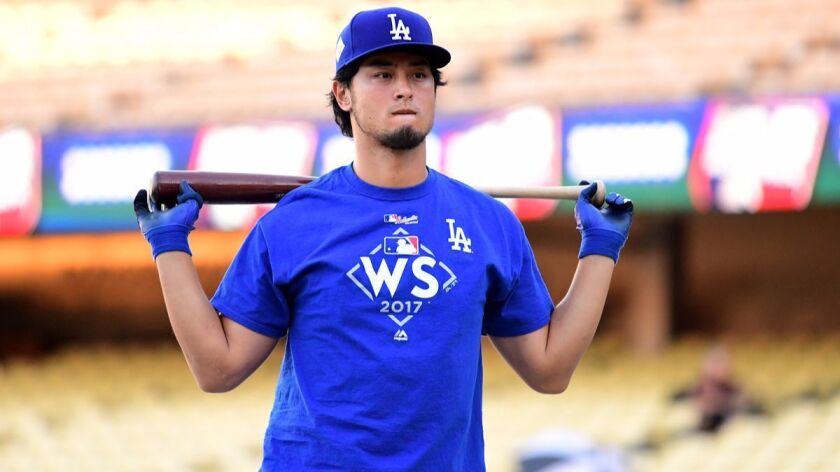 Dodgers vs. Astros
World Series, Game 3
At Minute Maid Park, Houston, Friday, 5 p.m.
TV: Ch. 11 Radio: 570.
::
Starting pitchers
Dodgers: Yu Darvish
Astros: Lance McCullers Jr.
::
Darvish in regular season*: 10-12, 3.86 ERA
Darvish in playoffs: 2-0, 1.59 ERA
The Dodgers have simplified Darvish's approach since acquiring him from the Texas Rangers in July, convincing him to dump his split-finger fastball and slow curveball and stick with his slider and cutter. The results have been astonishing. In his first six starts with the Dodgers, he had a 5.34 earned-run average; in his last five, including two playoffs starts, his ERA is 0.80. That means the Astros probably will be unfamiliar with Darvish on Friday, even though they've faced him 14 times in his career, winning five of those games.
Astros manager A.J. Hinch on Darvish: "We've had history with him. It doesn't guarantee anything. There's no more comfort facing Darvish on Friday than there was three months ago in Texas. We'll have more information on him, but the games will have to be played on the field."
::
McCullers in regular season: 7-4, 4.25 ERA
McCullers in playoffs: 0-0, 2.08 ERA
A former first-round draft pick, McCullers notched career highs for starts (22) and wins (7) this season and was especially good at home, going unbeaten in nine starts and posting a 3.04 ERA. He's carried that success into the playoffs, giving up only three runs in one start and two relief appearances. He came out of the bullpen in the final American League Championship Series game against the New York Yankees to give up just one hit in four scoreless innings, earning the save. The right-hander's repertoire consists primarily of a 12-6 curveball, a hard sinker, change-up and mid-90s four-seam fastball.
Hinch, a former catcher, on McCullers, who finished the Yankees off with 24 consecutive curveballs: "I've never been around or never caught a pitcher like McCullers, who literally the last [24] pitches you don't even have to put a sign down. [Brian] McCann just said 'bring it.' And it shows the quality of the pitch. He's not sneaking up on anybody with his stuff. People know."
*Combined record with Texas and Dodgers.
The Los Angeles Dodgers in the 2017 World Series
On Now
Video: Kenley Jansen, Cody Bellinger, Rich Hill talk about losing Game 7
1:59
On Now
Video: Analysis: Dodgers lose Game 7 and the World Series
11:43
On Now
Video: Yu Darvish talks about using his slider for Game 7
1:34
On Now
Video: Kenley Jansen and others talk about winning Game 6
1:58
On Now
Video: Analyzing the Dodgers Game 6 win
7:26
On Now
Video: Clayton Kershaw on starting Game 5 of the World Series
1:57
On Now
Video: Dave Roberts Talks Rich Hill and Kenley Jansen pitching in Game 6
1:57
On Now
Video: Dave Roberts talks preparing for Game 7
1:26
On Now
Video: Here it is, Game 7, and Bill Plaschke knows who wins
2:22
On Now
Video: Rich Hill talks about Game 6 of the World Series
1:48
Follow Kevin Baxter on Twitter @kbaxter11
ALSO
Astros even World Series with wild Game 2 victory over Dodgers in 11 innings
Bill Plaschke: Astros get the must-win game they needed and — BAM — it's a World Series
Dylan Hernandez: Dodgers' best relievers finally falter in spectacular fashion
---