Dodgers coach Dino Ebel will pitch to Joc Pederson in Home Run Derby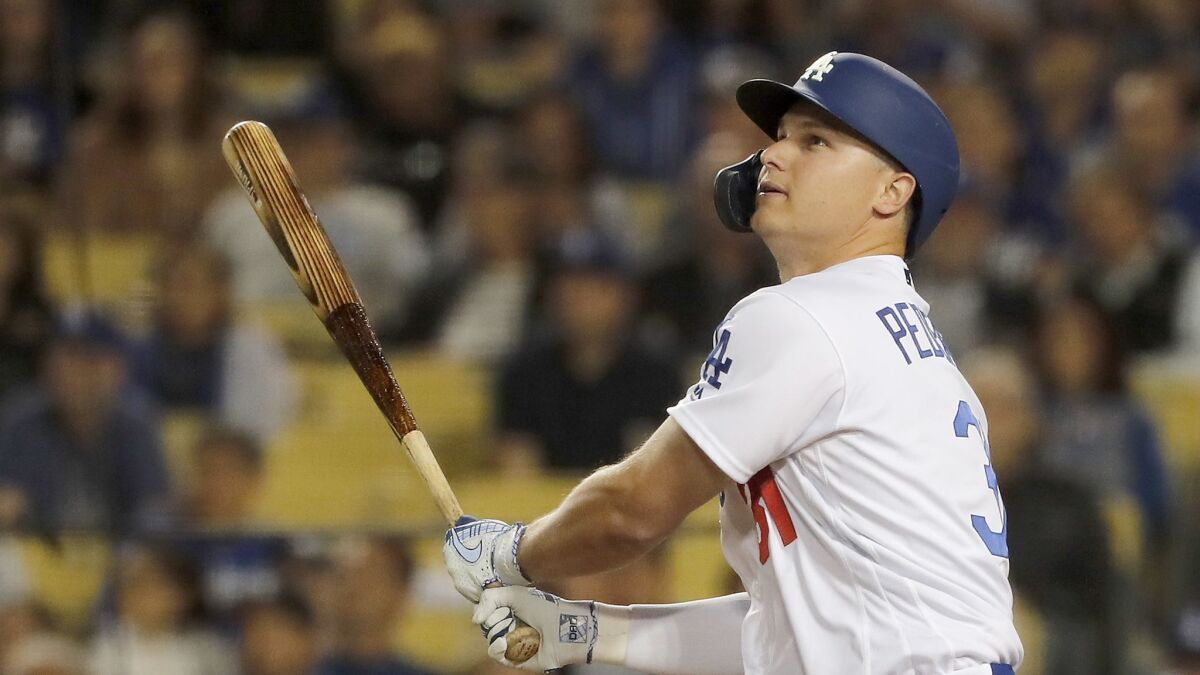 When it comes to Home Run Derbys, Dino Ebel is something of a veteran.
As a two-time Derby pitcher, the Dodgers' third base coach takes great pride in making his hitters look good, and the club announced Saturday that he will be headed back to the event in Cleveland to throw to Joc Pederson.
"It's a fun thing," Ebel said. "Everyone is in tune with it in the country, watching the Home Run Derby. It's an exciting moment. I'm happy for Joc."
Monday night's Derby will be nothing new for Ebel or Pederson.
Before joining the Dodgers this offseason, Ebel served as a Home Run Derby pitcher twice during his 13-year tenure on the Angels' staff: In 2015, he threw to Albert Pujols; in 2007, he helped Vladimir Guerrero win the contest.
"The first was maybe a little bit more, not nerve-racking because I throw [batting practice] all the time, but just more exciting," Ebel said. "It was my first one. It was Vladi."
Pederson, meanwhile, is making his second appearance in the event. As a rookie in 2015, he was the runner-up to Todd Frazier in Cincinnati.
That year, then-Dodgers minor league coach Johnny Washington threw to Pederson. But with Washington now serving as the San Diego Padres' hitting coach, Pederson found a more-than-capable replacement in Ebel.
"I was honored last night when Joc came up to me and asked me to be the guy to throw to him," Ebel said. "I'm going to take it just like I'm throwing to Joc in normal batting practice."
Ebel has seen Pederson launch long balls in the competition before. Pederson outslugged Pujols 12-11 in the semifinals of the 2015 Derby.
"He's got experience. He's done this before," Ebel said of Pederson, who entered play Saturday with 20 home runs this year. "He's excited about it. It's going to be a fun time."
As far as strategy, Ebel said the plan will be simple. Pederson's sweet spot is in the middle to middle-away part of the zone. Float some softies in there, Ebel said, and the powerful left-handed hitter will do the rest.
"He can go oppo [opposite field], he can pull a ball," Ebel said. "My job is just to keep the rhythm going, keep the pace."
Freese nearing a return
Dodgers manager Dave Roberts said infielder David Freese probably won't be activated until after the All-Star break, when the team resumes play at Boston on Friday.
Since going on the injured list June 23 with a left hamstring strain, Freese has steadily increased his rehab workload with the club. The 36-year-old began running the bases, fielding grounders and taking batting practice this week and was in for "a very active" day Saturday, according to his skipper.
Sign up for our Dodgers newsletter »
However, though Roberts said he is "very certain" Freese would be back for the beginning of the Boston series next week, he called it "unlikely" that Freese would play in Sunday's series finale against San Diego, the Dodgers' final game before the All-Star break.
Seager and Pollock updates
Corey Seager and A.J. Pollock both started for the Class-A Rancho Cucamonga Quakes on Friday as part of their rehabilitation assignments from injuries. Seager, who was playing his first rehab game, went two for two with an RBI. Pollock, who was playing his second rehab game, went hitless for a second straight night. "I heard both guys came out of it well, healthy," Roberts said.
Twitter: @Jack_A_Harris
---
Get our Dodgers Dugout newsletter for insights, news and much more.
You may occasionally receive promotional content from the Los Angeles Times.