Dodgers' Joc Pederson taking crash course in playing first base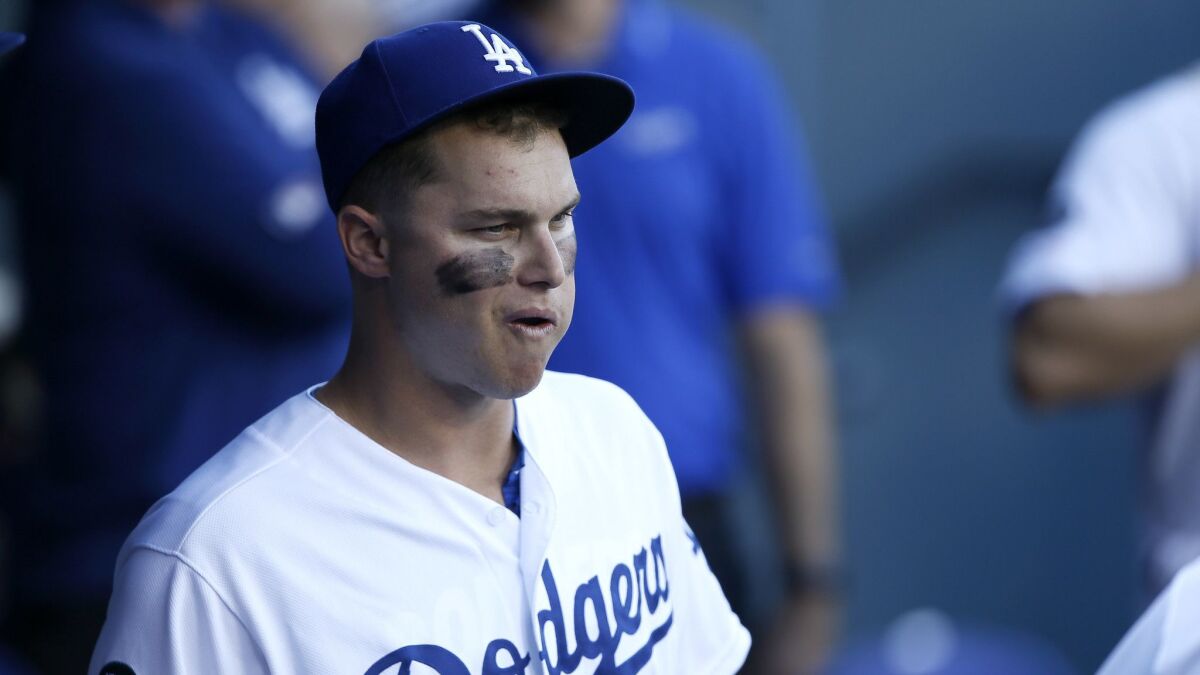 Joc Pederson fielded ground balls at first base from Dodgers video coordinator Chad Chop for several minutes Tuesday afternoon. He took them to his left and to his right. Some he threw to second base.
It's an exercise he has done in previous years, but this time was different. Pederson is preparing to play the position for the first time in his major league career.
"I don't know when it's going to happen," said Dodgers manager Dave Roberts, who observed Pederson's session. "But I do see him playing first base."
The motive behind the move comes down to putting the most potent offensive lineup on the field. By having Pederson play first base against right-handed pitchers, the Dodgers can keep Alex Verdugo in the outfield when A.J. Pollock comes off the injured list some time next month. Despite recent struggles, Verdugo emerged as an important piece when he replaced Pollock as the everyday center fielder in late April.
"He's taken grounders over the last couple years just to kind of work on his hands and his footwork," Roberts said. "But once A.J. went down and Alex started to perform, then it's kind of a real conversation, and that's where we're at right now."
Pederson's move to first base would shift Max Muncy to second base, pushing Enrique Hernandez, who is mired in a six-week slump, to a utility role. Entering Tuesday, Hernandez, who was named the starting second baseman during spring training, was batting .161 with 32 strikeouts and a .481 on-base-plus-slugging percentage in 35 games since May 4. However, Hernandez did hit a pinch-hit grand slam in the seventh inning Tuesday.
"Having guys that are versatile and dynamic, they give other guys runways and opportunities and it just gives the optionality of the lineup, the roster construction," Roberts said. "So when you have Max, who can play second base, third base, now you have an opportunity to put somebody else at first base because he can handle the position over there."
Pederson has never played first base in his professional career, including his time in the minors. After beginning his major league career primarily as a center fielder, Pederson has been the Dodgers' starting left fielder against right-handed starting pitchers this season. He's spent all but three of his 420 innings on defense in left field. He's hit all 19 of his home runs against right-handers, the latest coming Tuesday off Giants starter Shaun Anderson.
Sign up for our Dodgers newsletter »
Roberts acknowledged the speed of the game is faster in the infield than the outfield but insisted he believes Pederson has the tools and instincts to play the position. Roberts said he doesn't know when Pederson will debut at first. Ideally, he said, Pederson will ease into the role late in games when the Dodgers are up or down big.
For now, Pederson will continue preparing.
"He's actually more excited about playing first base than I've seen him excited about anything," Roberts said, "outside of hitting a homer."
Short hops
Roberts said Scott Alexander is slated to throw off a mound by the end of the week and begin a rehab assignment next week. The left-handed reliever has been on the injured list with left forearm inflammation since June 11. .... Pollock will join the Dodgers in Arizona next week to continue his rehab program and remain there when the club moves on to Colorado to take at-bats at the Dodgers' spring training facility. Roberts said he expects Pollock, who is out with an elbow infection, to play in rehab games through the All-Star break.
Twitter: @jorgecastillo
---
Get our Dodgers Dugout newsletter for insights, news and much more.
You may occasionally receive promotional content from the Los Angeles Times.