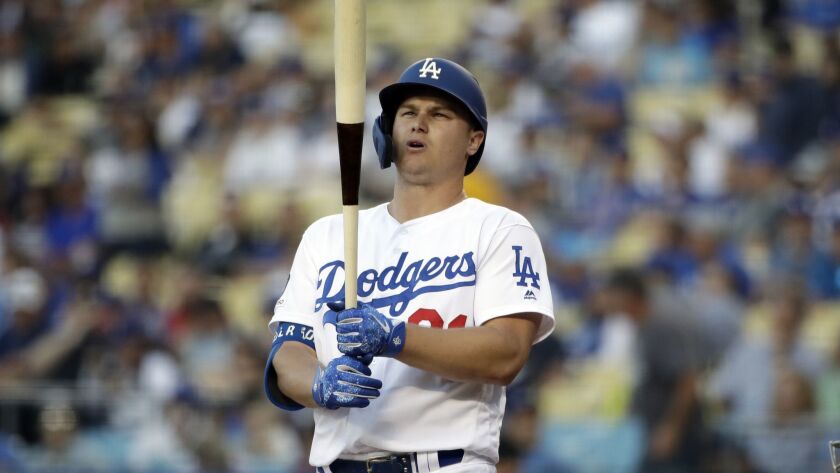 After being officially invited to this year's Home Run Derby, Joc Pederson quickly arrived at an easy answer.
He talked with his family, his wife, and mentors in the game. Then he thought back to four years ago, when as a rookie All-Star he reached the final round of the 2015 home run derby in Cincinnati, memorably finishing as the runner-up to hometown hero Todd Frazier.
"I think the two highlights of my career have been participating in the home run derby in 2015, and playing in the World Series," he said. "That's how I thought about it. If someone said, 'Hey, do you want to play in the World Series tomorrow?' I would say, '100%.'"
So he said yes to an encore performance in the Derby too.
"Who knows when another opportunity may come to participate in that?" Pederson said. "So it kind of seemed like a no-brainer."
Now a veteran presence in the Dodgers' lineup, which reeled off a fifth-straight walk-off win at home over the Arizona Diamondbacks on Wednesday night, Pederson is tied for 10th in the National League with 20 home runs. Earlier this year, he collected his 100th career homer and is on pace for his fourth career 25-homer campaign.
"Joc's got as much power as anybody," said Dodgers manager Dave Roberts, who will be the National League All-Star team's manager. "I know in right-center field it carries out there so there will be a lot of homers. I'll be rooting for him. So hopefully he wins that million bucks."
In this year's derby, he'll have to make at least one tactical change. When he clobbered 39 total home runs in the 2015 event, beating Manny Machado and Albert Pujols in the opening two rounds, Pederson had Dodgers minor league coach Johnny Washington throwing the pitches. Washington is now the San Diego Padres hitting coach. According to Pederson, the idea of letting Washington throw to him again "did not go over well on their side."
Sign up for our Dodgers newsletter »
He joked he'll hold a "tryout" to see who receives the honor. The top contenders are Dodgers third base coach Dino Ebel and front office special assistant Jose Vizcaino, whose 18-year major league career ended in 2006.
"It's more just about enjoying the moment," Pederson said, "and taking it all in."
Regardless of who is tossing the ball, Pederson is fine with taking the extra hacks in Cleveland next Monday. He thinks the rest players get by skipping the event is overrated.
"I swing a lot during the year, so I don't think that's a big role," he said. "There's so much adrenaline, you don't really feel it."
Then he paused.
"I don't know," he continued, a contradictory smirk on his face. "Maybe I was just young last time."
Twitter: @Jack_A_Harris
Twitter: @jorgecastillo
---