Dodgers pitcher Joe Kelly needs his performance to match how good he feels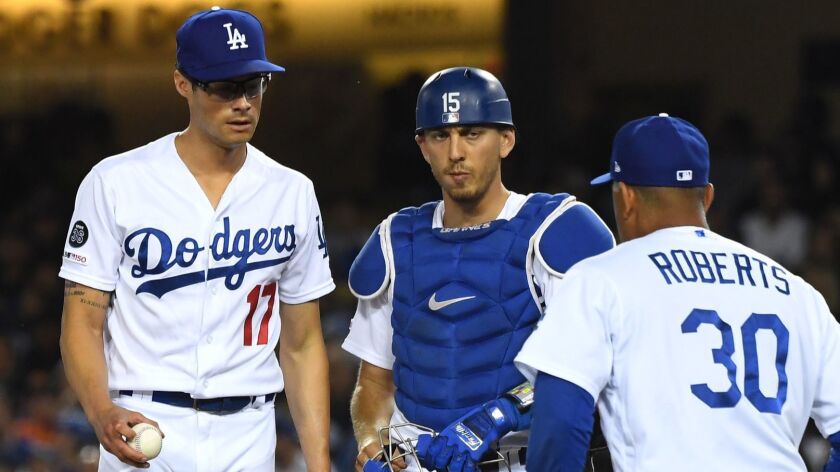 Joe Kelly felt better Monday than he felt in his Dodgers debut on Friday. His stuff was crisper. His mechanics were not off-kilter. It was all sound. He felt good.
The information he received after the Dodgers' 4-2 loss to the San Francisco Giants confirmed his belief.
But the results? Well, they weren't good.
For the second time in as many appearances as a Dodger, the Corona native blew a lead in a loud way. His first pitch Monday was a fastball to Brandon Belt that the Giants first baseman swatted over the wall in center field to cut the Dodgers' lead to 2-1 in the sixth inning.
"I threw it right in his honey hole," Kelly recalled.
An inning later, Pablo Sandoval, his former Boston Red Sox teammate, connected on an 0-2 curveball down and in — where he likes it — for a game-tying RBI single. The hit concluded Kelly's second outing in a Dodgers uniform. Two runners remained on base. Boos rained.
"That's nothing," Kelly said. "I played in a place where it's a lot worse with the boobirds, so it's fine. It's all part of it. It's part of being a fan. Obviously, I'm not happy with myself. I wouldn't be happy with myself if I was a fan either. … It's probably a little frustrating for somebody watching. It's game five and we're picked to be one of the best teams in the league."
The Giants took the lead on Belt's two-run double off Scott Alexander. When the dust cleared, Kelly had been charged with all four runs after giving up a game-tying three-run home run and a fourth run in Friday's marathon 13-inning affair against the Arizona Diamondbacks.
"If I was walking the house or throwing balls everywhere, [there'd] be something to adjust," Kelly said. "Right now ... it's small sample size. I don't like it just as much as everyone else doesn't like it. Especially coming over here on a new team. I don't put any added pressure on myself. I just obviously feel bad for letting the guys down the first two times. It's not going to happen 68 more times, or however many times I pitch. It's going to happen but hopefully we turn the page here."
Dodgers manager Dave Roberts said he had no reservations inserting the right-handed Kelly against Belt, a left-handed hitter, because he was signed to a three-year, $25-million deal over the winter to handle both righties and lefties over multiple innings.
Sign up for our Dodgers newsletter »
Last season with the Red Sox, Kelly was better against left-handed batters than righties. Lefties hit .211 with a .610 on-base-plus-slugging percentage in 126 plate appearances. Right-handed batters hit .254 with a .703 OPS. He gave up two home runs to hitters from each side. On Friday, Christian Walker, a right-handed batter, hit the three-run home run for Arizona on a 3-2 curveball over the plate.
"It's been just kind of missed execution at times," Roberts said. "The stuff, you see the stuff. You see the great fastball. You see a plus change and the breaking ball, sharp. If he just keeps running that stuff out there, Joe's going to be fine. Just a tough start for him but he's a guy we acquired to go multiples and the stuff was good. It was good.
"We just didn't get the outs that we needed. But he's our guy. And like I said, if his stuff continues to play like that, he's going to be just fine and throw plenty of zeroes."
Roberts said he isn't worried about Kelly's psyche, referring to the 30-year-old's ability to overcome struggles in the past. Last season, Kelly oscillated between dominant and hittable. In the playoffs, he was dominant and peaked in the World Series, where he logged six shutout innings and had 10 strikeouts to no walks to help the Red Sox win a World Series at Dodger Stadium. He and the Dodgers are searching for that version.
"If I stay ahead of hitters and stay within my mechanics, the results will come," Kelly said. "I know it's not even close to being myself results-wise. Like I said, today I felt a lot better. From here on out, I'll continue with those mechanics and those pitches and the results will change."
Twitter: @jorgecastillo
---
Get our Dodgers Dugout newsletter for insights, news and much more.
You may occasionally receive promotional content from the Los Angeles Times.