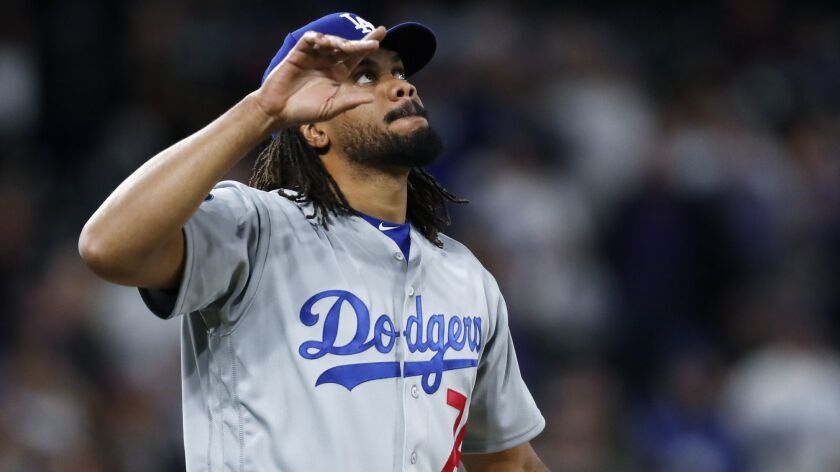 Reporting from Denver —
Kenley Jansen jogged out of the visiting team's bullpen at Coors Field on Saturday night to pitch in another high-leverage spot, record another four-out save and rescue the Dodgers once again. But this outing in the Dodgers' 7-2 win was different.
This was his first appearance in the ballpark's thin air since June, since before an irregular heartbeat prompted a rush to a hospital in August and derailed his season. He hadn't visited Colorado until the Dodgers arrived for this three-game series — after an offseason surgical procedure for atrial fibrillation, after doctors cleared him to return to the high altitude as long as he drank seven liters of water per day and after he shed 25 pounds with his long-term health in mind. This was a tall hurdle.
Before he threw a pitch to Ian Desmond, he backed away from the mound and, facing the outfield, took a moment to catch his breath. Jansen wanted to slow it all down. He wanted to make sure every pitch was quality. The game hung in the balance. He knew a slip-up in this hitter's haven could blow it.
"I felt great just being out there again," Jansen said.
Runners were on first and second with two outs. The Dodgers were clinging on to a three-run lead as the bullpen added another dollop of apprehension to this season. Jansen was their fourth pitcher of the inning. He did not wilt. He threw six cutters. They all hummed between 91 and 93 mph. Desmond swung through the sixth for a strikeout and slammed his bat in disgust. Jansen escaped.
Jansen's next act was stepping into the batter's box in the ninth inning against left-hander Harrison Musgrave. A converted catcher, Jansen hadn't batted in a major league game since a 2017 National League Division Series but had three hits and a walk in eight career regular-season plate appearances. After some lobbying, he was instructed not to swing anyway and struck out looking.
"It's fun to hit," Jansen said. "It's not fun to hit as a catcher, but it's fun to hit as a pitcher. … But you got to listen to your manager."
Jansen returned to the mound in the bottom of the frame with a bigger lead. He operated around a leadoff double by Mark Reynolds to complete his first four-out save since July 27, striking out pinch-hitter Garrett Hampson to secure his fourth save. He hasn't been charged with a run in five innings this season.
"It was great," manager Dave Roberts said. "I know he's been waiting quite some time to get out here and to prove to himself that he's fine here at altitude. My fear, a little bit, was he was going to try to do too much but he just looked really composed out there."
Jansen closed what Walker Buehler started and the offense continued tormenting pitchers. Cody Bellinger smacked a double and a triple. Alex Verdugo barreled the Dodgers' 22nd home run in nine games and tripled. Justin Turner reached base in each of his at-bats and the Dodgers generated three runs with three sacrifice flies.
The Dodgers could not afford another abbreviated outing from Buehler on Saturday. There were restrictions on Buehler after he made only one start in spring training, but six days after he didn't record an out in the fourth inning in his season debut, the Dodgers needed him to pitch deeper into Saturday's game. The Dodgers bullpen's struggles in holding an eight-run lead Friday, which concluded with the club using six relievers, created the demand.
"It wasn't ideal," Roberts said before the game.
The Dodgers fielded a left-handed-heavy potent lineup Saturday with an emphasis on offense over defense. Max Muncy, a limited fielder who was a double short of the cycle in Friday's series opener, was given the start at second base. Bellinger played first base, allowing the Dodgers to insert Verdugo in right field for his first start in nearly a week.
The configuration began yielding results against right-hander Jon Gray in the fourth inning after three double plays in three innings hampered the Dodgers' efforts. Gray initiated the scoring by plunking Turner with a fastball. Bellinger then thwacked a double into the right-field corner that advanced Turner to third base. A.J. Pollock followed with a run-scoring single before Muncy delivered a sacrifice fly to give the Dodgers a two-run lead.
The Dodgers added two runs in the fifth inning with the same cast of characters. Turner ignited the scoring with a single. Bellinger then walloped a ball off the top of the wall in left-center field for a run-scoring triple, just missing his seventh home run. Pollock drove him in with a sacrifice fly. An inning later, Verdugo clubbed a solo home to chase Gray and extend the Dodgers' franchise-record season-opening home run streak to nine games.
Buehler began the season in the Dodgers' rotation. The result was an unsightly season debut last Sunday against the Arizona Diamondbacks. Buehler, 24, exited before recording an out in the fourth inning. He didn't strike a batter out. He threw 66 pitches. The Diamondbacks fouled off 20 of them and swung and missed twice. Buehler's typical execution was absent.
Buehler was sharper Saturday in the league's most difficult pitching environment. With a fastball touching 98 mph, the right-hander held the Rockies (3-6) to one run and three hits in five innings in his first appearance against the Rockies since Game 163 in October. He walked two and tallied his first four strikeouts of the season. He threw 79 pitches, induced 10 swing and misses, and made one costly offering, a 96-mph fastball up in the zone to David Dah in the fourth inning. The ball landed 445 feet away in the second deck overlooking right field for a solo home run.
"Obviously, this is still a little bit of a work-in-progress, but I threw some pitches that I liked today and liked the feel of," Buehler said. "So we'll get there."
Roberts said Buehler didn't have any specific limitations, but he wasn't built up 100% after being held back in spring training. So he was pulled after the fifth inning, giving the bullpen at least 12 outs to cover for a victory.
Pedro Baez was summoned out of the bullpen first to face the middle of the Rockies lineup. He issued a leadoff walk but surfaced unscathed in his inning of work. Three pitchers were then used in the eighth inning before Jansen emerged to quell the Dodgers' anxiety and overcome a personal obstacle.
"It felt great to get those four outs," Jansen said, "and get over it."
Sign up for our Dodgers newsletter »
Twitter: @jorgecastillo
---