Commentary: Dodgers star Clayton Kershaw does not belong in the All-Star game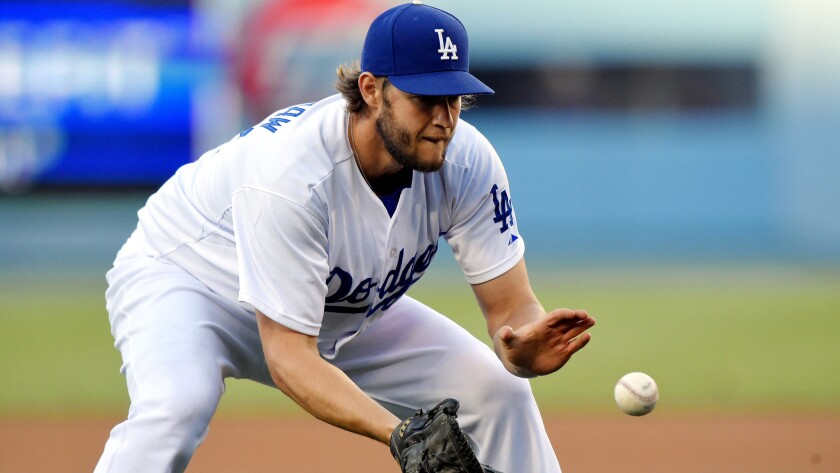 Oh, please, stop your whining. Clayton Kershaw was not selected to be a National League All-Star. The sporting world still spins.
Here's a real news break for you — he shouldn't be.
It's supposed to be a game featuring the players having the best first halves of the season, not having really good seasons. There shouldn't be any free pass based on past excellence. It's an All-Star game, not a lifetime achievement award.
This is about 2015. And in 2015, Kershaw has been really good, which is not good enough to be invited to Cincinnati.
His earned-run average is good, but not special. His WHIP — walks plus hits per innings pitched — is very good, though not approaching the numbers he put up the last two seasons.
Then, of course, there is his win-loss record, 6-6 after Wednesday's game, which we're just supposed to discard because sometimes pitchers pick up cheap wins or underserved losses. And because, you know, the sabermetric people told us we should do so.
But to put absolutely no value on the win-loss record for a starting pitcher is going too far. It's not as if there's no correlation between a starting pitcher's performance and who wins and loses.
Certainly there are pitchers who run into unseemly stretches in which they are offered precious little offensive support. Although the Dodgers have been something less than a run-scoring machine in support of Kershaw this year, he is getting 3.72 runs per start after Wednesday's game.
That ties him for 28th in the National League, and is higher than All-Stars Jacob deGrom (3.71), Zack Greinke (3.71) and Max Scherzer (3.53). And they all have winning records.
It's also more run support than Johnny Cueto has received (3.50), and if any pitcher should be complaining he was left off the All-Star team, it's Cueto.
Cueto has a better ERA (2.61), WHIP (0.87), opponent batting average (.190) and opponent on-base (.236) than Kershaw. About the only place Kershaw has been clearly superior is in strikeouts. Both have given up more home runs — 11 after Wednesday's game — than one would like.
Now Cueto and Kershaw have been dumped in that final vote silliness, in which the fans vote for one of five candidates for the last spot on the All-Star team. And really, if it comes down to the two of them, it should be Cueto.
Kershaw has swell numbers, just not ones that scream, "He just has to be an All-Star!" It's no insult to be an All-Star runner-up.
Don't misunderstand, it isn't as if Kershaw's performance is stinking up the joint. It isn't as if anyone wants to move him to shortstop. He's having a very good season and, who knows, by the time it's all over he may have lifted himself back into the Cy Young conversation.
But he wouldn't be in it now, any more than his first-half performance demands he be an All-Star.
That guy who wrote the commentary next to mine needs to drop his little blue-and-white pompoms and stop looking like some hometown hack.
There's no whining in baseball.
---
Get our Dodgers Dugout newsletter for insights, news and much more.
You may occasionally receive promotional content from the Los Angeles Times.