Rob Manfred discusses the late East Coast ending of World Series games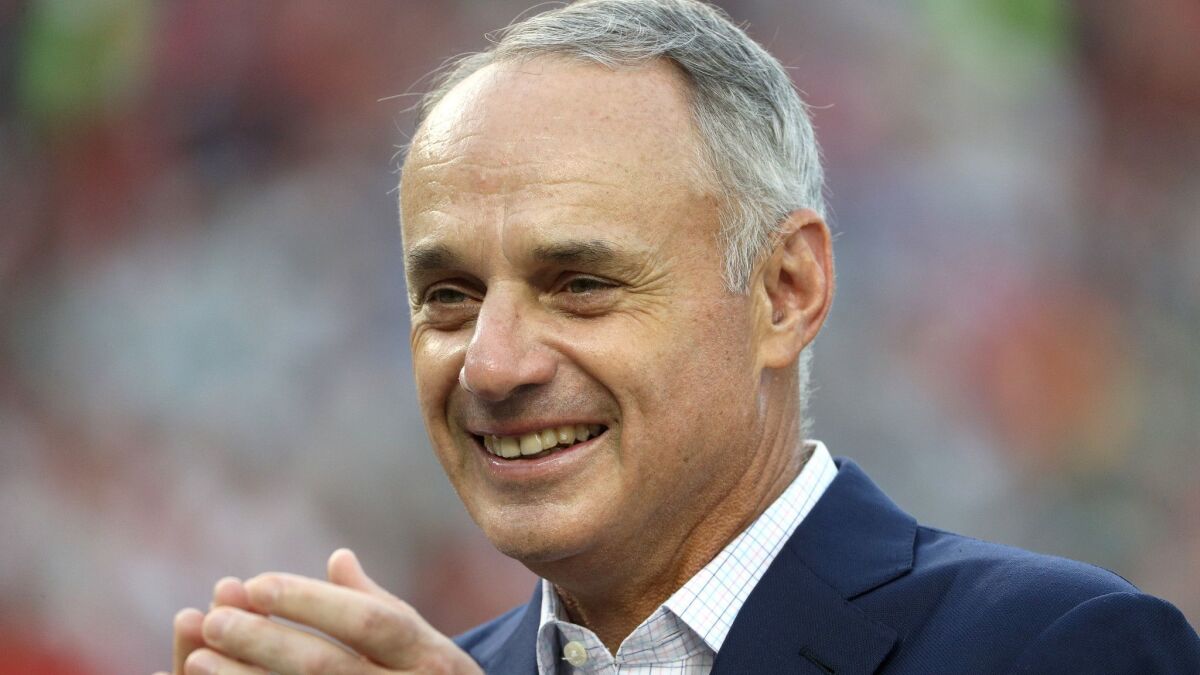 Reporting from Boston —
Game 1 of the World Series ended after midnight in Boston, evoking the annual ritual of anguish in the parts of America that border the Atlantic Ocean. How can kids, even adults, stay up so late to watch the games? Why don't the games start earlier?
The Pacific Ocean? Yeah, well, never mind.
"There is a little bit of East Coast prejudice in these questions," Commissioner Rob Manfred told an inquiring East Coast reporter Wednesday, before Game 2.
The Dodgers, after all, are one of the participants in this World Series.
"I think L.A. is the western time zone," Manfred said. "We are cognizant of the fact we are trying to serve those fans as well. I understand game times can be difficult. It's hard when games finish late. By the same token, when you start games at 5 o'clock Eastern, it's in the middle of the workday in L.A. That's not quite right either.
"We're trying to strike a balance and get the window where we can give the most people in the country a meaningful opportunity to watch the game."
Game 1 lasted so long in part because the starting pitchers did not. In a game that featured two of the finest pitchers of this era – Clayton Kershaw, a three-time Cy Young winner, and Chris Sale, a three-time All-Star starter – neither pitcher lasted beyond four innings.
The trends driven by analytics – larger pitching staffs, greater reliance on bullpens, data-driven matchups, manipulation of the 10-day disabled list – have made the ace starter an endangered species. There were 13 pitchers that threw 200 innings this season, down from 15 last season, 28 in 2015, 45 in 2010 and 50 in 2005.
In turn, the marquee matchups that attracted fans to the ballpark or compelled them to watch on television – Kershaw vs. Madison Bumgarner, anyone? – are disappearing as well.
The Tampa Bay Rays might have won 90 games in a season in which they emphasized "the opener," and the Milwaukee Brewers might have advanced to Game 7 of the National League Championship Series deploying an "initial out-getter," but what is a logical sell to analysts might be a hard sell to fans.
"I do think starting pitchers being on the field less presents yet another challenge for us in terms of marketing," Manfred said. "Historically, some of our greatest stars are starters, and if they're out there less, it has a predictable effect."
In the wake of allegations that the Houston Astros were using technology to steal signs – the league cleared the Astros – Manfred said he expects rules to be reviewed and tightened this winter. He said he did not anticipate the league removing limits on technology, but he also said traditional sign stealing has its place.
"Sign stealing, in and of itself, is not a violation of our rules," Manfred said. "It has been a part of our game since Lassie was a puppy."
Follow Bill Shaikin on Twitter @BillShaikin
---
Get our Dodgers Dugout newsletter for insights, news and much more.
You may occasionally receive promotional content from the Los Angeles Times.