Dodgers are heading into All-Star break on three-game losing streak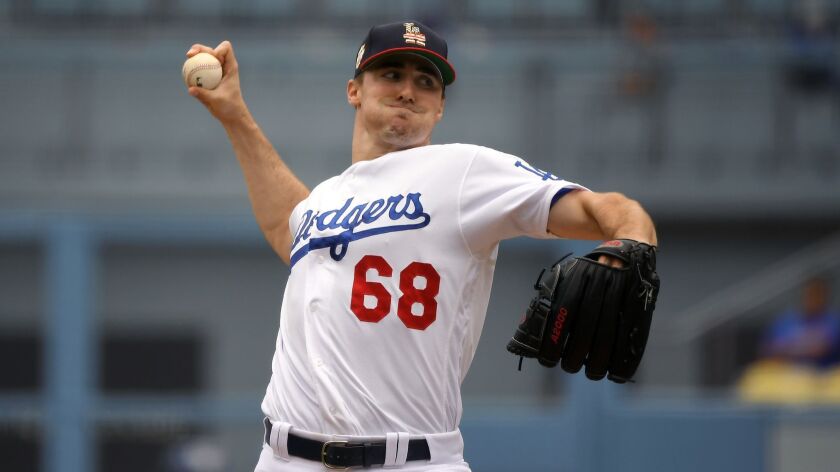 After striking out on a slider for the final out in the seventh inning Sunday, Joc Pederson dropped his bat, removed his gloves and briefly raised his arms, shooting a befuddled look to the Dodgers dugout.
Like the rest of the team, Pederson was more flummoxed than frustrated trying to figure out why for a third consecutive game, the Dodgers couldn't shift into top gear.
For most of the season's first half, the club has been in the fast lane, speeding to the top of the National League West standings behind a consistent rotation and combustible lineup. But with a 5-3 home loss to the San Diego Padres on Sunday, the Dodgers (60-32) enter the All-Star break sputtering, losers of three games in a row and seven of their last 13.
"Obviously, losing a couple in a row heading into the All-Star break kind of stinks, especially at home," starting pitcher Ross Stripling said. "But we'll be ready to kick back, get off our feet for a few days, then be ready to roll."
Manager Dave Roberts echoed those sentiments, passing this weekend off as a small bump in the road. The Dodgers still own the best record in the majors and their 13½-game edge in the division is a tie for the third-largest division lead at the All-Star break in MLB history. For now, everyone else remains in the rearview mirror.
"Once you get through the first half," Roberts said, "you should be mentally and physically exhausted."
The Dodgers are no exception. They kept their foot on the gas, becoming the first team in the majors to eclipse the 50- and 60-win marks while posting a gaudy 37-12 record at home, even after the series defeat to the Padres (45-45).
"We played the first half with such high energy and emotion, something like this was bound to happen at some point," said All-Star infielder Max Muncy, who hit his 22nd home run. "Thankfully for us, it's happening at a time where we're going to get a break and a chance to recover from it."
Yet, after narrow losses Friday and Saturday, Sunday's setback let out a little more air from the tires.
Roberts said Stripling (3-3) "pitched well" during a 4⅔-innings start, but the right-hander was tagged for four earned runs. Shortstop Fernando Tatis Jr. got to a low fastball leading off the game and sent it over the center-field wall. An inning later, Manuel Margot hit a cut fastball to left field for a solo shot.
Stripling had bad luck in the fifth inning. After a leadoff single by Margot, Muncy lost a popup in the sun at first base and let it drop behind him for a double. Roberts summoned Pedro Baez from the bullpen with Tatis up two batters later, only to watch the rookie hit a fastball up in the zone to left field for a three-run home run that made it 5-1.
"That inning kind of spun out of control," Roberts said.
Justin Turner's home run in the sixth inning and Alex Verdugo's single, which drove in Edwin Rios after the pinch-hitter looped a ground-rule double to left, sparked a Dodgers rally.
Pederson's strikeout stranded Verdugo in the seventh inning. Enrique Hernandez's one-out single in the eighth was negated by a double play from Turner in the next at-bat. Closer Kirby Yates slammed the door during a 1-2-3 ninth inning, picking up his third save in as many days.
Sign up for our Dodgers newsletter »
"You got to give those guys credit," Roberts said of the Padres, who won their first series in Dodger Stadium since May 2016. "The way they got big hits, they pitched us well. Now we've got to reset."
Although the Dodgers have managed strong second-half stretches under Roberts, posting a combined 122-88 post-All-Star Game mark in his first three seasons, they aren't flying into the halfway point this year. The Dodgers' three-game losing streak is their longest since a six-game skid in early April.
Even so, Roberts said there will be no mandatory workout before their series in Boston begins Friday.
"We have a lot of guys that have been through this before," Roberts said. "Everyone has their own plans. There's no gathering or message to the team about rallying the troops for the second half. We know what we need to do."
---
Get our Dodgers Dugout newsletter for insights, news and much more.
You may occasionally receive promotional content from the Los Angeles Times.