Dodgers' Rich Hill making progress but still is trying to figure out knee brace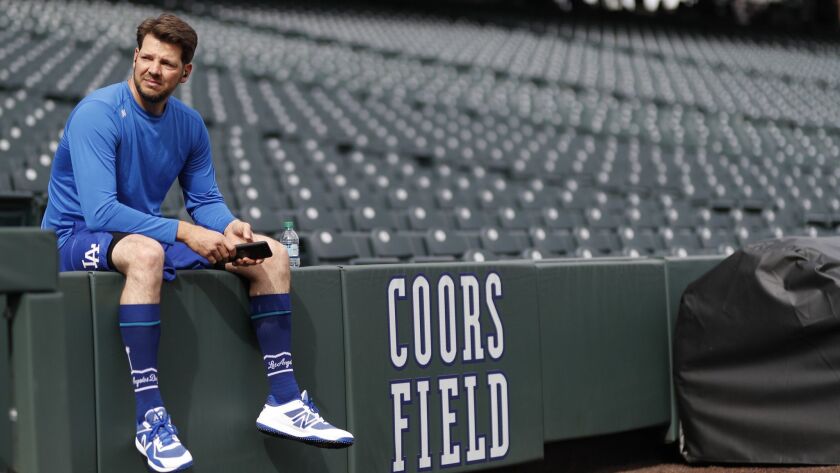 Reporting from Denver —
Rich Hill settled on one word to summarize his 20-pitch bullpen session at Coors Field on Saturday afternoon.
"Uneventful," Hill said, "which is good."
Uneventful is good because that means the sprained ligament in the Dodgers left-hander's left knee didn't inhibit him while he threw off a mound for the first time since March 19, two days after suffering the injury. Hill who began the season on the 10-day injured list, threw his fastball and his usual variety of curveballs. His arm felt fine. His knee passed the test. The only problem? Figuring out how to work with a knee brace.
"The brace is pretty constricting so it's something we're still trying to get that out and figure out what are the right kind of adjustments [that] maybe need to be made," Hill said. "Because I put it on, it feels right, and then you go and throw and it slides around and it moves and it drops and whatever it does. So that's what's been that we're trying to make as consistent as possible too."
Hill, 39, said he would ideally ditch the brace, but he'll have it on for his next bullpen session, which is scheduled for Monday in St. Louis. He guessed he would throw 10 to 15 more pitches than he tossed Saturday.
"And then from there, I don't know," Hill said. "I think it's just trying to stress it every time and stress it, let it heal, stress it, let it heal, and then build it up on that and see where we're at until we can get going."
Hill had been slated to start on opening day for the Dodgers after Clayton Kershaw and Walker Buehler were ruled out. His injury paved the path for Hyun-Jin Ryu to make the start.
Kershaw to make another rehab start
Dodgers manager Dave Roberts confirmed Kershaw will make another rehab start in the minor leagues, a decision he and Kershaw both assumed would be made.
Roberts said the destination hasn't been determined. Kershaw will either pitch for triple-A Oklahoma City or double-A Tulsa after allowing two runs and throwing 61 pitches in 4⅓ innings in an outing for Oklahoma City on Thursday. If Kershaw stays on a normal schedule, he will pitch again on Tuesday. Oklahoma City will be in Ohama while Tulsa is scheduled to play at home.
We will "let Clayton drive that wherever he feels most comfortable," Roberts said.
Sign up for our Dodgers newsletter »
MLB inquiring about Justin Turner's wrist pad
Justin Turner said Major League Baseball recently requested photos of the pad he has used to protect his left wrist since a pitch fractured the wrist last March in spring training. Turner was instructed to send photos of the pad on its own and with him wearing it. He said he wasn't sure why the league reached out and doesn't know when he will hear back.
The pad has already prevented another injury this season; Turner was hit on the wrist in the Dodgers' second game and it thudded off the pad and he stayed in the game.
Twitter: @jorgecastillo
---
Get our Dodgers Dugout newsletter for insights, news and much more.
You may occasionally receive promotional content from the Los Angeles Times.