Players insist on making the pilgrimage to say heartfelt goodbye to Vin Scully in person
Dodgers broadcaster Vin Scully looks over Dodger Stadium before a game on July 3, 2012. Scully has worked as an announcer for the Dodgers organization for more than six decades.
(Gary Friedman / Los Angeles Times)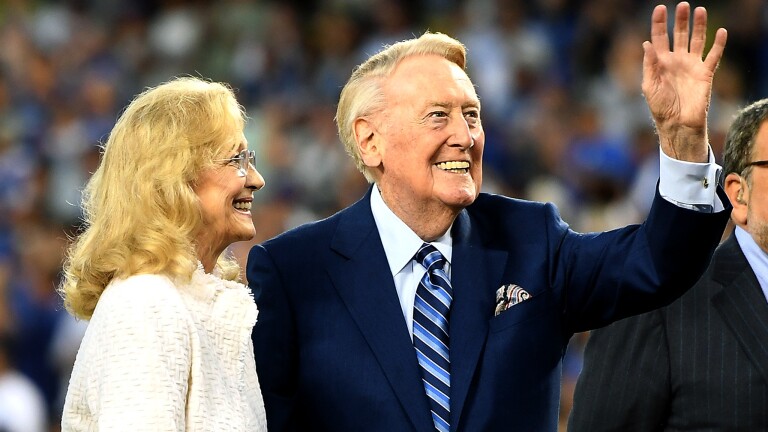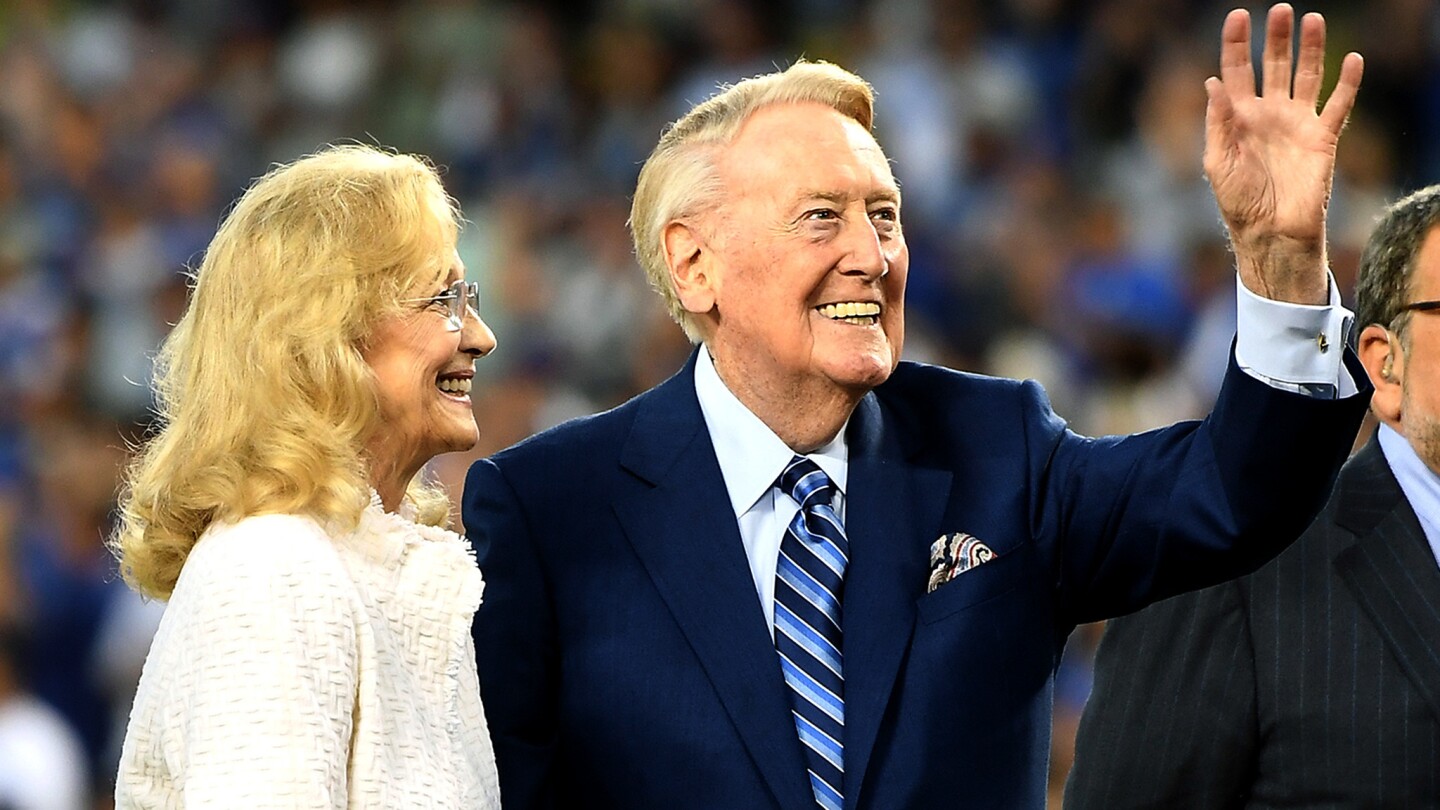 Vin Scully, with wife Sandi at his side, waves to the crowd during a ceremony honoring the Dodgers broadcaster before the game Sept. 23, 2016, at Dodger Stadium.
(Wally Skalij / Los Angeles Times)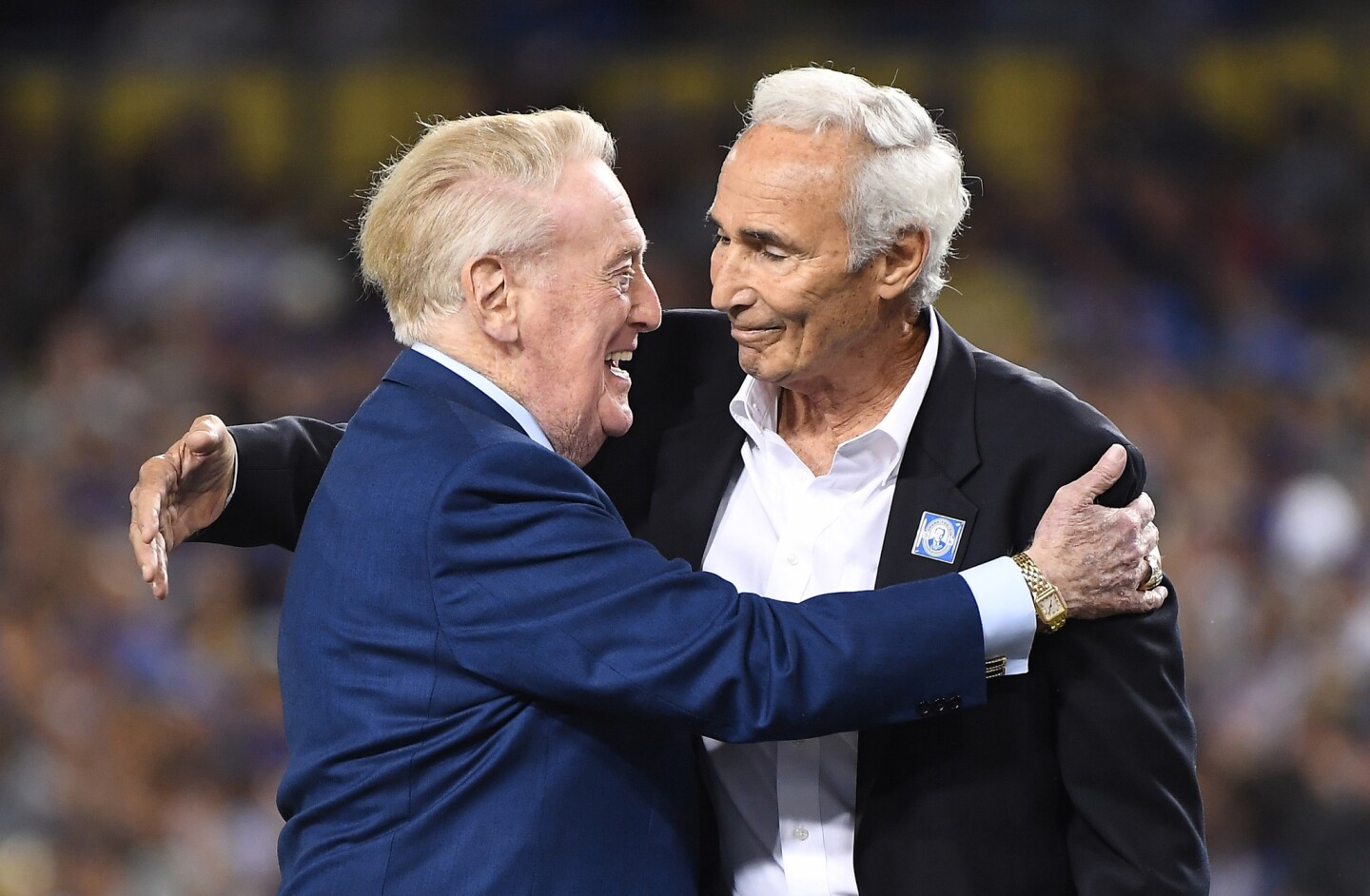 Vin Scully and Hall-of-Fame pitcher Sandy Koufax embrace during the pregame ceremony honoring the Dodgers broadcaster on Sept. 23, 2016.
(Wally Skalij / Los Angeles Times)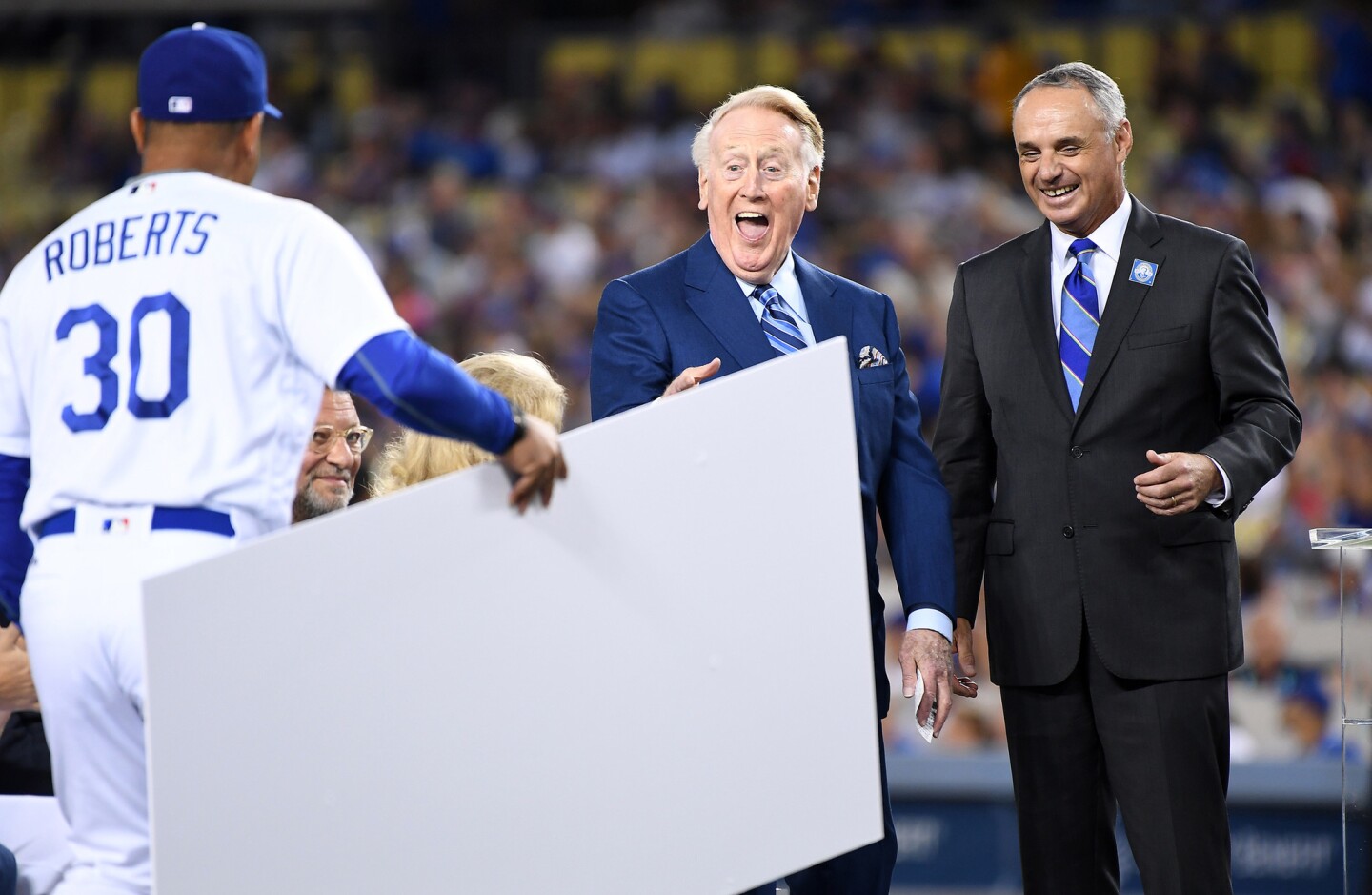 Dodgers Manager Dave Roberts (30) joins MLB Commissioner Rob Manfred, right, in presenting a check to Vin Scully to be donated to the Dodgers broadcaster's favorite charity during a pregame ceremoney Sept. 23, 2016.
(Wally Skalij / Los Angeles Times)
Vin Scully speaks to family, friends and fans during a pregame ceremony honoring the legendary Dodgers broadcaster Friday night.
(Wally Skalij / Los Angeles Times)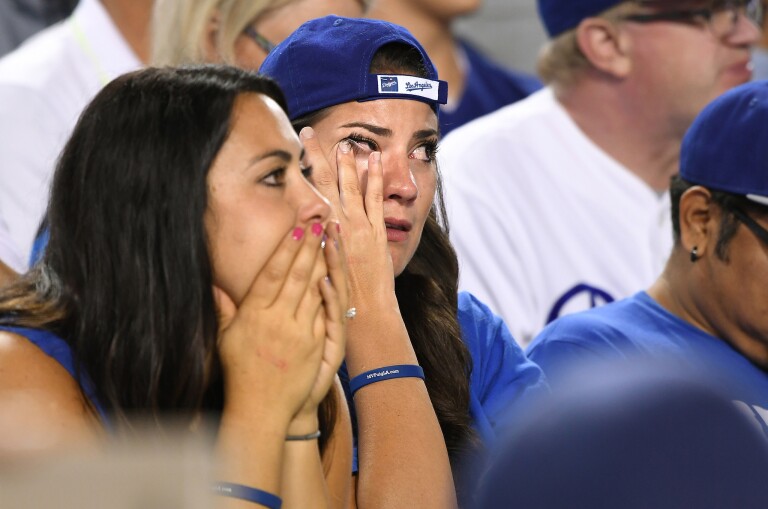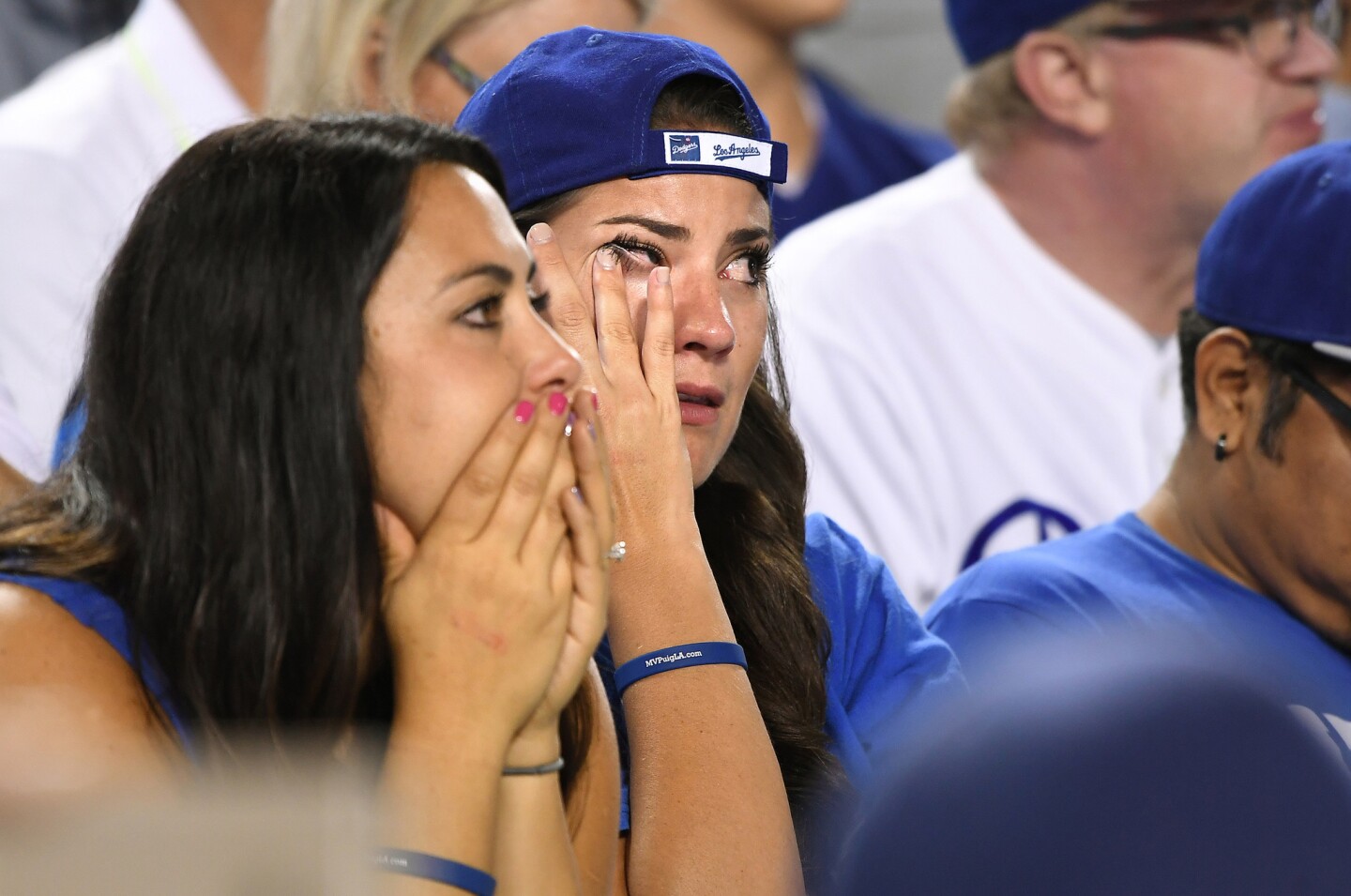 Fans wipe away tears during the pregame ceremony honoring Dodgers broadcaster Vin Scully.
(Wally Skalij / Los Angeles Times)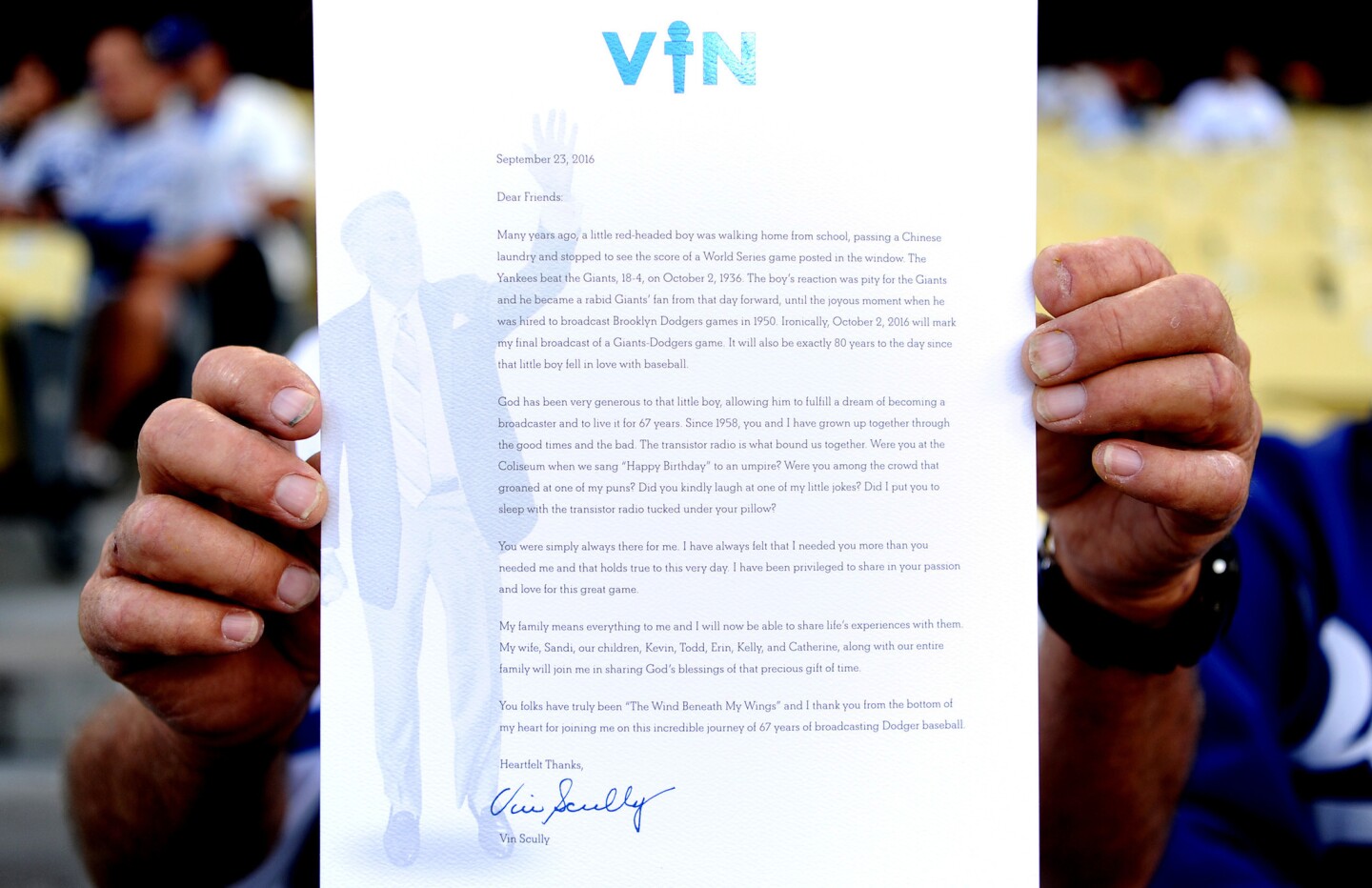 A fan holds a letter from Vin Scully that was given out before the Dodgers game on Friday night.
(Wally Skalij / Los Angeles Times)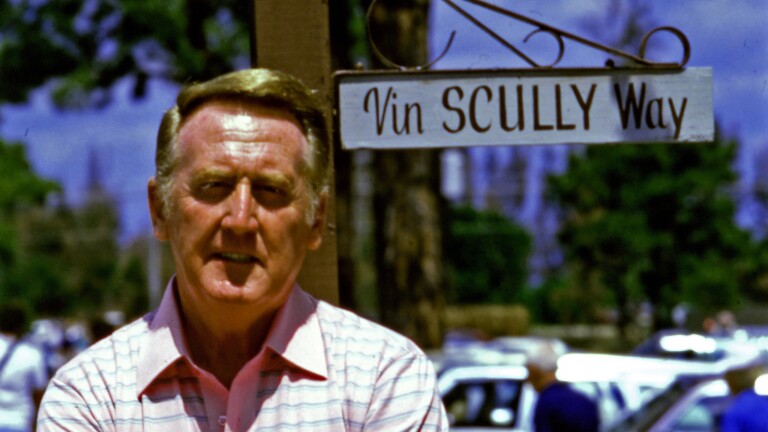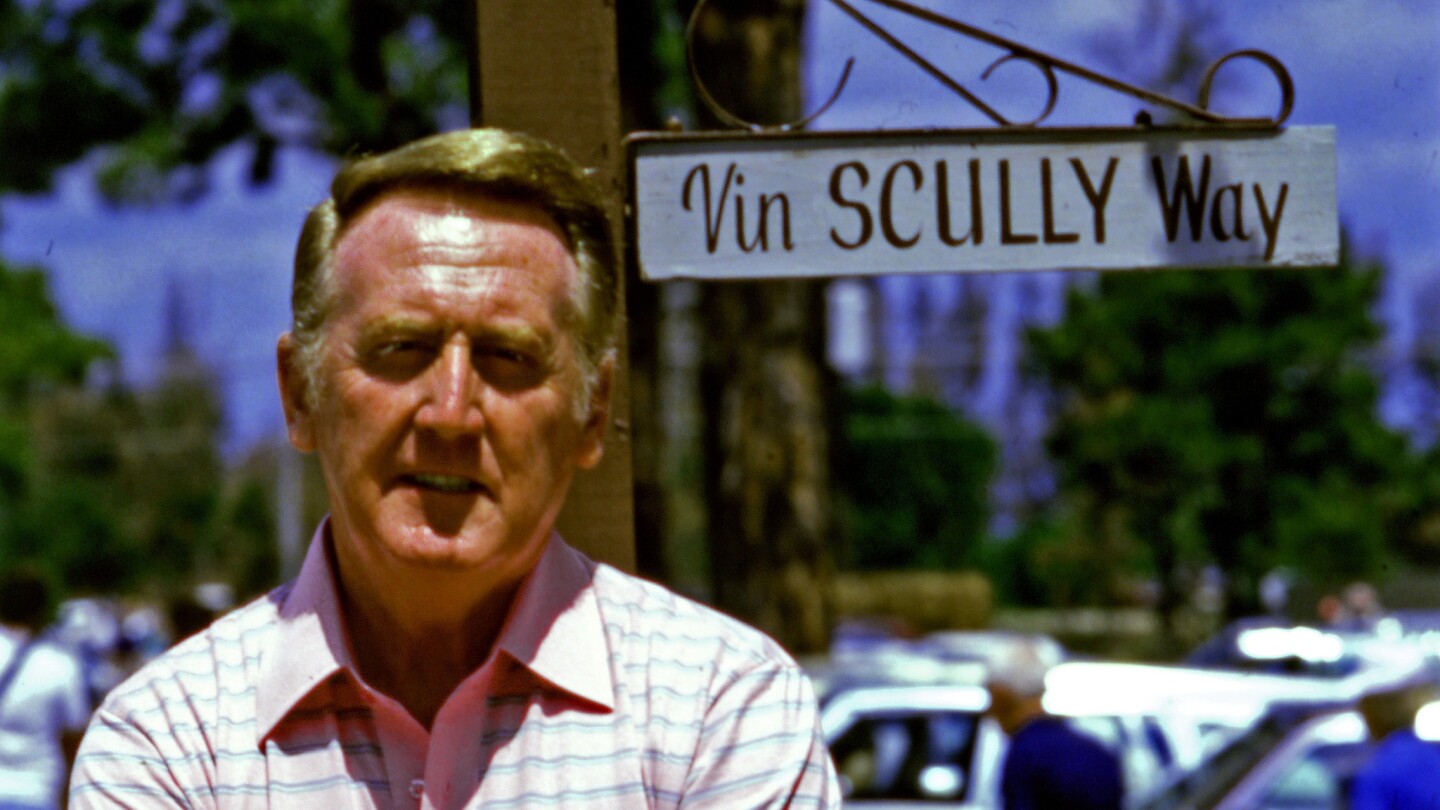 Vin Scully stands in front of street sign marking "Vin Scully Way" at the Dodgers' spring training complex in Vero Beach, Fla., in 1985.
(Jayne Kamin / Los Angeles Times)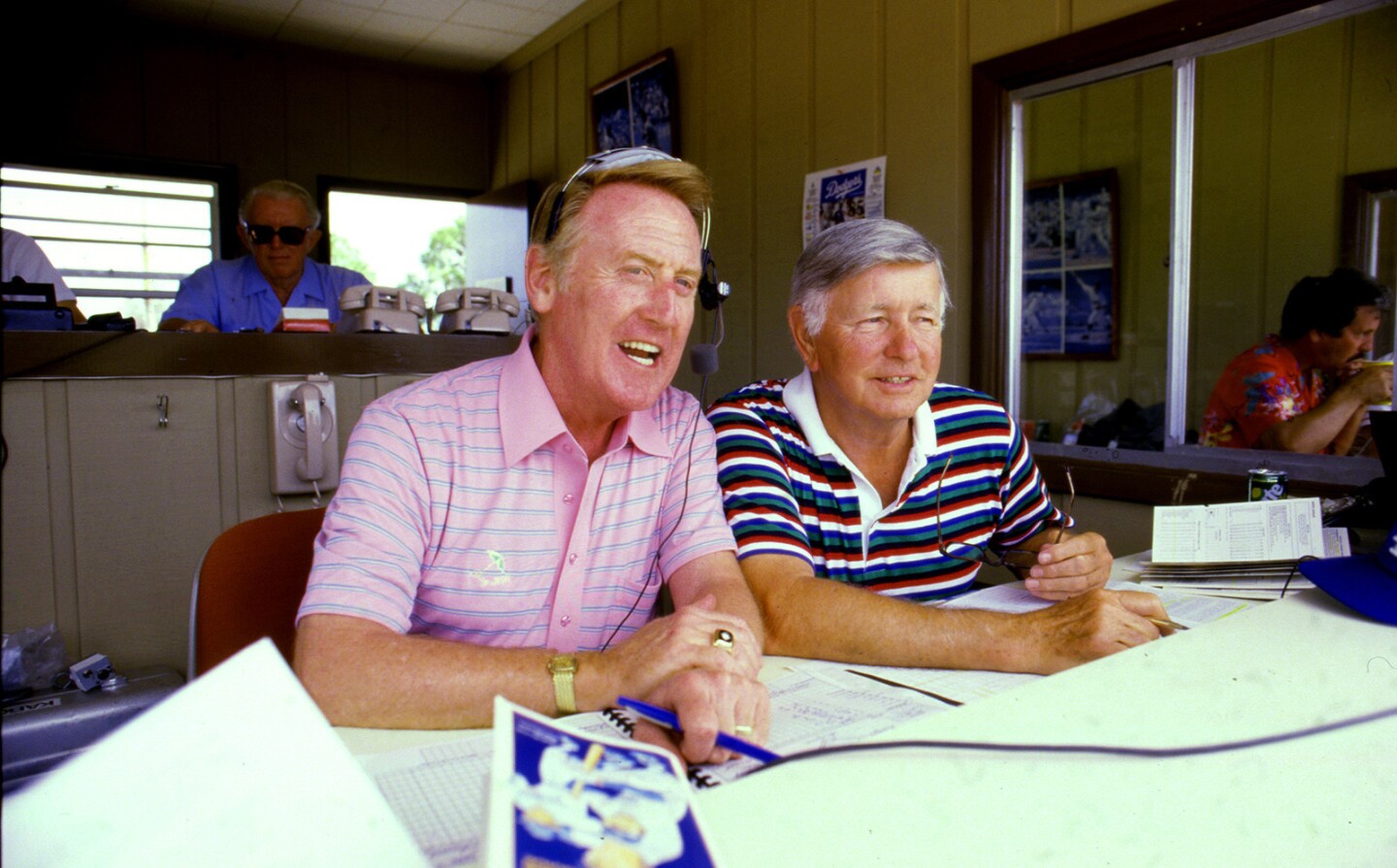 Vin Scully with Jerry Doggett in the announcer's booth at Dodgertown during spring training in Vero Beach, Florida on April 8, 1985.
(Jayne Kamin / Los Angeles Times)
Vin Scully, center, poses for a photo with Dodgers pitching greats Don Drysdale, left, and Sandy Koufax during spring training in Vero Beach, Fla., in 1985.
(Jayne Kamin / Los Angeles Times)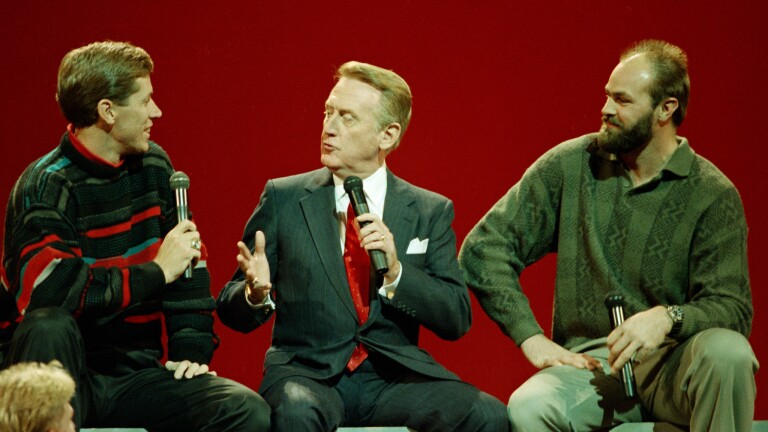 Vin Scully speaks to Dodgers pitcher Orel Hershiser, left, as Dodgers outfielder Kirk Gibson listens during a November 1989 charity benefit.
(Steve Lowry / Associated Press)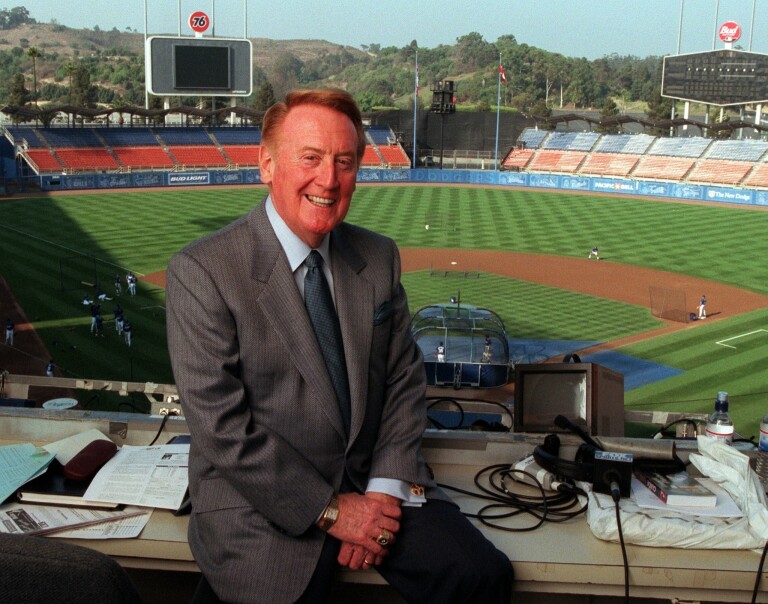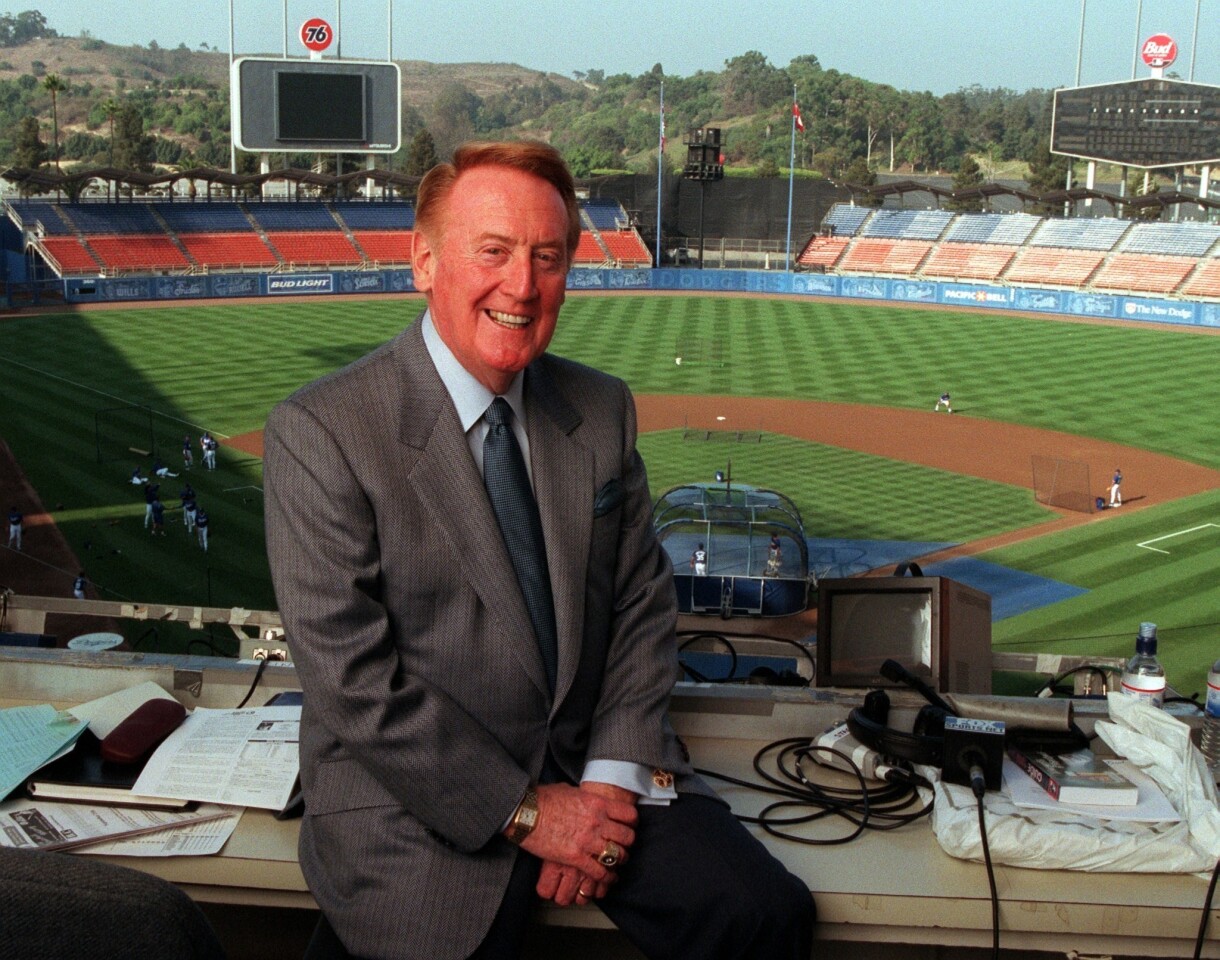 Vin Scully sits in the broadcast booth at Dodger Stadium in September 1999. Scully's talents have landed him speaking roles in several baseball-themed movies and television shows. He even served as a game show host.
(Bob Carey / Los Angeles Times)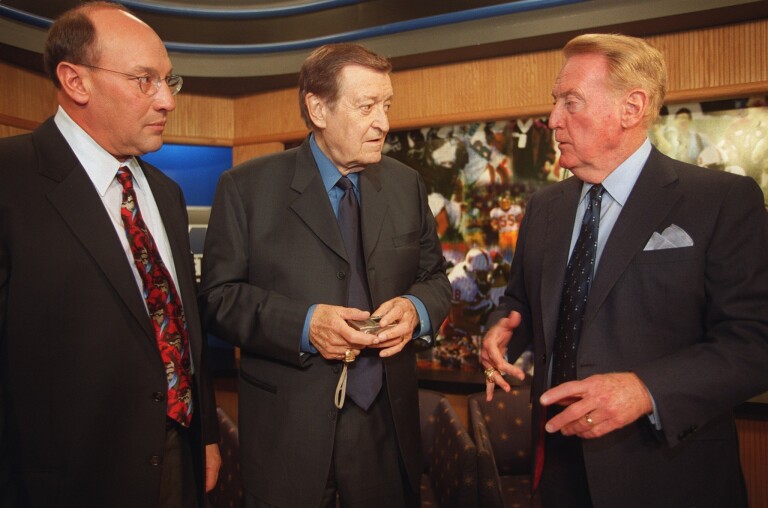 From left, longtime Kings announcer Bob Miller, legendary Lakers announcer Chick Hearn and Dodgers broadcaster Vin Scully talk before a show for Fox Sports in December 2000.
(Annie Wells / Los Angeles Times)
Vin Scully has broadcast Dodgers games since before the team moved to L.A. in 1958.
(Genaro Molina / Los Angeles Times)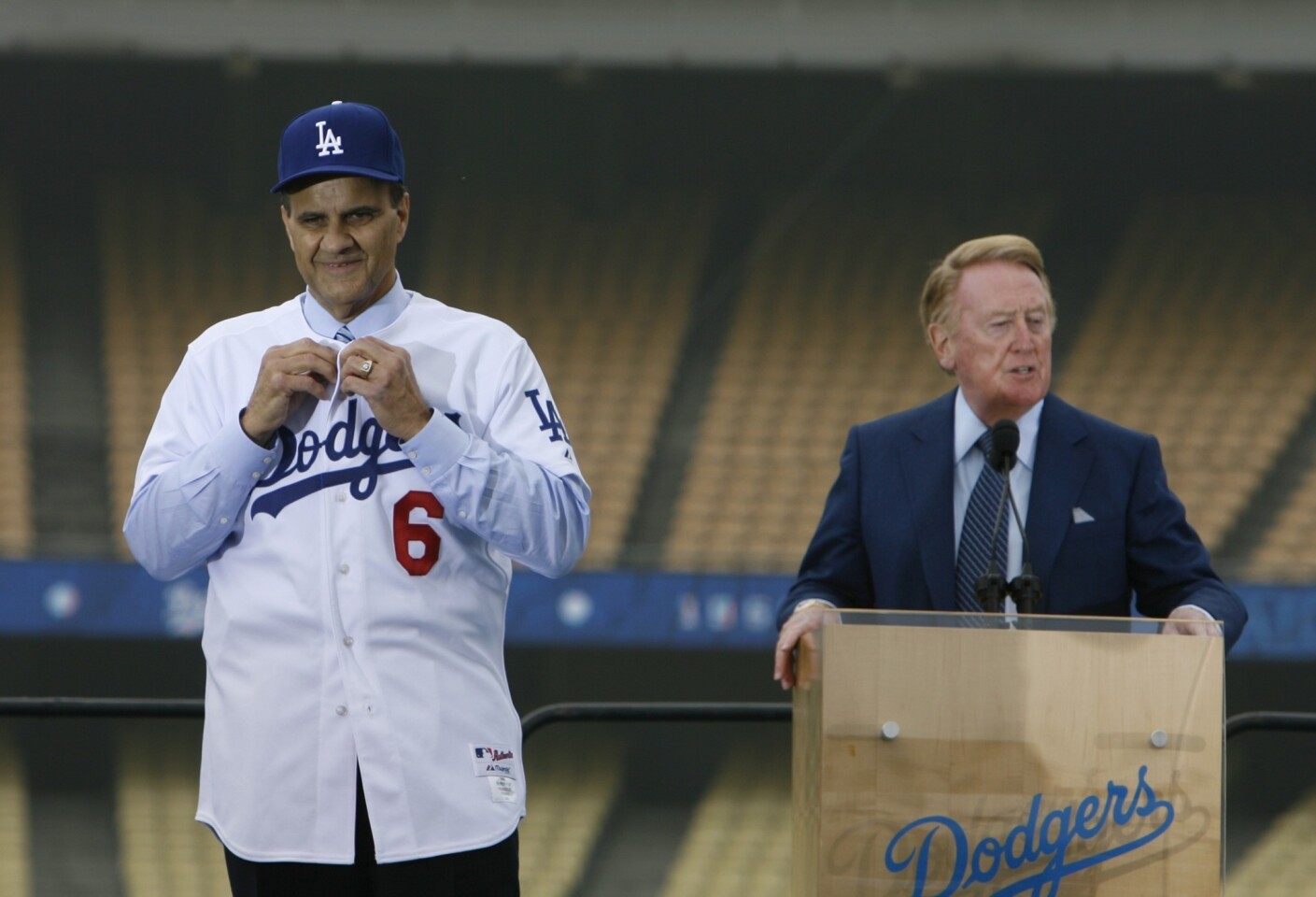 Vin Scully speaks during manager Joe Torre's introductory news conference at Dodger Stadium in November 2007.
(Rick Loomis / Los Angeles Times)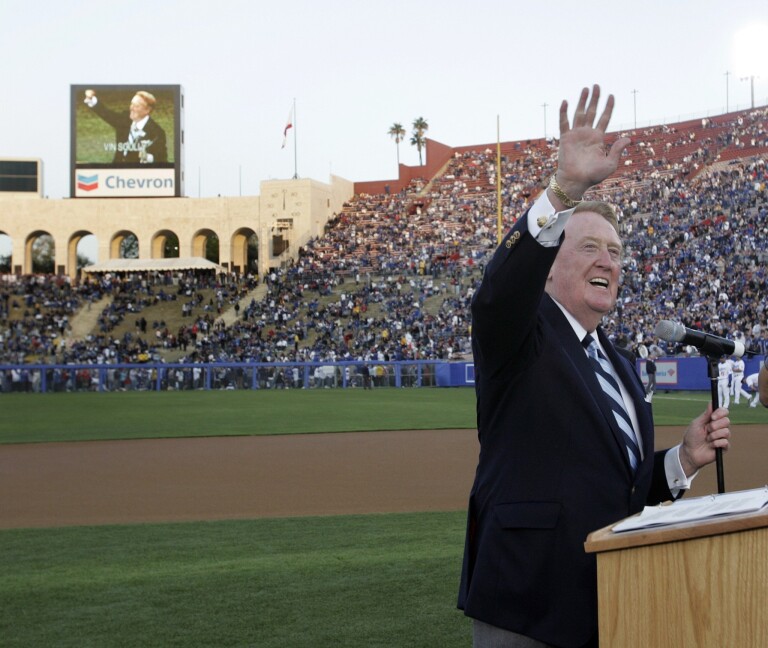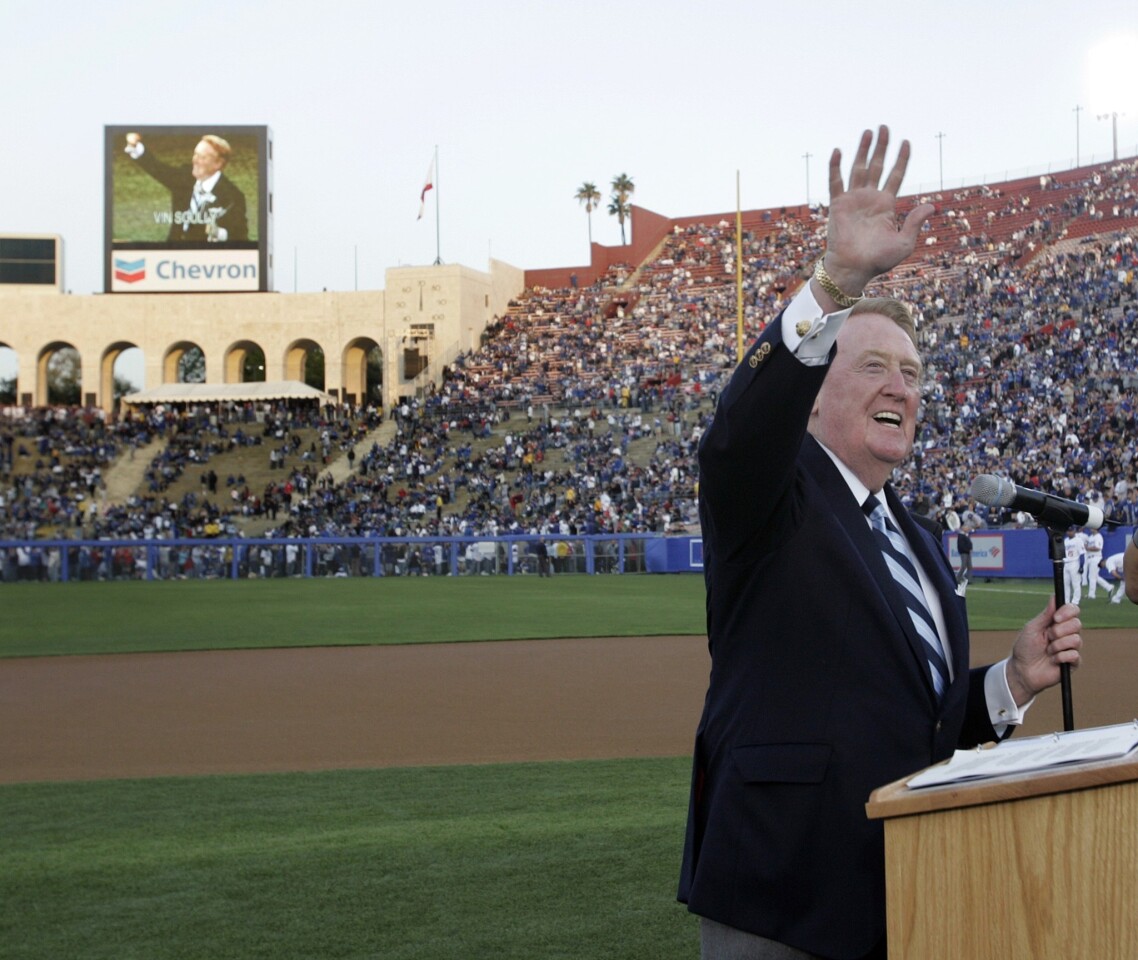 Vin Scully acknowledges the crowd after receiving a standing ovation before a game between the Dodgers and Boston Red Sox at the Coliseum in March 2008.
(Lori Shepler / Los Angeles Times)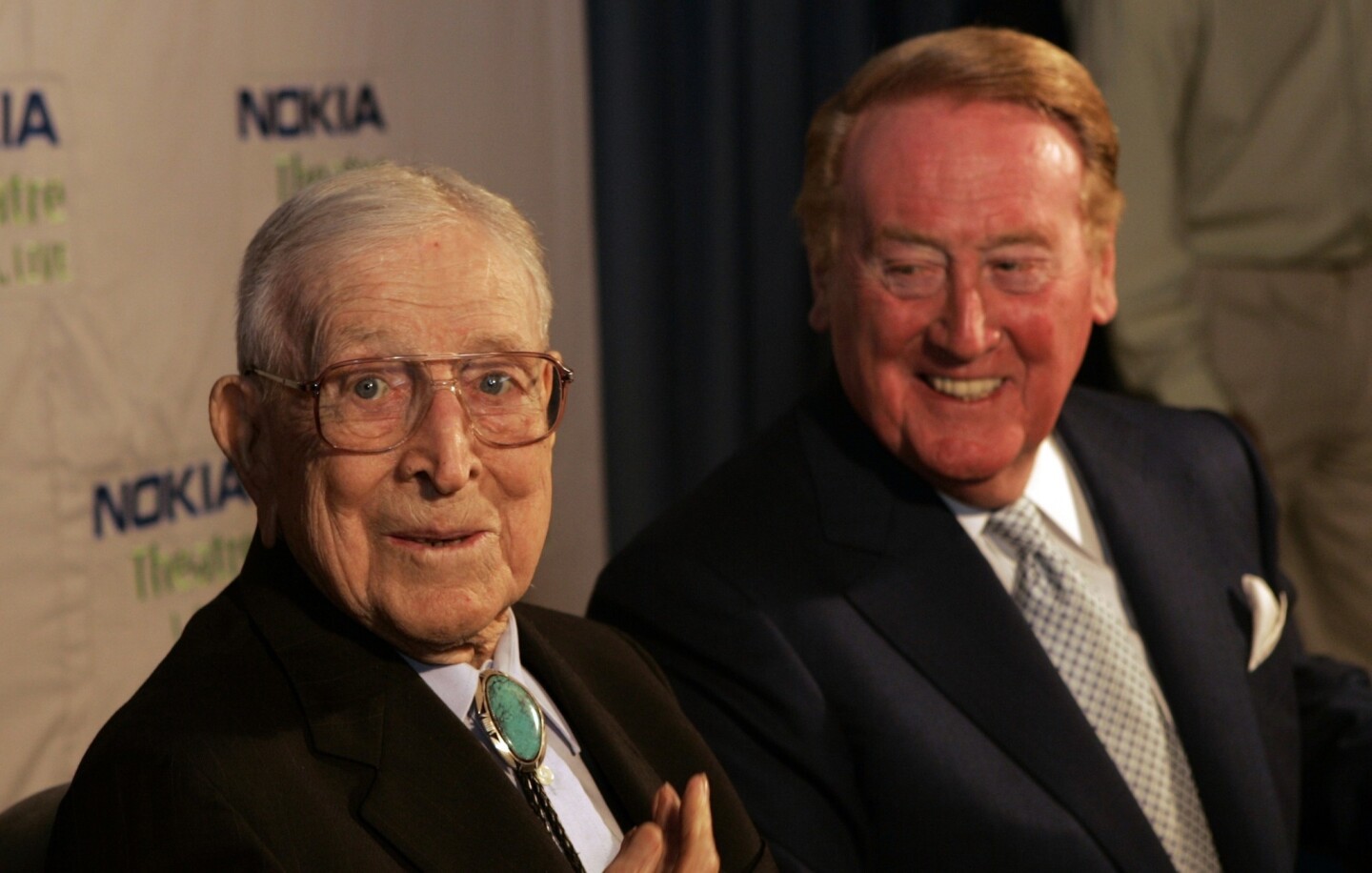 Vin Scully listens to legendary UCLA coach John Wooden at an interview in June 2008.
(Lori Shepler / Los Angeles Times)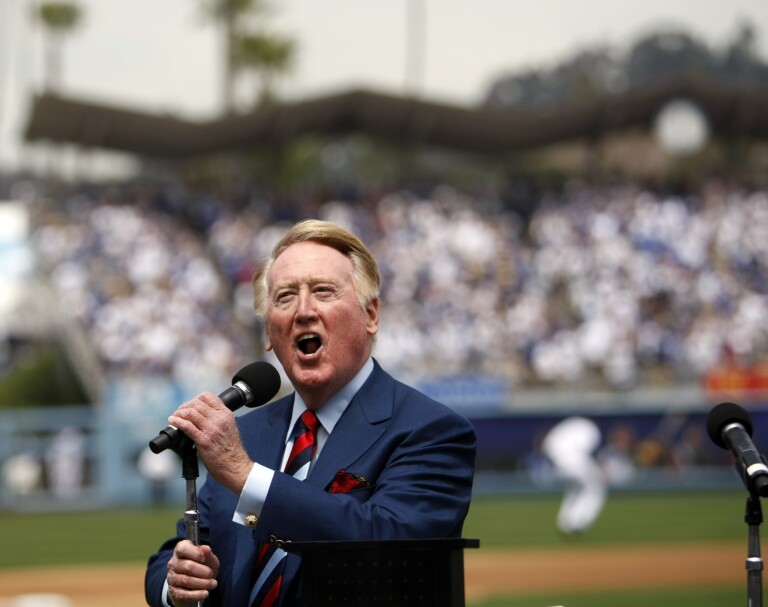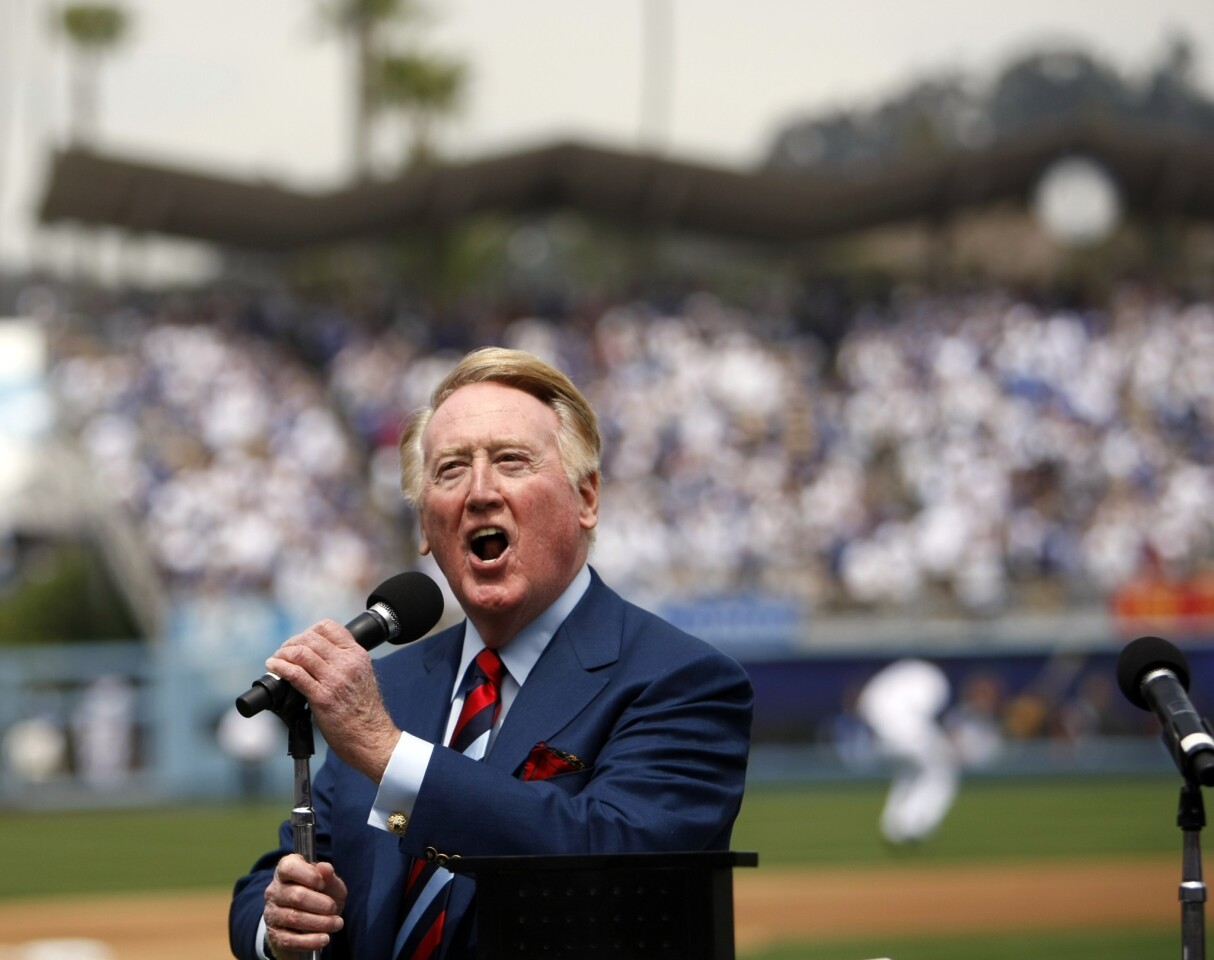 Vin Scully announces, "It's time for Dodgers baseball," before the team's season opener against the San Francisco Giants in April 2009.
(Allen J. Schaben / Los Angeles Times)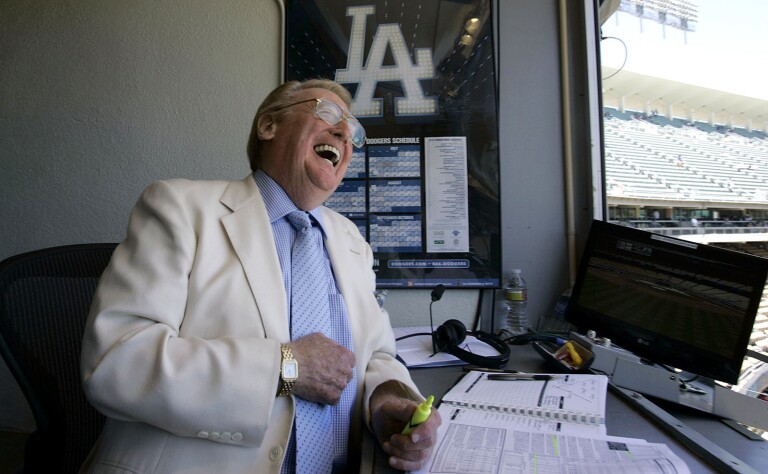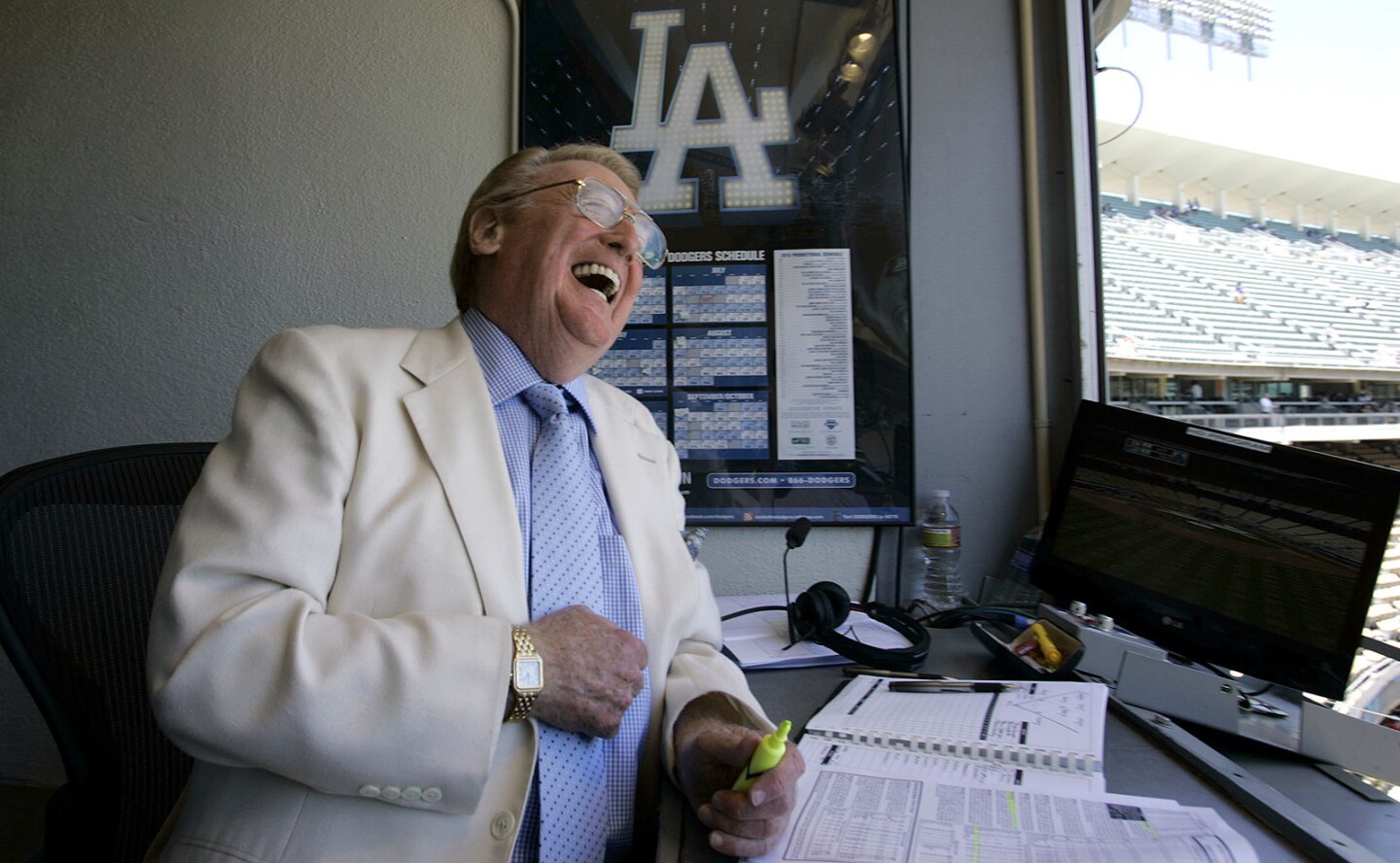 Hall of Fame Dodger announcer Vin Scully before the start of a Dodgers - Reds game at Dodger Stadium on August 22, 2010.
(Gary Friedman / Los Angeles Times)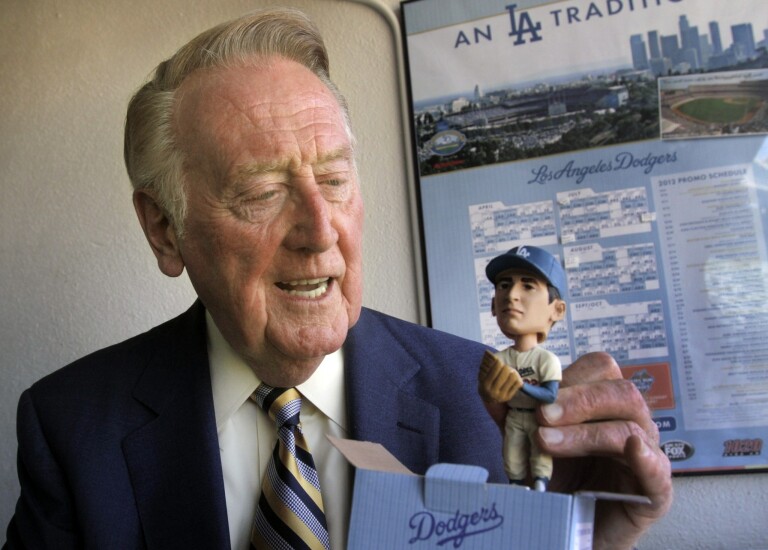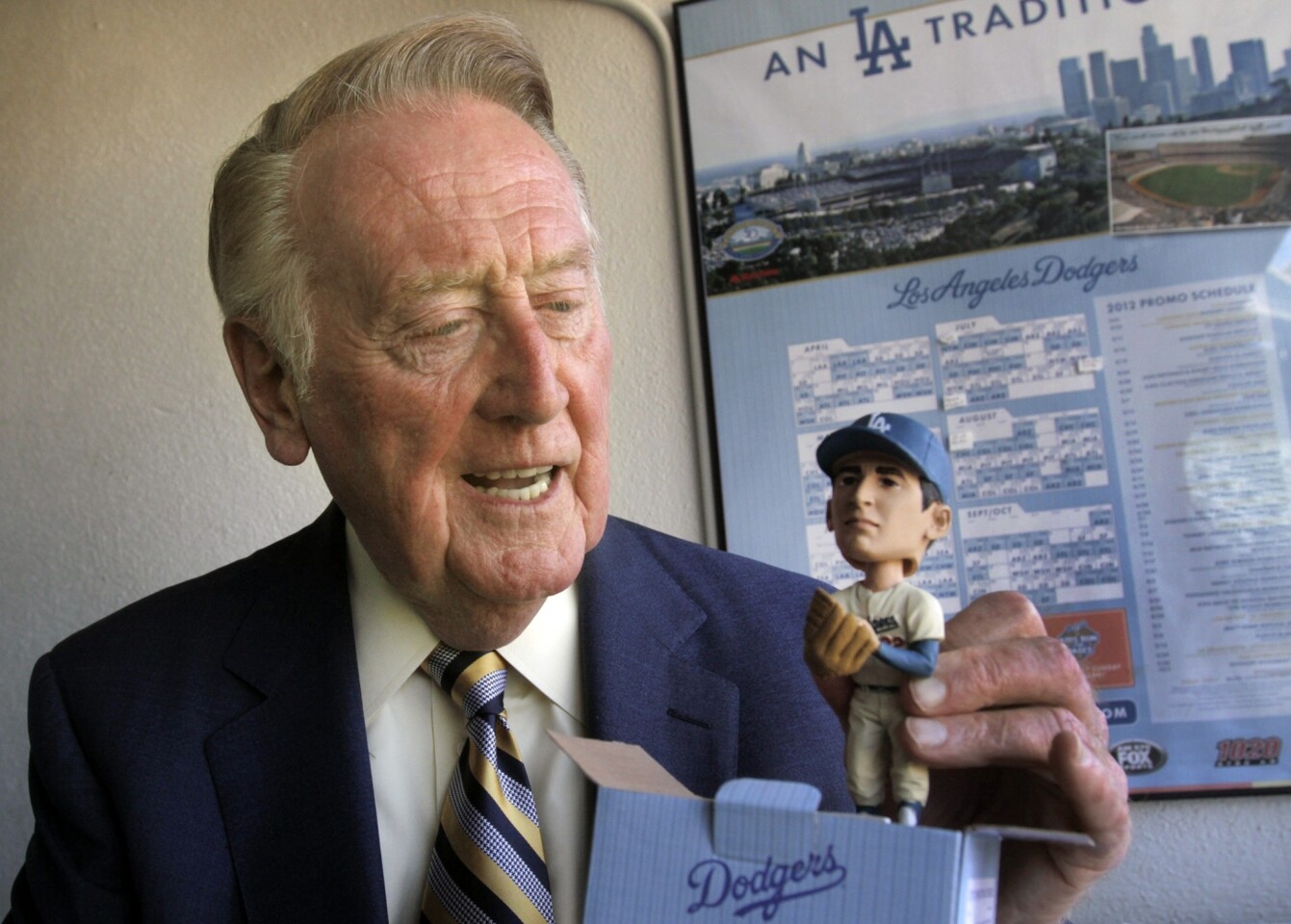 Vin Scully looks at a Sandy Koufax bobblehead doll while in the broadcast booth on Aug. 7, 2012.
(Lawrence K. Ho / Los Angeles Times)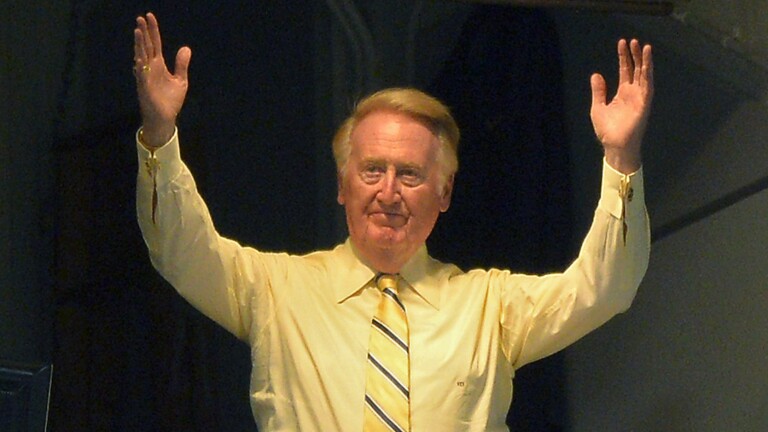 Vin Scully acknowledges the cheers of the crowd during his bobblehead night at Dodger Stadium on July 25, 2013.
(Mark J. Terrill / Associated Press)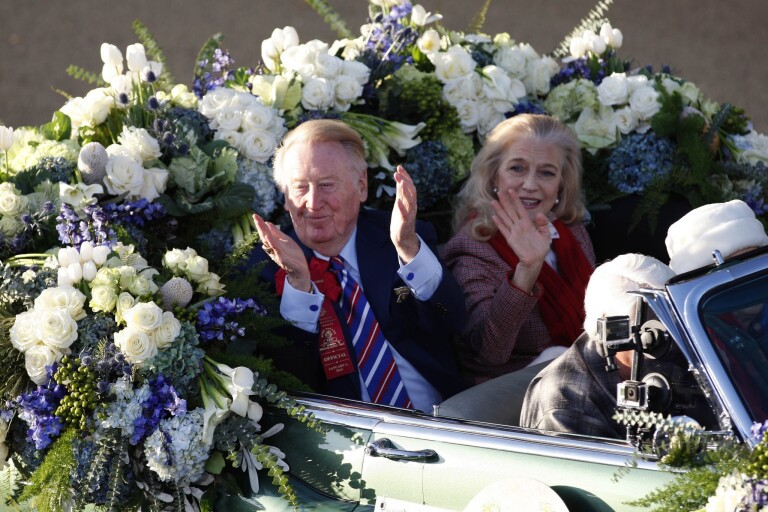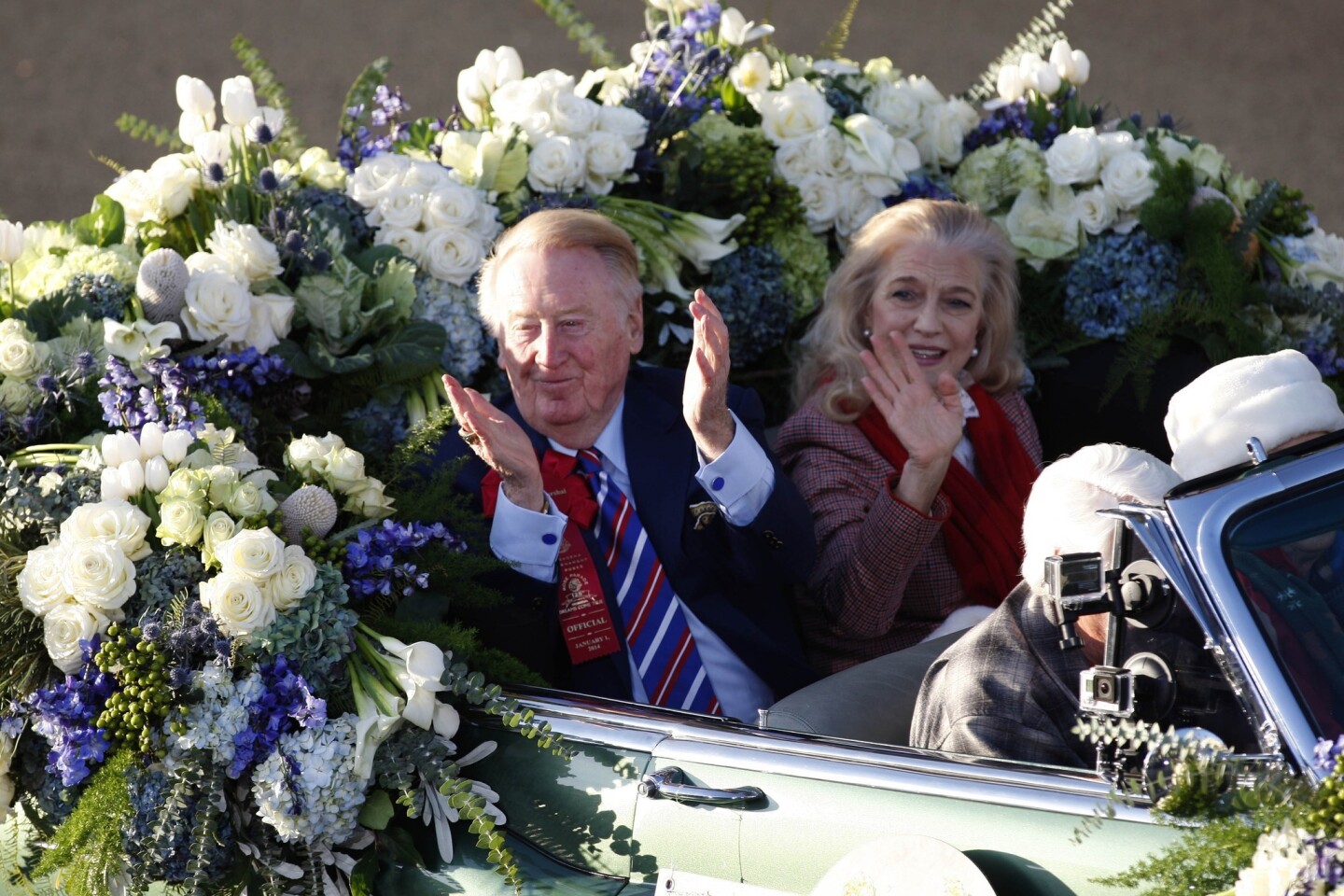 Vin Scully waves to fans as he rides in a car with his wife, Sandra Hunt, while serving as the 2014 Rose Parade Grand Marshal.
(Allen J. Schaben / Los Angeles Times)
Dodgers announcer Vin Scully takes the stage to speak about his decision to come back for a 66th season in the broadcast booth during a news conference at Dodger Stadium on July 30, 2014.
(Luis Sinco / Los Angeles Times)
Vin Scully is applauded on the field at Dodger Stadium, by family members, as he is recognized by the Guiness Book of World Records as the "longest tenured sports team employee" on September 23, 2015.
(Robert Gauthier / Los Angeles Times)
The headsets are there, of course. The replay monitor is too, and a computer and printer as well. Statistics, standings and game notes rest atop the tabletops, and the Dodgers' schedule fills a poster on the wall.
There is nothing remarkable about this broadcast booth at Dodger Stadium, except its occupant and one object that appears completely out of place. This is Vin Scully's booth, within the Vin Scully Press Box at Dodger Stadium. On Sunday, for the final time, the greatest broadcaster in baseball history will pull up a chair and call a game here.
The strange and curious object is a camera, not the kind used on a broadcast but the kind you would use to take a picture of your friends. The camera is an accessory to Scully's farewell season, when the broadcast booth has turned into a photo booth.
The players come to pay their respects to Scully, and so do coaches, umpires and even broadcasters from other teams. They get a hearty welcome, a story or two from the master storyteller, and a picture to take home and treasure.
"It's one of the loveliest things that has ever occurred in my life," Scully said.
David Ortiz, the amply big papi of the Boston Red Sox, was not restrained in his greeting.
"He came up and threw his arms around me," Scully said.
Ortiz was amazed Scully knew how he had grown up in the Dominican Republic, without baseballs, trying to learn the game by hitting kernels of corn, or the head that had been severed from a doll that belonged to his sister. Scully shared with Ortiz how he had grown up in New York, trying to hit a bottle cap with a stick.
"It has been an honor," Ortiz told Scully. "I am super happy to come and say goodbye to you."
Joe Maddon, the Chicago Cubs' manager, said he never had asked for a picture with anyone until he visited Scully in the booth last year. Maddon returned this year with Cubs catcher David Ross, and they gifted Scully with a Dodgers flag that flew over Wrigley Field and a "67" from the Wrigley scoreboard, in honor of Scully's 67 years as voice of the Dodgers.
Scully inquired about Maddon's mother, Beanie, who recently retired from running the family diner in Hazleton, Pa. And then Scully dropped a trivia question on Ross: "Who was Edgar Renteria playing with in 2002? Do you remember?"
"The Marlins?" Ross said, tentatively.
Nope, the St. Louis Cardinals. Scully had looked it up: Ross made his debut with the Dodgers in 2002, and Renteria was the first guy he threw out.
"Here they were, bringing me precious gifts," Scully said in reflection, "and I thought, 'Instead of getting overly emotional, I'll start it off with a gag.' That lightened the mood."
Scully wanted no part of a farewell tour. He got a farewell pilgrimage instead.
He is concerned about the pilgrims. The visiting clubhouse at Dodger Stadium is well down the first-base line, beyond the dugout and under the stands. The Vin Scully Press Box is on the fifth level of the stadium, and getting there requires a deceptively long walk, and a ride on a lazy elevator.
"It's an overnight trip to get up," Scully said, half-jokingly. "So I'm deeply indebted to those who make that trip. It really is — and has been — really overwhelming."
The pilgrims come, young and old, those who were reared on Scully and those who have not so much heard him but heard about him.
Giancarlo Stanton of the Miami Marlins and Gerrit Cole of the Pittsburgh Pirates, each of whom grew up in Southern California, paid a visit. So did Manny Machado and Jonathan Schoop of the Baltimore Orioles, who grew up in Florida and Curacao, respectively.
So did Dodgers rookie Jose De Leon, who grew up in Puerto Rico. He arrived in the major leagues this month, thrilled that Scully could announce even one of his games.
Managers came, including Maddon, Dusty Baker, Chip Hale and Clint Hurdle. So did Washington Nationals outfielder Bryce Harper, for a second consecutive year. Harper, 23, was born four years and one day after Kirk Gibson's home run — the last World Series that Scully called.
Harper and Scully get along famously, the brash kid who wears the "Make Baseball Fun Again" caps and the octogenarian announcer who wears a suit, tie and pocket handkerchief to the ballpark every day. Harper grew up in Las Vegas, where the Dodgers are heard on radio. He made his major league debut at Dodger Stadium, where Scully mused that Bryce Harper would make "a great name for a novelist, or a character."
Said Harper: "Him being able to call my first game? I'll never forget that."
In their visit, Scully mimicked the leg kick of Hall of Famer Mel Ott. Kids in New York grew up eight decades ago wanting to be Ott, Scully told Harper, and kids in Washington grow up today wanting to be you.
Harper conveyed his gratitude in person and on Instagram, posting a picture of him and Scully in the booth with a caption saluting him for going beyond the scores and statistics to "the stories of life and beyond. … Thank you for the memories and all the incredible things you taught people on and off the air!"
Scully is almost apologetic as he explains that his radio and television demands preclude him from spending time with players in the clubhouse or behind the batting cage. He used to get to know the players that way, or from spending time on the road trips he stopped taking as a concession to age.
He is profoundly appreciative of the players who have taken the time to get to know him this year, if only for a few minutes in the booth.
"For young players like a Bryce Harper, or for kids who grew up in and around Southern California, I'm sure it's out of curiosity: This is the guy they've been listening to as long as they've been alive," Scully said. "So I can understand that, and I'm grateful they would go to the trouble.
"And, for those who come up just almost out of respect, people like a Joe Maddon or a David Ortiz, people who I don't think heard me very often, I'm really overwhelmed at the generosity of time. … Whoever comes up, I'm just delighted they would give up some precious time — and that's what it is, before the game — to come up and say hello."
Not once, Scully said, has he looked up and been singularly amazed at a person who had come to visit him. The amazement, he said, has been for the collective.
"I say this in all honesty," he said. "Every single person that has come up to the booth makes me feel 'wow.' I can't believe all that is going on in my life. It is so much more than, really, I ever wanted. I love friendship. It's just been overwhelming. That's the only word I keep thinking of. It takes my breath away.
"Down deep inside, I'm still the same guy who started as a kid. All this that has happened, it's just too much. I don't feel worthy of it."
Twitter: @BillShaikin
---
Get our Dodgers Dugout newsletter for insights, news and much more.
You may occasionally receive promotional content from the Los Angeles Times.