Dodgers pitcher and stock broker Ross Stripling gives his take on marijuana market strategy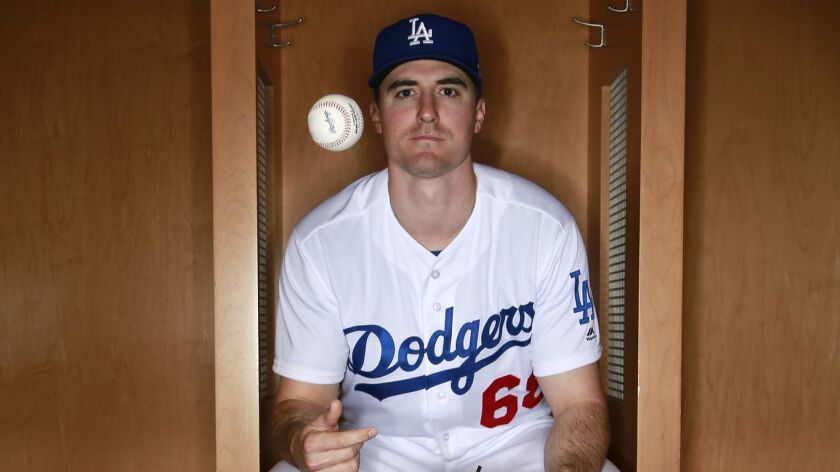 Ross Stripling is surrounded by millionaires. He might not be the richest guy in the Dodgers clubhouse, but he is the only one who is a licensed stock broker. He can pitch a fastball and pitch a stock, making him the go-to guy when teammates want to ask about a possible investment.
"Last year, it was bitcoin," Stripling said Thursday. "This year, it's marijuana stocks."
Marijuana is banned under baseball's drug policy. But, as the legalization of medicinal and recreational marijuana spreads across the United States, a player can cash in on a substance he cannot use.
Stripling said the marijuana market has exploded so quickly that he would be hesitant to recommend a particular stock.
"There's opportunities there," he said, "but I don't have any specific names — for one, I can't tell you even if I did, and two, and it's so saturated right now there's no telling."
When Stripling returned to his Texas home after the World Series, he spent mornings working out and afternoons working at a brokerage.
"October, November and December were just brutal months for the market," he said. "It was a good time to learn, and see how clients react when stuff hits the fan."
The Dow Jones Industrial Average hit record highs in late September, prompting President Trump to crow on Twitter. The average fell 15% in the final three months of the year. And, while economists generally agree that the impact of presidential policy on the stock market tends to be overstated, Stripling isn't quite sure what to make of Trump.
"Historically, politics doesn't play big into the market," Stripling said. "But we've never had a president as active on social media as Trump. Just a 140-character tweet can affect the market, unlike anything we've ever seen. He has to obviously be extremely careful what he says."
Kelly hurting
The Dodgers scratched Joe Kelly from his scheduled appearance Wednesday night after the reliever reported tightness in his back.
The Dodgers are hopeful that the injury is short-term and that Kelly can resume throwing shortly.
In December, the team signed him to a three-year, $25-million free-agent contract. Kelly has been on the disabled list four times in his seven-year major league career, but never because of a back injury.
Kershaw throwing
Clayton Kershaw threw 13 pitches on flat ground Thursday, the latest step in his recovery from shoulder inflammation. Neither he nor Walker Buehler has pitched in a Cactus League game.
Buehler is healthy. The Dodgers are taking it slow with him this spring, in advance of what is expected to be his first full major league season.
But, with 20 days before the opener, it is increasingly likely the first pitch of the Dodgers' 2019 season might not be thrown by Kershaw or Buehler. Manager Dave Roberts said neither pitcher would be rushed to start the opener.
"For both those guys, we're not worried about opening day," Roberts said. "We're worried about getting these guys ramped up."
Hyun-Jin Ryu starts Friday for the Dodgers. If he starts every fifth day thereafter, he would be in line to start the opener.
Sign up for our daily sports newsletter »
Follow Bill Shaikin on Twitter @BillShaikin
---
Get our Dodgers Dugout newsletter for insights, news and much more.
You may occasionally receive promotional content from the Los Angeles Times.